Canada offers some outdated and draconian and mandated drawdown minimums. Canadian regulation states that a retiree must convert his or her registered retirement portfolio to a RRIF (an income fund) and must drawdown a minimum of 7.48% in the investor's 72nd year. That's well over the often stated 4 to 4.5% drawdown that a portfolio can typically withstand over longer periods. In the U.S., policy mandates that an investor withdraw less than 4% of the portfolio value in the investor's 70th year, and that required minimum distribution then quickly moves above the 4% range, creating a challenge for retirees.
The Canadian federal government may have inadvertently been doling out some bad retirement planning advice in recent years. Many seniors use this withdrawal rate as their budget, assuming it is a sustainable rate that will slowly liquidate their retirement savings and provide them with a lifetime of income.
But a recent study from the C.D. Howe Institute suggests that those rates may have worked in 1992, when they were originally established, but not likely anymore. Many seniors who set their monthly budget based on these rates will simply run out of money.
The average 71-year old lives about 2.75 years longer now than in 1992. And the average yield on long-term Government of Canada bonds has fallen from 8.5% to 3.1%.
According to the C.D. Howe report, in 1992,
"a 71-year-old man who withdrew the annual mandatory minimum from his RRIF could expect to deplete 25% of his initial balance's real value upon reaching his life expectancy. Now, he can expect to live to see his initial balance drop about 70%, and faces a 1-in-7 chance of seeing its real value drop more than 90%."
The study showed that many Canadians are outliving their money, as expected lifespans have increased and income from bonds has fallen. Those two forces are moving in opposite directions, and that provides lessons and warnings for all investors and retirees.
Those who make it to age 70 and beyond are now expected to live for many more years. Statistics Canada now estimates the average life expectancy of a 71-year-old man at 14.4 years, and of a 71-year-old woman at 16.9 years, compared with 11.2 and 14.6 years. And when a man has managed to reach the age of 80, he can expect to live, on average, nine more years, while a woman might be with us for another 11 years.
And in 1992, the expected compound real (after inflation) return on a 71-year-old man or woman's bond portfolio over 30 years was about 5.7 per cent annually. A 71-year-old man or woman in 2014 with $1,000,000 invested in bonds will see the value of this nest egg drop to below $500,000 by the end of 2023, when the pensioner turns 80. By the end of 2030, at age 87, the balance will drop below $250,000. At age 94, the portfolio is on its last legs, with a balance below $100,000. For the study the expected compound real (after inflation) return on this person's bond portfolio over 30 years was some 5.7 percent annually.
Here are two charts that compare returns from 1992, when the drawdown rates were decided, and today. Here's from 1992...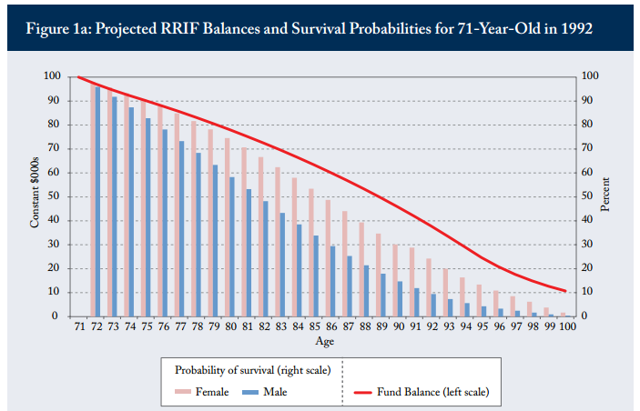 And here's from today.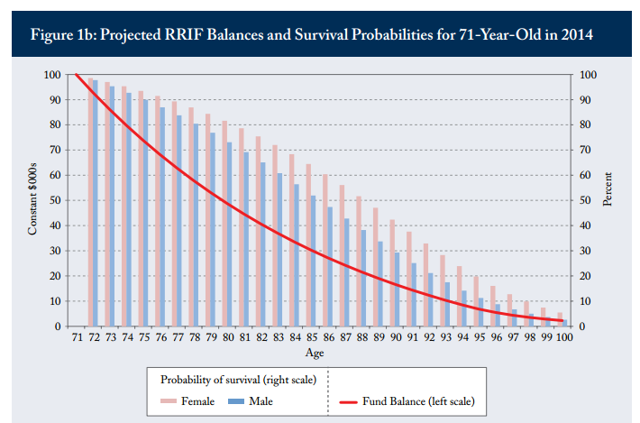 As we can see, from the original 1992 start date, a retiree at age 88 would likely have 50% of his retirement portfolio still available, while with a 2014 start date, that portfolio might be struggling near the 20% level and on its last legs.
To duplicate the drawdown levels of 1992 (in today's low rate environment), the levels would have to be cut dramatically.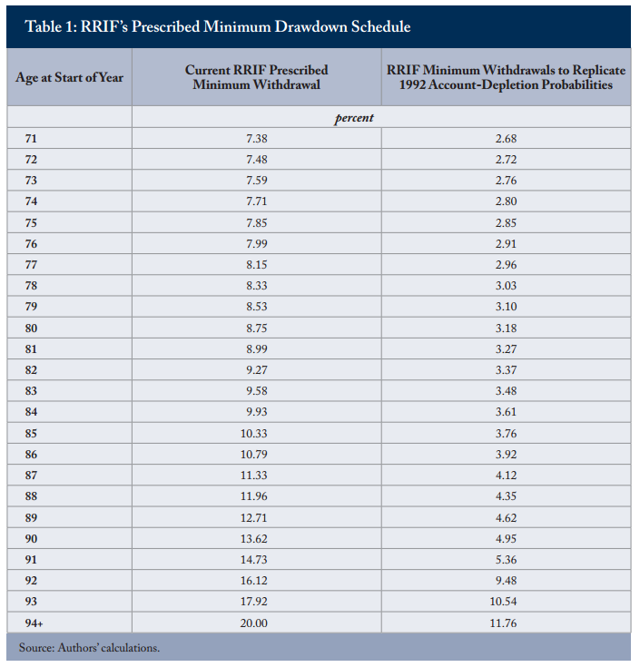 The suggestion from the study is that the withdrawal rate would have to be slashed by almost two-thirds in the initial years. That demonstrates how the current drawdown rates are simply unrealistic in this environment.
And while this affects Canadians, there is a lesson here for Americans. Many retirees will not adhere to the minimum withdraw rate in the U.S., given that most retirees with not have millions of dollars (or even $1 million) invested, and they will need to spend at the 6-8% level or more. Retirees need to take action to protect their portfolio value and also be prepared to change their lifestyle (reduce spending), if need be.
The study listed above is basing the retirement funding solely on mid-to-longer bond yields, and that's certainly a weakness - as a retirement strategy and perhaps as a weakness of the article premise. While bonds are a traditional source of funding for retirement plans, whether they be public or private, bonds are not the only weapon. The greatest inflation-fighter (beater) known to investors is equities. In a recent article, "Warren Buffett Was Right About Retirement", I examined the effect of holding an all-equity portfolio in the retirement phase. An all-stock portfolio will hold up incredibly well in most periods. Incredibly, an all S&P 500 (NYSEARCA:SPY) portfolio would provide 4% inflation-adjusted annual funding (of total portfolio value), with a 95% success rate through the last century. That is, it provided that income for periods of 30 years and beyond. But that stock concentration carries start date risks.
In this article, "The Time Warren Buffett Got It Wrong", I examined Mr. Buffett's suggestion of a 90% stock and 10% bond portfolio with one of the worse start dates for a retiree, the year 2000. From 2000, there were 3 successive down years for the stock markets. Warren's equity portfolio came up well short, the 10% bonds are not enough insurance to reduce the stock holdings depletion.
A very prudent approach was a combination of the classic balanced portfolio of 60% stocks and 40% bonds with two years of initial spending held in cash. That portfolio and strategy would have been able to deliver that 4% income from the year 2000, and in the year 2013, would have a portfolio value above its initial year 2000 portfolio value. As per the accumulation phase, stocks provide the growth and inflation beat, the bonds provide the portfolio stability. It is surprising that the bedrock rules of investing stay true, whether in the accumulation phase or the spending stage.
Another portfolio that has been shown to hold up well is Larry's Swedroe's 70% bonds and 30% value small cap fund. Mr. Swedroe uses a barbell approach that uses the highest return equity class with a very "safe" bond portfolio. It allows the investor to achieve market-like equity returns over longer periods with less (percentage) exposure to equities. Interestingly Mr. Swedroe suggests that 3% is the new 4% when it comes to drawdown rates for retirees, given the low yields on bonds and the high current valuation of the stock markets.
Conclusions and suggestions
For those heading into retirement tomorrow or in the next 2-3 years, I would suggest moving 2 to 3 years of spending to cash. And then find that asset mix that you are comfortable with that includes a nice mix of stocks and bonds in the range of 40% equities to 70% equities. Check in with a financial planner and ask them to run Monte Carlo models to examine the probabilities of your money lasting through various market conditions.
We may need to adjust our spending levels from the retirement start date, or be ready to lower our spending rates in the future. Retirement funding is a fluid game, and we must be ready to make adjustments and perhaps change our demands and lifestyle.
It is always important to consider taxes and these forced drawdown program rates. We may have to avoid the lure of the initial tax break that is offered with these programs. Investors should consider investments outside of these forced minimum schemes. Having access to investments that can be removed on your own schedule may become very important in the decades ahead. To create the optimum portfolio mix in the accumulation phase (that considers the spending stage and taxation), it is wise to check in with an accountant.
And most importantly, just because policy mandates that you drawdown at a certain rate does not mean that you have to spend those funds in their entirety.
Happy investing, and be careful out there.
Disclosure: The author is long VIG, SPY, EWC, EFA. The author wrote this article themselves, and it expresses their own opinions. The author is not receiving compensation for it (other than from Seeking Alpha). The author has no business relationship with any company whose stock is mentioned in this article. Dale Roberts is an investment funds associate at Tangerine Bank (formerly ING Direct). The Tangerine Investment Portfolios offer complete, low-fee index-based portfolios to Canadians. Dale's commentary does not constitute investment advice. The opinions and information should only be factored into an investor's overall opinion forming process.