What a couple of weeks for Prospect Capital (NASDAQ:PSEC). First, the company faced an SEC request for it to consolidate its holding companies. Fears were that this would force the company to restate its prior financial results, with unknown consequences on its dividend, net income, book value, and other metrics. Thankfully, this issue has been resolved, mostly in favor of Prospect.
Late on Thursday, June 12, Prospect faced the unpleasant news that its proposal to buy out Nicholas Financial (NASDAQ:NICK) had failed. Nevertheless, this news barely moved the stock, as it seems as if the market was pricing in the news. NICK's share price had been trading well below the buyout price of $16 per share ever since the SEC issues at Prospect became public knowledge.
Prospect's newest problem: New Century
However, Prospect is now facing yet another problem. According to a recent SA article, New Jersey-based trucking company, New Century Transportation has filed for Chapter 7 bankruptcy. Below are some of the key facts:
Loan Size: $44 million
Loan Terms: 12% plus 4% PIK
Fair Value (as of March 2014): $35.9 million
Prospect made this loan on August 3, 2012. Last quarter, the company decreased the fair value of the investment to $35.9 million, as shown below.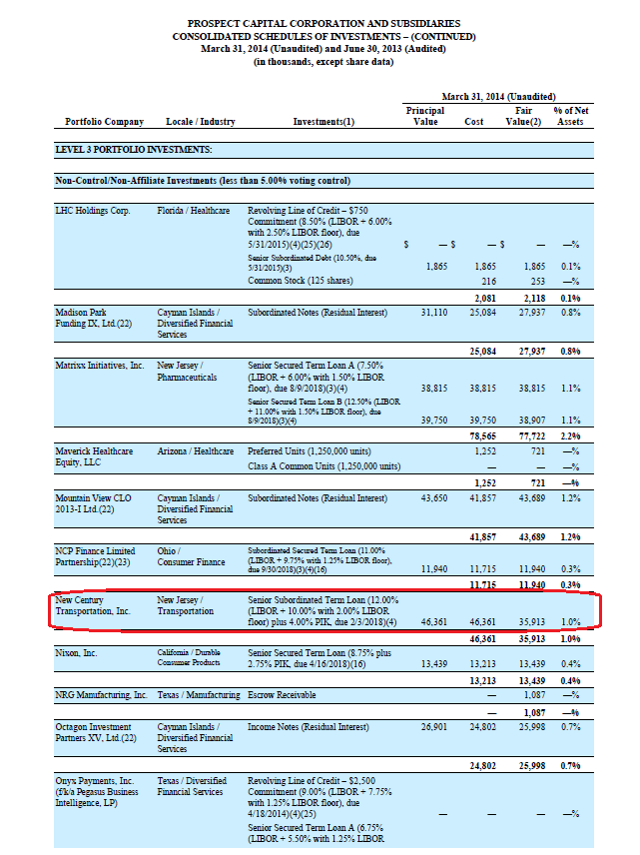 In addition, as noted by Prospect in its most recent 10-Q, the company was seeing a deterioration in the operating results of New Century, requiring it to take an impairment charge:
During the nine months ended March 31, 2014, the valuation methodology for New Century Transportation, Inc. ("NCT") changed to incorporate an EV analysis in addition to the yield analysis used in previous periods. Management adopted the EV analysis due to a deterioration in operating results and resulting credit impairment. As a result of this change, and in recognition of recent company performance and current market conditions, we decreased the fair value of our investment in NCT to $35,913 as of March 31, 2014, a discount of $10,448 from its amortized cost, compared to the $954 unrealized depreciation recorded at June 30, 2013.
The market has overreacted to the news
Almost as soon as news of the bankruptcy of New Century broke, shares of Prospect fell hard, closing down 2.12%, or $0.22, for the day.
In my opinion, this reaction seems way overblown. The loan's fair value of $35.9 million currently represents about 0.59% of Prospect's $6.00 billion portfolio.
In terms of a per share impact on NAV, the $35.9 million would represent a loss of $0.105, or less than 1% of the March 2014 NAV of $10.68 per share.
In essence, the market has discounted Prospect by at least double its worst-case scenario loss regarding New Century. In addition, one has to imagine that Prospect may receive some funds from the bankruptcy proceedings.
Conclusion: Don't panic
While seeing an investment turn sour so quickly is off-putting, one has to remember that this is part of the normal ebb and flow of BDCs such as Prospect.
You are not getting a double-digit yield without some level of risk. In addition, the terms of the loan (12% plus a 4% PIK) tells you a lot about the quality of the borrower.
That being said, I still expect Prospect share price to once again fall on Monday. This news broke late on a Friday, typically a time when many investors are not focused on the markets.
However, any decline should be considered a buying opportunity, given that Prospect yields north of 13% and is trading at a discount to its NAV. Furthermore, the company has already resolved in its favor the "real" problem regarding the SEC required restatement.
Disclaimer: The opinions in this article are for informational purposes only and should not be construed as a recommendation to buy or sell the stocks mentioned. Please do your own due diligence before making any investment decision.
Disclosure: The author is long PSEC. The author wrote this article themselves, and it expresses their own opinions. The author is not receiving compensation for it (other than from Seeking Alpha). The author has no business relationship with any company whose stock is mentioned in this article.