Bank of America (NYSE:BAC) will likely pay at least $12 billion to settle government investigations by the Justice Department. This will penalize the bank for shady mortgages before the financial crisis.
It's estimated that around $5 billion will likely be spent on helping consumers who suffered from these toxic mortgages. This plan includes aiding homeowners to decrease their principal, cutting down on the level of monthly payments, and providing necessary assistance in other problematic aspects of the loan agreement.
Divvying Up The Billions
As a result of the current talks that the bank has had with the various Obama governmental agencies, the bank has been pressured to pay around $12 billion to settle outstanding issues. Half of this figure will likely cover what the bank calls "hard money" or charges; meanwhile, the remaining amount will go to help those consumers who suffered the most under the bank's predatory lending practices.
Despite government pressure to raise cash following the fines, the plan might be completed using alternative repayment strategies to decrease the total cost paid by the bank; that is, an alternative to cash payment plans for reimbursement. The "soft money" amount to be paid will be also around $1 billion more than was imposed on JPMorgan (NYSE:JPM) as recently as last November.
An Extraordinary Case Hurts BAC Shareholders
The North Carolina-headquartered Bank of America is a stand-out case of government regulations as US prosecutors are asking approximately $17 billion-larger than the $12 billion BAC has offered, and significantly more than JPMorgan's prior settlement of $13 billion for similar troubles. JPM's settlement was the largest payout by a bank to date.
On a national level, Bank of America has also already doled out $6 billion following earlier investigations by the US Justice Department and FHFA (Federal Housing Finance Agency).
Another Painful Blow For BAC
If the settlement proceeds to the final stage, because of increasing pressure from the Justice Department, the bank will stagger under yet another great financial blow and the shareholders will have to wait for healthy dividends.
This fine is critical because, even in the case of a huge company like Bank of America, which is currently the second biggest bank in the country, one with the most assets and highest profitability, a settlement of around $12 billion is more that the bank's net profit as shown during the previous year, which came to about $11.43 billion.
What makes things particularly painful for the bank is that their profit represented the highest level of profitability ever reached during the span of a 6 year period- but now things seem quite out of control for the bank, and their future is unclear.
Since the financial crisis and through 2013, quarterly earnings have been unpredictable, showing a lack of consistent recovery.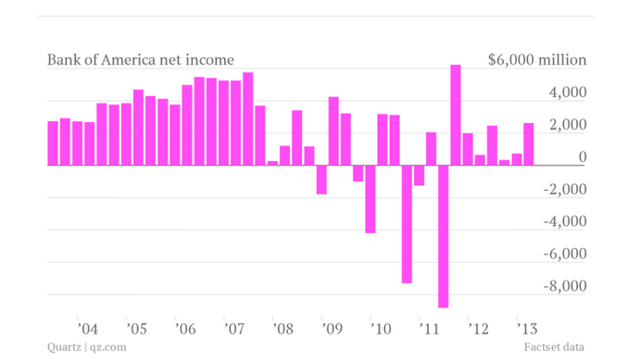 Click to enlarge
(Source)
Bank, Shareholders Unprepared
Shareholders were expecting the settlement since April's quarterly profits announcement, but it seems that the bank was unprepared for such a hefty fine and suffered a great loss of money and face.
It is estimated that the fines are a result of accumulated past mortgage problems, according to probes conducted by Obama's aggressive Department of Justice.
During the course of the financial recession, the bank has doled out billions and billions for handling lawsuits and gaining back mortgage securities.
Obscure Outlook for BAC Shareholders
During a previous conference, Mr. Moynihan implied that things are pretty unclear regarding the finalized settlement. Intense negotiations between the two parties--top United States government authorities and the brain trust at this megabank--have already taken place but still, no final deal is in sight.
BAC posted poor Q1 results, and the outlook for Q2 looks dim.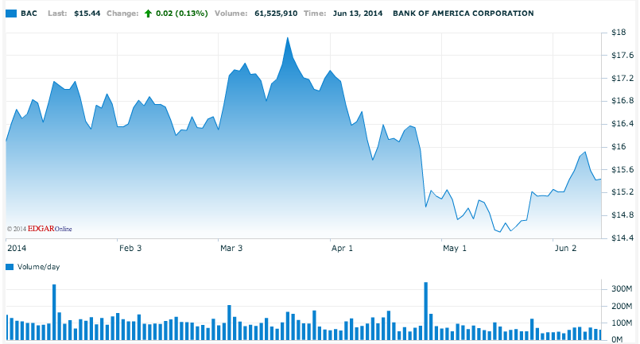 Click to enlarge
(Nasdaq.com)
Regarding a previous, multi-billion dollar embarrassing accounting error, BAC CFO Bruce Thompson was also vague about the bank's future. Prior to the error, BAC had announced plans to raise its dividend and commence a share buyback program to protect and reward its shareholders; this was suddenly halted. BAC has not had the capacity (or chosen) to raise dividends for its shareholders since the financial collapse (see below).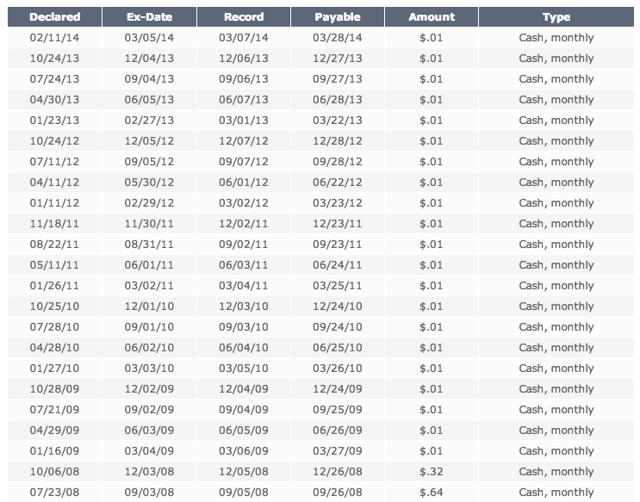 Click to enlarge
(Source)
With a loss of at least $12 billion, due to this settlement alone, the best-case scenario for shareholders is that BAC will have significantly reduced operations through 2014 and likely 2015 as well. Due to another scandal, involving customer manipulation, with regards to credit card sales, BAC customers could very likely begin to take their business elsewhere.
While trading and mortgage business platforms for most mega-banks have been less profitable than in recent quarters, a few firms, particularly Morgan Stanley (NYSE:MS) have been successful.
Recent IPO Heritage Insurance Holdings (NYSE:HRTG), a property and casualty insurance holding company, is another strong alternative. The IPO quiet period expiration for HRTG is Tuesday, June 17, at which point the price of shares could be given a boost, due to positive research reports from HRTG's underwriters. A detailed overview of HRTG is here.
We believe MS is a strong alternative to BAC for investors in 2014 and beyond.
Disclosure: The author is long HRTG. The author wrote this article themselves, and it expresses their own opinions. The author is not receiving compensation for it (other than from Seeking Alpha). The author has no business relationship with any company whose stock is mentioned in this article.