Thursday evening Intel (NASDAQ:INTC) shared a treat with its investors. The semiconductor company raised its sales outlook by $700 million (about 5%) after the market closed. On Friday the news was well received as Intel was up 7% in midday trading. Intel attributed the current quarter's success to stronger-than-expected demand for PCs from businesses. It comes as a bit of a surprise that Intel's PC business is going into overdrive right now, common wisdom holds that PC sales are for the most part flat while smartphones and tablets are booming. Semiconductor stocks have been hot over the past few years, and Intel's confidence could be a sign of continuing strength across the industry.
Earlier last week fellow semiconductor company Micron Technologies (NASDAQ:MU) was upgraded from underperform to buy by Bank of America Merrill Lynch. In their upgrade note Bank of America pointed out that Micron has already climbed 33% year to date, but is expected to continue to outperform due to a favorable chip pricing environment as a result of relatively tight supply. Micron Technologies is the next semiconductor set to report earnings, a complete list of upcoming semiconductor company earnings report dates can be found on Estimize.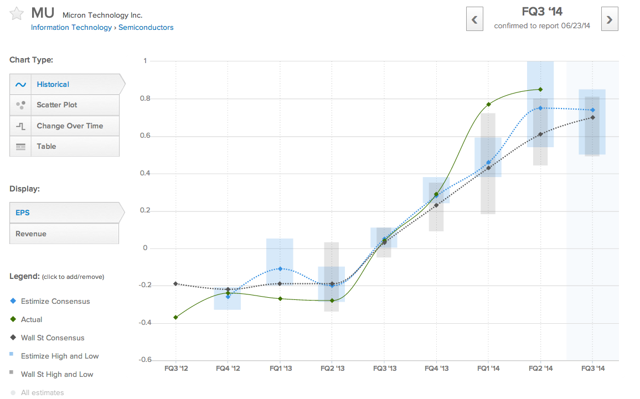 Recently Micron has been blowing away the Wall Street earnings consensus. Last quarter Micron Technologies beat the Street's profit consensus by 24c per share and beat the Estimize consensus by 10c. Over the previous 6 quarters the consensus from Estimize.com has been more accurate than Wall Street in forecasting Micron's EPS and revenue 5 and 3 times respectively. By tapping into a wider range of contributors including hedge-fund analysts, asset managers, independent research shops, students, and non professional investors, Estimize has created a data set that is more accurate than Wall Street up to 69.5% of the time.
In the upcoming quarter the Estimize community is expecting Micron Technologies to report earnings of 74c per share while Wall Street is only looking for 70c. Contributing analysts on the platform are also expecting Micron to beat the Street's revenue projection by nearly $100 million.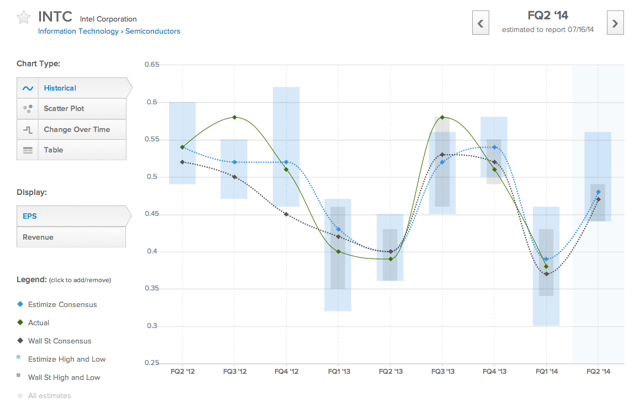 Before analysts had a chance to raise their estimates in response to Intel raising its guidance, the community was still significantly more bullish than Wall Street. As of Friday morning, the Estimize consensus was 1c higher per share on earnings, but over $110 million higher on revenue.
It will be interesting to watch this quarter how Intel's increased guidance spills over onto estimates for other companies. Normally when a company is doing well, it's a sign that the entire industry is healthy, not just a signal of a single strong individual performance. Intel made it clear that the good news was based on stronger than expected PC demand from enterprise clients. If businesses are buying more PCs, they are probably going to be spending more money on software as well.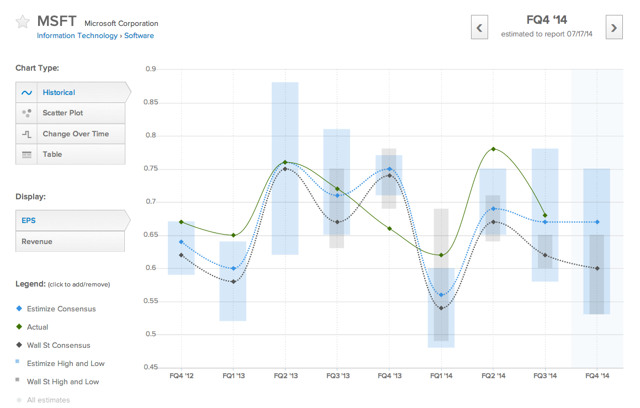 That's where Microsoft (NASDAQ:MSFT) and others come into play. Intel raising its guidance is a sign of capital expenditure, but companies don't just buy computers without purchasing software to support them. The most likely explanation for Intel's success is that companies are just spending a lot more money right now than they have been recently. That would also help to explain why the past 2 jobs reports have been so strong.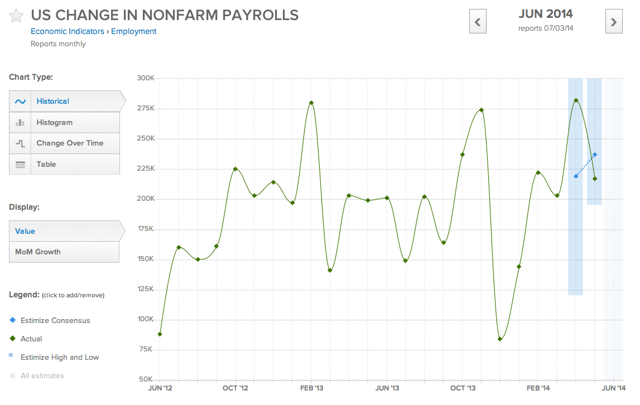 When a large-cap company like Intel makes such an optimistic increase to its guidance, the positive spillovers are widespread and can be difficult to measure. But for anyone who has an estimate in on Intel, or any other company that is likely going to be affected by their robust quarter, it's probably time to take a look at your estimates and bump them up a notch.