Over the years, I have learned to watch insider buying within the small cap space. So many times I have seen big moves in these stocks that were preceded by significant insider buying. This makes sense. Most small cap names receive scant analyst coverage so significant positive catalysts for these names do not receive color from analysts. Insider buying can be the signal that those in the "know" see these catalysts on the horizon and are putting their money where their mouths are.
Although not fool proof, I like the strong correlation over the years of insider buying in the space with overall performance of these stocks over the next 12 months. One of my routines over every weekend is to peruse Barron's for small caps that are seeing some significant insider buying for investing ideas. Here are two cash-rich small caps with recent insider purchases that caught my eye over the weekend.
ReachLocal (NASDAQ:RLOC), which provides a total marketing system to small business customers including search engine marketing, contact management and customer relationship capabilities saw approximately $500K in new stock purchases from its new CEO, Sharon Rowlands. Ms. Rowlands had a successful stint running Thomson Financial for four years in the late 2000s.
ReachLocal could be shaping up to be a budding turnaround story. In a typical move by a new CEO, the company recently lowered guidance and basically "Kitchen sinked" a lot of expectations recently. The company actually beat bottom line expectations during its last quarterly earnings report in early May.
The company is posting small losses but has a lot of potential opportunities. The company has been consistently operating cash flow positive despite earnings "losses." It is also selling at just 35% of annual revenues. Most players in this space sell for multiples of annual sales.
The company has just a ~$180 million market capitalization. However, over $70 million of this is represented by net cash on the books. The stock is selling for just over $6 a share, which is approximately one third its highs last year. Five analysts cover the stock with $12.00 a share median price target on the stock.
This company seems to have a lot of turnaround potential for a new CEO that will probably do some restructuring, focus on higher margin products and has balance sheet flexibility given the company's net cash position. The stock also is at long-term technical support levels (See Chart).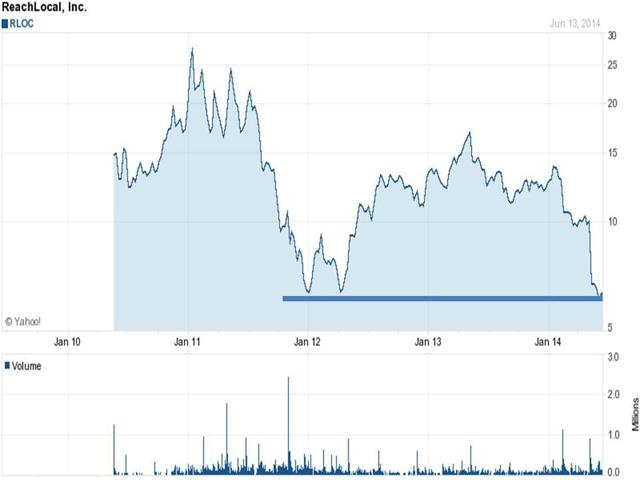 Click to enlarge
Fibrocell Science (NASDAQ:FCSC) is a cell therapy company focused on developing first-in-class treatments for skin diseases and conditions, particularly those with high unmet medical needs. The company's autologous fibroblast technology utilizes the patient's own fibroblast cells (skin cells responsible for the production of essential connective tissue and collagen) to produce collagen lost through trauma or natural aging process. It has one FDA approved product, LAVIV that is currently approved for targeting "smile" lines.
The company is currently conducting trials to prove this product could be effective treating vocal cord scarring and burn victims. The stock was cut in half from $6.00 a share in the small cap biotech sell-off that lasted two months after being triggered in early March. The shares went under $3.00 a share before bouncing back recently.
Several insiders took advantage of the stock's decline to add over $1 million in new stock in early June. Fortuitous timing given the FDA just granted orphan drug designation to its Fibrocell's genetically-modified autologous human fibroblasts to treat dystrophic epidermolysis bullosa (DEB), a broad category of rare and severe genetic skin diseases on June 13th.
The company currently has a market capitalization of just over $150 million. Fibrocell has over $50 million in net cash on the balance sheet. Only two analysts cover the stock. One has a $7.00 price target on FCSC and the other is at $9.25 a share.
I took stakes in both of these companies at the beginning of the trading week this morning.
Disclosure: The author is long FCSC, RLOC. The author wrote this article themselves, and it expresses their own opinions. The author is not receiving compensation for it (other than from Seeking Alpha). The author has no business relationship with any company whose stock is mentioned in this article.