MannKind (NASDAQ:MNKD) continues to polarize investors. The biopharmaceutical company intends to play big in the diabetes field with its new insulin drug Afrezza, and has got lots of people excited. According to company information, Afrezza is a rapid-acting inhaled insulin drug aimed at treating one of most prevalent lifestyle diseases, diabetes:
AFREZZA® (pronounced uh-FREZZ-uh) is a first-in-class, ultra rapid-acting mealtime insulin therapy being developed to improve glycemic control in adults with Type 1 and Type 2 diabetes mellitus. It is a drug-device combination product, consisting of AFREZZA Inhalation Powder single-use dose cartridges and the small, discreet and easy-to-use AFREZZA inhaler. Because of its unique pharmacokinetic profile, AFREZZA may be a promising new therapy for patients with Type 1 and Type 2 diabetes, as it has been shown in clinical studies to control post meal-time glucose levels, cause less weight gain and have lower risk of hypoglycemia than current standard insulin therapies.
The biopharmaceutical company does seem to have a solid product in its pipeline. According to the American Diabetes Association, diabetes is a disease affecting millions of people just in the United States, and it is only going to get worse (Source: Fast Facts - DiabetesPro):
29.1 million people (adults and children) are affected by diabetes in the United States alone, of which approximately 21 million have been diagnosed with diabetes (8.1 million remain undiagnosed).
A whopping 86 million people aged 20+ have prediabetes.
1.7 million Americans over the age of 20 are diagnosed with diabetes every year, and the trend is likely going to continue. It is expected that as many as 1 in 3 Americans will have diabetes in 2050 if the trend is not reversed in the near term.
$0.10 of every healthcare dollar is spent on treating diabetes.
Diabetes is one of the leading causes of death for Americans.
Accordingly, the domestic trend with respect to diabetes certainly indicates attractive market potential for a new insulin drug, and it is easy to accept the bull case for Afrezza and MannKind.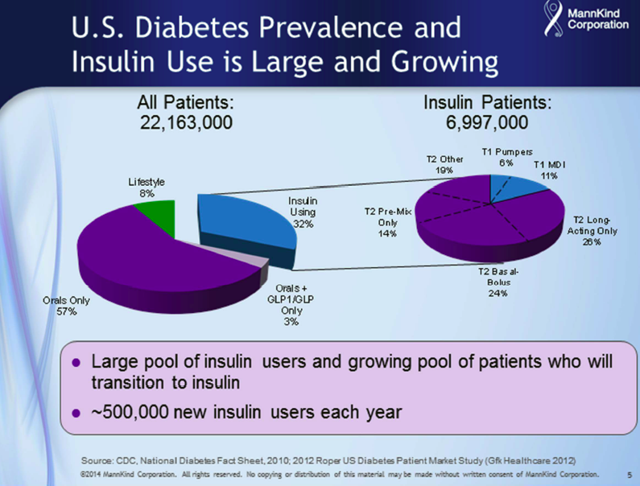 (Source: MannKind Corporate Presentation, Goldman Sachs Healthcare Conference, June 12, 2014)
Momentum purely driven by speculators
Let's be real, if you are buying now or have been buying MannKind shares recently in anticipation of a positive FDA decision regarding Afrezza, you are a speculator and not an investor. Nothing wrong with that, but it is speculators who largely contribute to asset price inflation and the creation of bubbles, not investors. And speculators clearly have been driving MannKind's recent surge in its share price.
With the approaching FDA date on July 15, 2014, MannKind's share price really kicked into gear lately. As SA contributor Quoth the Raven quite succinctly pointed out in his MannKind article, emotions have largely been driving MannKind's share price over the last month.
MannKind shares are up 71% since the company quoted at $6.16 on May 8, 2014. This is a solid plus for a five-week performance measurement period considering that the company has not presented any tangible results just yet.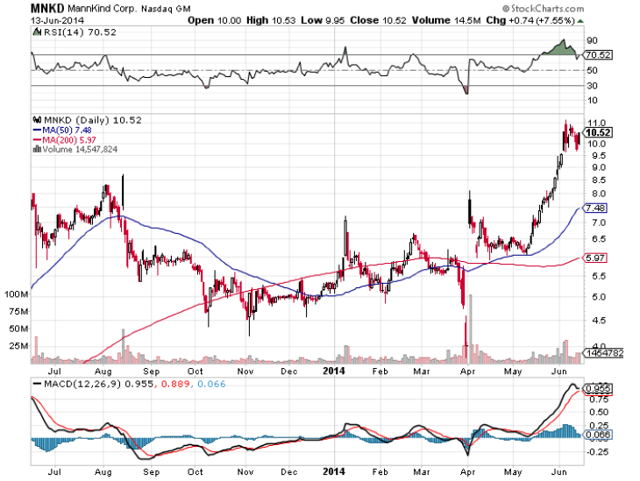 (Source: StockCharts.com)
Insider transactions
I recently wrote an article about MannKind's insider sales (here), which received some flak from investors who obviously hold a long position in the stock. Fair enough, I don't expect anyone to agree with me. The latest article on the bull front particularly criticized me for the way I pointed out insider sales transactions (see article here).
As reference to the criticism and as a general note, I do not equate option exercises with open market transactions at the prevailing market price. When you have a bunch of insiders who exercise their options and who immediately pocket substantial gains, that indeed leaves a bad taste in my mouth.
In addition, I'd like to emphasize, since the question also came up, that it makes no difference to me whatsoever if insider sales are enacted based on some automated schedule or not. Speculators can rationalize as much as they want: At the end of the day, insider sales remain insider sales, which means insiders think they get a good deal by selling their shares to you.
Be fearful when others are greedy
Probably the best investment guidance I have ever heard relates to Warren Buffett's quote "Be fearful when others are greedy and be greedy when others are fearful". This investment advice cannot be repeated enough. Fear and greed are the two primary drivers of share prices, and MannKind's share price certainly runs high on hopes and greed.
Conclusion
While I acknowledge that Afrezza is an interesting drug and treating diabetes is an attractive market, I stand by my previous assertion that MannKind is a highly speculative play on FDA approval. One can easily see the existence of speculators by recognizing the amount of bullish articles on MannKind and the euphoric language used in such articles.
The latest article, which criticized my factually correct, negative stance on MannKind, concluded euphorically that "future research studies will demonstrate that it reduces the likelihood or onset of long-term complications more than its competitors" and "MannKind will form a meaningful partnership with a major pharmaceutical company that will have terms that are highly favorable to MannKind".
One has to admire the implied certainty with which the author describes (inherently uncertain) future events as completely riskless endeavors. If hopes and euphoria determine the rationale, disappointment won't be far away; this has been proven over and over in the history of the stock market.
Disclosure: The author has no positions in any stocks mentioned, and no plans to initiate any positions within the next 72 hours. The author wrote this article themselves, and it expresses their own opinions. The author is not receiving compensation for it (other than from Seeking Alpha). The author has no business relationship with any company whose stock is mentioned in this article.