My last article about DryShips (NASDAQ:DRYS) was called "These 2 Things Could Give DryShips 33% Upside." I talked about the route to DRYS making its way back up to $4, which consisted of Ocean Rig's latest drilling deal set to begin in 2015 combined with shipping rates eventually starting to rise.
The one item that I didn't touch on was timing the exit from the trade - I knew that DRYS wasn't going to be a super long-term hold, but I didn't say exactly when I'd consider selling.
Today, I have a bit of an idea.
DryShips has done nothing but churn over the last three months, as you can see from the stock's tight trading range since the end of March. Of recent, however, DRYS seems to be showing signs of life, recently crossing through both moving averages and setting up the 50DMA to curl upwards towards the 200DMA. I remain confident that there's upside to the DRYS trade from this point forward, for the coming months.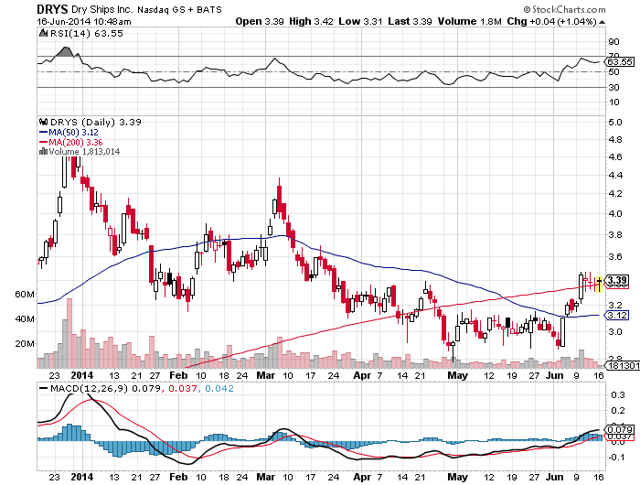 DryShips, Inc. is a company, which provides mostly water-based transportation for all kinds of cargo. From DryShips' website:
DryShips Inc. is an owner of drybulk carriers and tankers that operate worldwide.

Through its majority owned subsidiary, Ocean Rig UDW Inc., DryShips owns and operates 10 offshore ultra deepwater drilling units, comprising of 2 ultra deepwater semisubmersible drilling rigs and 8 ultra deepwater drillships, 3 of which remain to be delivered to Ocean Rig during 2013 and 1 during 2015.
DryShips owns a fleet of 42 drybulk carriers (including newbuildings), comprising 10 Capesize, 28 Panamax, 2 Supramax and 2 newbuilding Very Large Ore Carriers (VLOC), with a combined deadweight tonnage of approximately 4.4 million tons, and 10 tankers, comprising 4 Suezmax and 6 Aframax, with a combined deadweight tonnage of over 1.3 million tons.
Since I've once again pulled the bullish trigger on DryShips (as noted in my editorially "picked" article "DryShips: I'm Going From Bearish to Bullish"), the stock has offered shareholders muted upside. From today's pricing near $3.34, we'll be able to consider moves to the upside as profit from my bullish article, which was penned while the stock was right around this price.
If you recall, I suggested taking profits at the end of 2013 and then reinvesting in DRYS once it had again dumped itself below the $3 mark. My timing on DRYS, if I do say so myself, has been pretty good, for those that have been following.
As you can see from the below chart sourced through Bloomberg, the Dry Shipping Index continues to lag. This chart looks little or no different from the one provided in my last article, but I do maintain the same view that dry shipping rates are cyclical and will eventually come around.
(click to enlarge - source Bloomberg)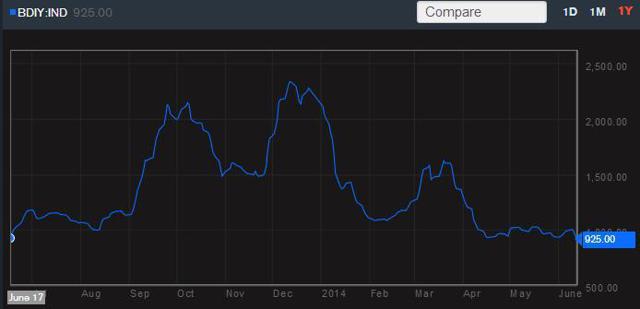 Currently, the capesize rates are the ones that are showing some semblance of a heartbeat over the last couple of years. Panamax rates look flatlined for the past couple of years.
DryShips' capesize vessels are contracted until next year - thus any move upward in capesize rates isn't going to have a major effect for DryShips like it would for Baltic Trading (NYSE:BALT). This is a small caveat to remember when going long on the DRYS trade. You might want to pair trade and add BALT as well, to increase your exposure to capesize rates.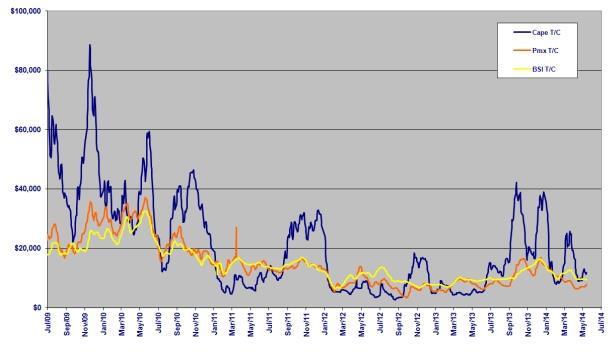 Most of DryShips' spot exposure is panamax, where rates have failed to even show much of a heartbeat.
But, that's not to say that they couldn't move in the near future.
A lot of my last piece on DRYS presented the short-term reason why I thought the stock could be lucrative as a long position. When trying to determine when the next exit point was going to be for DRYS, I recalled a piece I had read about debt coming due at the end of this year for DRYS.
From a Mission IR blog piece on DRYS:
The company's four new Panamax vessels are expected to be delivered this year. However, the company stated that the vessel developing company, Rongsheng, is facing difficulties, and there is a high probability that the vessels may not be delivered. If delivery occurs, the company has to allocate about $98 million for the remaining contracts.

Also, the company's convertible notes worth $700 million are going to mature in December this year. The company suggested that it will try to extend maturity by refinancing through the note holders, but even if it doesn't refinance due to additional equity sales, the company will be in a better position to redeem the notes.
Between DRYS ship exposure and their debt coming due in December, I'm looking at a potential September to November exit point on DryShips, where the stock should have had time to push towards the $4 mark, still locking in the aforementioned 33% upside.
Best of luck to all investors.
Disclosure: The author has no positions in any stocks mentioned, and no plans to initiate any positions within the next 72 hours. The author wrote this article themselves, and it expresses their own opinions. The author is not receiving compensation for it (other than from Seeking Alpha). The author has no business relationship with any company whose stock is mentioned in this article.