Turkey is on its way to becoming a stronger player on the global stage. But for its exchange traded fund to keep moving in an upward direction, reforms need to stick.
What Turkey has going for it:
Real GDP growth softened a bit to 10.3 % year over year in the second quarter, down slightly from 11.7 % in the first quarter.
Scott Anderson for FXStreet reports that strong domestic demand has overcome a widening trade deficit, which itself is a sign of increasing economic activity. Investors have returned to Turkey, and the lira's appreciation fhas helped to keep inflation contained. In turn, the central bank has been able to keep interest rates low to support economic growth.
On the downside is political shifts in the country and what impact they will ultimately have. Reza Aslan for The Los Angeles Times reports that Turks voted overwhelmingly for constitutional changes pushed through by the moderate Islamists of Prime Minister Recep Tayyip Erdogan's Justice and Development Party (known by its Turkish initials AKP). Most importantly, the reforms reorganize the structure of the court system, providing greater legal protections for ordinary citizens while stripping the military of its immunity against prosecution in civilian courts.
iShares MSCI Turkey Index (NYSEArca: TUR)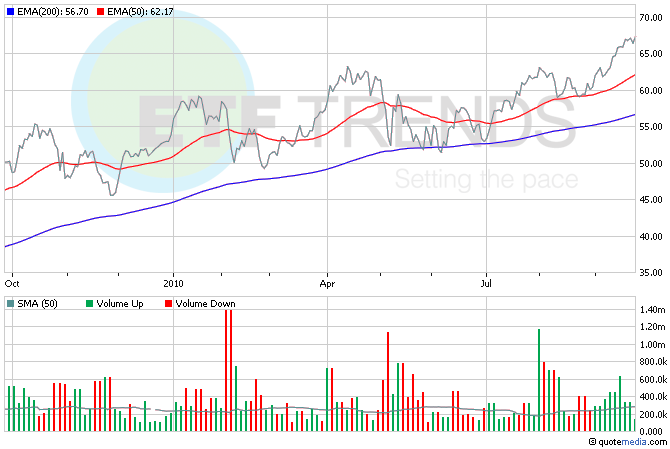 click to enlarge
Tisha Guerrero contributed to this article.