We are starting another week off the right way as it is most definitely a "Merger Monday" with a number of deals and rumored deals in the news. With the continued fighting in Iraq we doubt that this will have much of an impact upon markets today or tomorrow but the bottom line is that this is most certainly good news that will be lost in the geopolitical front page news. One must recognize these good events and ignore the white noise at times like these in order to position portfolios properly; not for today, but next quarter and a year down the road.
Chart of the Day:
While looking at the economic data that was to be reported today we noticed that capacity utilization is still not quite at levels reached before the financial crash. What do we make of this? Well first it should be expected, but more importantly until that reaches the 80% level we cannot expect the job market to quickly turn, especially considering all of the advances in technology, which continue to make companies more efficient. This figure and the workforce participation numbers might be the most important job data points now that the data has been skewed.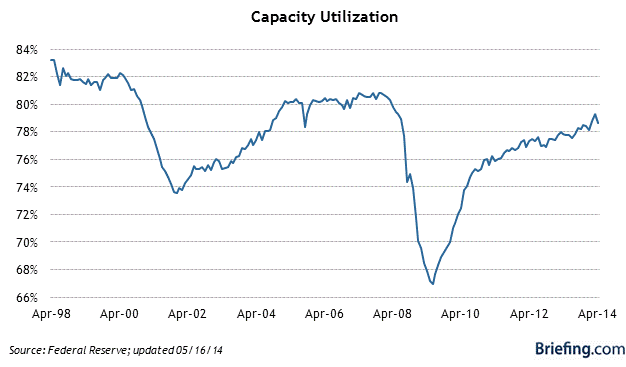 Source: Briefing
We have economic news today, and it is as follows:
Empire Manufacturing (8:30 a.m. EST): Est: 12.8 Act: 19.3
Net LT TIC Flows (9:00 a.m. EST): Est: N/A Act: -$24.2 B
Industrial Production (9:15 a.m. EST): Est: 0.5% Act: 0.6%
Capacity Utilization (9:15 a.m. EST): Est: 78.9% Act: 79.1%
NAHB Housing Mrkt Index (10:00 a.m. EST): Est: 46 Act: 49
The Asian markets are mostly higher today:
All Ordinaries -- up 0.13%
Shanghai Composite -- up 0.74%
Nikkei 225 -- down 1.09%
NZSE 50 -- up 0.16%
Seoul Composite -- up 0.14%
In Europe, the markets are lower this morning:
CAC 40 -- down 0.45%
DAX -- down 0.20%
FTSE 100 -- down 0.33%
OSE -- down 0.50%
GE In Trouble?
It appears that the deal for Alstom is going to go down to the wire, or at least the deadline set forth by General Electric (NYSE:GE) for the power business. A rival bid is being put together but whenever that deal does materialize it will be a far more complicated deal and probably take longer to close due to the various parties involved. Although nothing has been formally announced, it seems that Germany's Siemens has decided to team up with Japan's Mitsubishi in a joint bid that will see Alstom's energy business split among the two. Our feeling is that General Electric is still in the driver's seat to complete this deal but it appears to finally close the transaction that they will have to increase the number of jobs they plan to create from 1,000 in order to please the French government.
Another Possible Inversion
US lawmakers now have another possible inversion to worry about now that Medtronic (NYSE:MDT) has announced that it will purchase Covidien (COV) in a $42.9 billion deal. Medtronic is paying a 29% premium over Friday's close in a cash and stock deal that will see Covidien shareholders receive 30% of the combined company; well over the 20% required by law to do an inversion. Medtronic will pay $35.19/share in cash and 0.956 Medtronic shares for each Covidien share while moving its corporate base to Ireland in order to lower its global tax burden.
The deal will create the second largest device maker and enable the combined company greater bargaining power when dealing with clients. Also of importance is the fact that Medtronic has roughly $14 billion in cash with most of it located outside the US, so the deal will allow Medtronic access to that cash moving forward after they move to Ireland.
Medtronic also announced a 9% increase to their quarterly dividend.
Communications Merger
With the 'Internet of Things' quickly developing we continue to believe that investors can continue to profit as the providers of high speed data lines, internet, cable and telecom services look to consolidate. We also would not be surprised to see home security companies become targets as some of these companies look to build up scale quickly and lock in customers in geographies, which they control.
This is why we were not all that surprised that tw telecom (NASDAQ:TWTC) was finally acquired. The buyer, Level 3 (NASDAQ:LVLT) is a logical fit and will be able to better compete with some of the larger competitors in the industry as this $5.7 billion deal appears as a move to deleverage the balance sheet. Also important to note is that this now takes Level 3 off of the market, assuming the deal closes and someone does not try to come in and buy Level 3 while leaving tw telecom at the altar, as they will have to digest the acquisition.
Disclosure: The author has no positions in any stocks mentioned, and no plans to initiate any positions within the next 72 hours. The author wrote this article themselves, and it expresses their own opinions. The author is not receiving compensation for it (other than from Seeking Alpha). The author has no business relationship with any company whose stock is mentioned in this article.