Coca-Cola (NYSE:KO) needs no introduction but the stock could use some friends here. After closing 2013 at $41.31, the stock is almost flat so far in 2014. This article presents a few reasons why Coca-Cola looks interesting here for investors. Let us get into the details.
3% Yield: Coca-Cola's yield being at 3% is a rarity as shown in the chart below. Last week's fall in share price has put the yield above the magical 3% spot. The red line below is the five-year average yield (2.81%) and the green is the current yield of 3.01%.
As can be seen in this article, a 3% yield from Coca-Cola generally gets the attention of investors. The Forbes piece linked was written in October 2013, when Coke yielded 3% and the share price was at $37. Since Coca-Cola has raised the quarterly dividend from 28 cents/share to 30.5 cents, the 3% yield point now is $40.66. While this might sound very basic, the fact is that an ever increasing dividend also ends up raising the floor price for most stocks.

(Source: YCharts.Com)
Price Target:
In case you thought Coke is just about dividends, you might be mistaken.
Morningstar has a fair value estimate of $44, nearly 8% upside from here.
20 analysts on Yahoo Finance have an average price target of $44.59, again 8% upside from here.
Add the 3% yield and we are looking at a relatively stable 10% return.
Flight To Safety: After two company specific points, we now turn our attention to the macro conditions. With the market reaching dizzy heights, more people are calling for a market top. This might prompt some investors to bring in a bit more safety to their portfolio. Coca-Cola has historically been the definition of safety. One might say even Coke was not spared during the 2008/2009 crisis but there is no doubt the stock held up better than most. And when the macro economic conditions improved, Coke sizzled too.
Staple: Consumer staples tend to do very well during sell offs.
Beta: A low beta of 0.34.
Yield: Try getting a relatively safe 3.00% yield anywhere else with some potential for capital growth too.
GMCR: Last month, Coca-Cola announced that it increased its stake in Keurig Green Mountain (NASDAQ:GMCR) to 16% from 10%. While on the surface this sounds like good news just for Green Mountain, it is likely to enhance Coca-Cola's revenue and bottom line.
Coca-Cola undoubtedly has the means (read marketing, distribution, global presence) to take Green Mountain's fresher products to heights they can never reach on their own. This article covers the positives for both companies due to this budding relationship.
Looking Forward Analysis:
Let us do some number plugging to see where Coke's dividend is likely to be in the next five years.
Free Cash Flow (FCF) is the cornerstone for dividends as well as funding expenses. Coca-Cola's average quarterly FCF has been $1.8 billion over the past five years. The company is currently committing an average of $1.3 billion (30.5 cents/share times 4.39 billion shares) to shareholders in dividends. This is a company that continually reduces its expenses and that means there is enough room left for a dividend increase again in February 2015.
The five-year dividend growth rate is about 8% and using the same number, investors can expect the new annual dividend to be $1.32/share in 2015. That would represent a yield on cost of 3.30% for investors buying today. If you refer to the yield chart shown above, that's near the highest yield point for Coke in the last five years.
Coke's earnings per share is expected to grow at 6.7%/year over the next five years and this number is fairly close to what the company achieved in the last five years. However, the company has been more aggressive in cost-cutting and venturing into new products and markets in the last few years. This is consistent with the 2020 vision of doubling revenues from 2009.
Rest assured, the company will at least meet its earnings expectations. Perhaps no other company's earnings have been as predictable as Coke's in recent times as the expectations and actual numbers have been identical the last few quarters.
Even if EPS grows at just 6.7%/year for the next five years, the annual EPS would be $2.58 in five years. And let's assume Coke maintains the current payout ratio of 65%, the annual dividend would be $1.67 in five years. That would represent an almost guaranteed dividend growth of 36% in five years.
Helping the future earnings growth is China. Believe it or not, even in the most recent quarter, the numbers in China were outstanding and Coke plans to invest $8 billion there over the next five years. As a comparison, volume rose 12% in China versus 2% overall.
Even though there is enough work being done for organic earnings growth, let us be pessimistic and assume there will be nothing going on for Coca-Cola except the annual dividend increases. As stated here, whatever happens to the overall market, investors can expect Coca-Cola to reward investors with dividend increases each February. Investors will be looking at a safe double on their yield on cost if Coke maintains the 7% to 8% dividend growth, which appears doable based on the numbers presented here.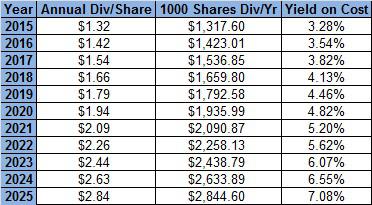 (Source: Current dividend and share price from Yahoo Finance)
In a nutshell, time and a little bit of timing are of essence when it comes to Coca-Cola. Buying at and above the 3% mark is likely to come in with a rock solid floor price plus ever increasing dividends. If you believe a pullback is due in the market, this must be one of the stocks on your watchlist.
Technical Indicator: In a market reaching repeated highs, it is indeed hard to find stocks that aren't overbought. The chart below shows that Coca-Cola's Relative Strength Index (RSI) is in the sweet spot at about 50. This could mean the stock is about to break out after consolidating in the $40 to $41 range for some time.
The RSI being very close to the oversold region goes hand in hand with the 3% yield mark. That is, the stock is very close to a bottom here.

(Source: Yahoo Finance)
Conclusion: So, what do you think about Big Red here? Are you a bull or a bear? Please leave your comments below.
We are long Coca-Cola and are reinvesting dividends for the long term. If there is indeed a market pullback, the reinvested dividends will rocket the returns up when the market eventually turns up. If there is no pullback, that's good as the capital appreciation will continue at a reasonable pace along with the rock-solid dividends. Talk about win-win.
Disclosure: The author is long KO. The author wrote this article themselves, and it expresses their own opinions. The author is not receiving compensation for it (other than from Seeking Alpha). The author has no business relationship with any company whose stock is mentioned in this article.