The PowerShares Dollar Bullish Fund (NYSEARCA:UUP) has fallen 11% since early June. For worse or for better, the U.S. dollar's value on the world stage is the same as it was at the start of 2010.
By itself, this fact isn't all that alarming. Yet the Federal Reserve's orchestrated maneuvers in the light of day — a dollar devaluation process known as "quantitative easing (QE)" — should be viewed with some apprehension.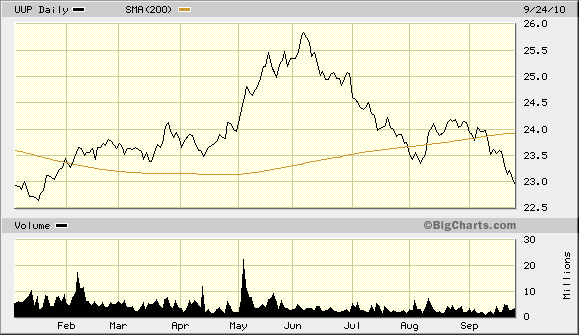 In a perfect world, the Fed may take quantitative or qualitative steps to make it easier for banks to lend excess cash to credit-hungry businesses and families. However, QE isn't risk-free.
For one thing, banks have been opting to hold onto the cash, rather than lend it out to people/businesses with questionable credit. And boosting reserves is a way for banks to cover the enormous level of loan defaults from the housing crisis.
Secondly, when the Fed creates money out of "thin air," more dollars in existence dilutes the value of the currency. It may not matter whether purchasing treasuries or risky mortgage-backed securities with the extra dollars is successful at keeping rates low; a weaker currency can limit foreign investment and/or create hyperinflation..
In mid-March of 2009, when the Fed began its first campaign of QE, the PowerShares Dollar Bullish Fund (UUP) fell roughly 18.5% in just 8 months. Our devalued dollar contributed to asset appreciation in stocks, commodities, higher-yielding bonds… most market-based securities. And it appears here in September of 2010, all risk assets are rising on the same assumptions; specifically, the economy will either improve on its own or the Fed's QE activity will push assets higher in the near-term.
Of course, the devalued dollar may not be able to purchase as much in the future. Gold at $1300 per ounce may indeed be saying something about the U.S. dollar's purchasing power going forward.
On the flip side, if dollars are what you have in your investment accounts, and everything but the U.S. dollar is climbing in value, you ought to grab some of those assets while they are hot. On pullbacks, you'll want to consider ETFs like these:
10 ETFs That May Benefit From Fed "Quantitative Easing"
1-Month Rolling Return (%)
U.S. Sectors
SPDR Select Industrials (NYSEARCA:XLI)
12.0%
SPDR Select Materials (NYSEARCA:XLB)
11.6%
U.S. Styles
PowerShares Nasdaq 100 (QQQQ)
12.9%
SPDR MidCap (NYSEARCA:MDY)
10.0%
Foreign Stock
iShares South Africa (NYSEARCA:EZA)
14.7%
iShares Thailand (NYSEARCA:THD)
13.7%
Foreign Bond
SPDR Short-Term International Treasury (NYSEARCA:BWZ)
4.7%
WisdomTree Emerging Market Local Bond (NYSEARCA:ELD)
3.4%
Commodity
PowerShares DB Base Metals (NYSEARCA:DBB)
13.6%
iPath DJ Copper ETN (NYSEARCA:JJC)
11.8%
Disclosure: Gary Gordon, MS, CFP is the president of Pacific Park Financial, Inc., a Registered Investment Adviser with the SEC. Gary Gordon, Pacific Park Financial, Inc, and/or its clients may hold positions in the ETFs, mutual funds, and/or any investment asset mentioned above. The commentary does not constitute individualized investment advice. The opinions offered herein are not personalized recommendations to buy, sell or hold securities. At times, issuers of exchange-traded products compensate Pacific Park Financial, Inc. or its subsidiaries for advertising at the ETF Expert web site. ETF Expert content is created independently of any advertising relationships.