In the "Dividend Alternatives" series, I suggest replacements for the stodgy old dividend stocks investors may have collecting dust in their portfolios. Today, I take aim at Consolidated Edison (NYSE:ED).
Consolidated Edison has been providing utilities to New Yorkers for more than 180 years. The company has increased its dividend every year since 1974, making it a Dividend Aristocrat and somewhat of a darling among income investors. Unfortunately, Consolidated Edison's celebrated tradition of issuing dividend hikes has one major flaw: The increases are miniscule! The company has raised its dividend rate by a total of just 9.17% since 2000, and shareholders haven't seen a raise of more than 3% since 1994.
Most dividend investors aren't jumping out of their seats to replace a "sure thing" like Consolidated Edison. So before I began my research, I was sure to to lay out some stringent criteria in order to come up with the best candidate possible. I needed a replacement with: A dividend yield comparable to Consolidated Edison's, a recent history of strong dividend growth, an obvious willingness to continue that dividend growth, and the financial firepower to achieve such a thing. I also needed the company to have significant exposure to utilities, in order to appropriately fill the void left by Consolidated Edison.
So, what did I come up with? ONEOK, Inc. (NYSE:OKE).
ONEOK is a diversified energy company which, through its subsidiaries, gathers, transports, stores, and distributes natural gas to more than two million customers in Oklahoma, Kansas, and Texas. ONEOK is a Fortune 500 company that was founded in 1906, and yet the company has been experiencing startup-like growth over the last decade - and paying its shareholders accordingly.
Since 2001, the company has nearly tripled the amount it pays to shareholders each year, increasing its dividend rate from $0.69 to $1.84 over that span. Comparing ONEOK's total dividend growth since 2001 to Consolidated Edison's provides a staggering visual: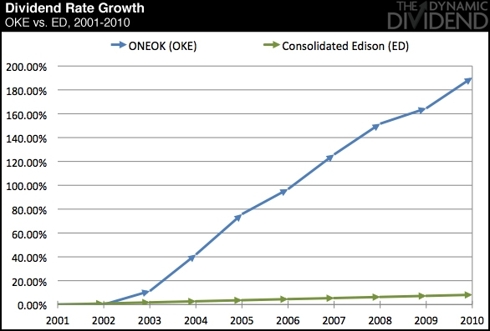 ONEOK's board of directors seems focused on continuing the trend. They've given nine dividend hikes since 2006, including two this year, raising ONEOK's quarterly payout from $0.42 to $0.44 in January and announcing another upgrade to $0.46 per share in July. That's a cumulative raise of 9.52% over the last nine months, more than Consolidated Edison has given its shareholders over the last nine years.
Currently ONEOK offers a yield (4.13%) comparable to Consolidated Edison's (4.88%), and seems poised to leapfrog it in the near future. Despite the overwhelming disparity in recent dividend hikes, ONEOK actually has a lower forward payout ratio (60%) than Consolidated Edison (70%), leaving more room for dividend growth. Keeping its payout ratio manageable can largely be attributed to ONEOK's ability to grow its revenue by an average of 23% annually since 2001, dwarfing Consolidated Edison's average figure of just 4%. This year looks to be much of the same, as the average analyst has ONEOK pegged for 30% growth, while Consolidated Edison looks to grow by about 6%.
Disclosure: No positions