South West Ghana has become the epicenter of activity for the world's largest gold producers where 11 mines are currently producing in excess of 2,120,000 ounces per year. These mines are found within several large Birimian sedimentary basins and greenstone belts, that contain 4 "elephant" sized resources at Obusai with 48 million ounces, Ahafo with 23 million ounces, Teberebie-Iduapriem with 16 million ounces, Tarka – Damang with 17 million ounces along with a number of smaller multi million ounce resources and mines.

Many analysts expect the area to continue to produce a large number of major finds with Newcrest (OTCPK:NCMGY) Newmont (NYSE: NEM) and AngloGold Ashanti (NYSE: AU) as the main players, with Barrick Gold (NYSE: ABX) looking for an entry point.
Kinross Gold Corporation (NYSE: KGC) recently joining the fray by arranging a friendly takeover of Red Back Mining (OTC:RBIFF) for US$7.1 billion, and values their two producing mines and 12.5 million ounces of gold resources at a very hefty US$524 per ounce. Approximately 40% of that valuation, or about $2.84 billion, attaches to Chirano, which hosts reserves and resources of 7.23 million ounces.

These resources lie in close proximity to two projects under development by Keegan Resources (AMEX: KGN) called Esaase, and Asumura that have the combined potential to rival Chirano. KGN has issued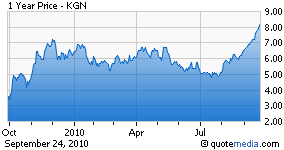 49,863,963 shares and warrants for a market capitalization of C$361.0 million, and holds cash of C$42 million, representing a very substantial discount to the valuation placed on nearby Cirano, which is a more developed asset that is projected to produce 300,000 ounces of gold per year. Most of the gold majors are running operations that cost around US$800 per ounce and with spot gold around US$1,250 are brimming with cash to purchase undervalued assets that can be fast tracked to production.

KGN has completed a NI 43-101 at Esaase, for indicated resources of 2.28 million ounces at a grade of 1.2 grams per tonne, and inferred resources of 1.2 grams per tonne, for a total of 3.93 million ounces of gold, contained within about 2,000 meters of strike on one mineralized fault line. The current resource appears to have unlocked only a small part of the potential on this project that covers 89 km², and encloses a historic alluvial mining field that produced 500,000 ounces of gold. These concessions are known as Asaase and Jeni and host numerous fault lines running across them. Some of these lines, running over a distance of at least 15 - 20 kilometers have been lightly explored and carry gold mineralization at surface.

The defined resource at Esaase lies atop the most easterly strike line of three parallel mineralized fault lines that extend for 5,000 meters in a north easterly direction. These three strike lines are contained within a trend line that is approximately 1 to 1.5 kilometers in width, with the defined resource restricted to the southern part of this system, covering an area of approximately 2,500 meters in length and about 400 meters in width or roughly about one sixth of the total strike trend. KGN has already drilled out mineralized areas on all three strike lines that nearly double the surface area of the defined resource, but has net yet released any resource estimates, which are expected to increase substantially. These include extensions to the north of the defined resource at A-1 zone for 1,500 meters, and drilling of a down dip extension that widens the resource by about 100 meters. An additional 1,000 meters of strike, directly north of the A-1 zone has also been identified as a near term drill target. Two drills are working continuously on these extensions.

The company retains 90% equity in the project and will also pay a 3.5% net smelter royalty. KGN completed a preliminary economic assessment in April of 2010 that produced a pre-tax Internal Rate of Return of 19.5% at US$850 per ounce, and Net Present Value of $221 million, rising to an IRR of 37.9% at US$1,105 per ounce and NPV of $572 million. This assessment assumed a 10 year mine life producing 243,000 ounces per year at 1.4 g/t for the first 3 years at a cash cost of $423 per ounce including royalties and refining charges and thereafter 198,200 ounces per year, at a grade of 1.3 g/t for a cash cost of $486 per ounce including royalties and refining charges. Capital cost estimates were $344 million / $173 per ounce.

An open pit is proposed that will be cut into an ore zone that outcrops at the top of a hill, and dips moderately, which will lead to lower stripping and mining costs. The mine is located close to roads, energy, water and several major population centers at Kumasi and Obuasi that support other local mining operations in the area. Metallurgical studies indicate that 40-70% of gold will report to a gravity concentration circuit, with the balance captured by carbon in leach, for a total recovery of +95%. Current drilling will continue through to the end of the first quarter of 2011, and is expected to substantially increase ore resources. This may possibly increase throughput rates from the current life of mine rate proposed at 5 million tonnes of ore per year. Permitting, financing and plant construction should be completed, with gold production anticipated in the first quarter of 2014.

The Asumura project covers 280 km² of prime exploration acreage, where numerous strike lines run in a north easterly direction, directly back to Ahafo where they host 23 million ounces of gold. Significant exploration targets measuring approximately 10-15 kilometers on 5 strike lines, were identified by magnetic and resistivity surveys, followed by geochemical testing and some reconnaissance drilling, including 14 meters at 4.5 g/t on the NW Target measuring 5,000 meters in length, 25.5 meters at 0.72 g/t on the Mangoase Target measuring 3,000 meters in length, and 30 meters at 0.59 g/t on the Wagyakrom Target measuring 2,500 meters in length. Magnetic work at Bia Target identified 2,000 meters of strike and 2,500 meters of strike in gold auger holes on the Menukrom Target. A 4,000 meter drilling program commenced on these 5 targets in May of this year and drilling results are awaited.



Disclosure: No positions