Would you pay $40 million for an investment that would make you $12 million in 18 months? Some investors were apparently not aware that this "blue light special" was being offered just a short time ago for much less than the current price tag. The company currently sports a $40 million market cap and is well positioned to continue their recent strong performance.
QEP Corporation (OTCPK:QEPC) manufactures, markets, and distributes various specialty tools and flooring related products for the home improvement market. Their products can be found in the big home improvement centers like Home Depot (NYSE:HD).
Since emerging from a few rough quarters, seeing writedowns and violating debt covenants as a result, the company has been on an absolute tear. Over the past 6 quarters the company has generated $12.9 million in net income or $3.72 diluted eps. With the shares currently trading at $12.20, the company is trading with a P/E a touch under 5 and a P/S ratio of .17. These are rock bottom valuation numbers.
The company trading on the pink sheets certainly plays a role in the low price, but this alone is not enough to justify these gutter valuation levels. Flooring products cast no glamorous aura over the company, leaving them wallowing in obscurity. Ya' can't buy whatcha' don't know.
So how much is enough? Would you spend $40 million to get a $12 million payoff in 18 months? With CD yields barely positive, government bonds not much better, a 20% yearly return doesn't look too bad. Every indication is that as the country moves further away from the recession, spending levels will start to rise. With QEPC already solidly in the black, any added strength to the housing and home improvement markets will help the company continue to generate record profits. Even if sales just level off, you can expect huge returns at the company's current meager stock price.
So even if you don't have a spare $40 million around, you still can afford a few shares at $12.20. The magnitude of your investment is a little smaller, but you still get the same return on your investment. The company has also announced that they are actively pursuing additional acquisitions. A recently added hardwood flooring manufacturer has been accretive to earnings, providing an indication that the company can successfully integrate acquisitions.
click to enlarge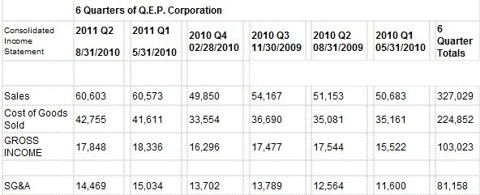 Click to enlarge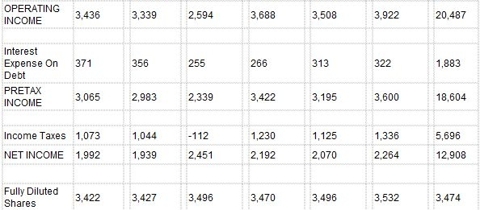 Click to enlarge

Click to enlarge
Disclosure: I have a long held position in QEPC with the intent of holding considerably longer.