While it seems momentum and high-multiple stocks bottomed for the time being in May, some of these former high-flyers are still getting crushed after reporting disappointing earnings. Rally Software (NYSE:RALY) is one of those lingering victims. In this piece, I make a case for bottom-fishing on RALY for essentially the exact opposite reason I argued for bottom-fishing on Twitter (NYSE:TWTR) after a major share lock-up expired. While TWTR remains an expensive, generally unloved stock, analyst sentiment has started to turn at the sight of lower prices and high-volume (aka wash-out) selling. RALY on the other hand is now a cheap stock, at least relative to so many other software stocks, with its 2.9 price/sales and 3.2 price/book ratios. RALY was well-loved well past its peak last September. Now, analysts have generally backed away as issue after issue no longer seems outweighed by the promise (or hope) of an imminent fix. My key for RALY is an appearance that business dynamics cannot get much worse for the company. If the numbers do continue sliding, the risk of the presumed remaining downside is small enough relative to the current price to generate a tradeable risk/reward setup.
Here is my case… (quotes from and references to the last conference call come from Seeking Alpha transcripts).
Rally Software lost 28.7% on June 6, 2014, the day after posting fiscal year 2015 Q1 earnings results that severely disappointed the market. RALY creates software for managing software development using Agile methods. I think because the software is delivered as Software-as-a-Service (SaaS) from a cloud, RALY's IPO was initially greeted with great enthusiasm as a theme play. The honeymoon lasted a good 6 months before the stock and then the story began falling apart. The chart below shows how a downtrend and two poor earnings responses perhaps provided ample warning that market sentiment (and patience) was deteriorating quickly. Trading volume reached 8.4M shares on June 6th, well above the 5.9M shares traded on RALY's first day of trading. A good sign of potential capitulation and a washout of sellers.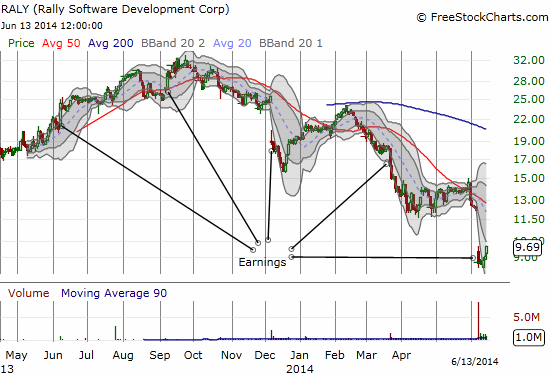 Rally Software has been a wrong-way momentum stock for about 9 months
What most interests me about the potential opportunity in RALY is that analysts who had sky-high hopes and praises not long ago have seemingly given up all hope even as it seems the company has run into temporary and fixable problems.
For example, back in May 2013, shortly after RALY's IPO, Needham and Company started coverage on RALY with a buy rating stating the following:
"We see Rally as a compelling, secular growth story with premium growth rates, a strong and sustainable competitive position, a large addressable Greenfield market opportunity, and a predictable recurring revenue model."
I fully agree with the stated market opportunity:
"…a number of secular trends driving an increasingly urgent need for Rally-type solutions, including 1) rising strategic importance of software as the key differentiator across products across industries ('softwarization of the world'); 2) increased preference for Agile development vs. oldschool Waterfall in order to speed time to market and increase customer relevance; and 3) rising preference for SaaS."
Seven months later, Needham was forced to lower its price target from $37 to $32. The analyst reiterated a buy rating even in the face of a brutal 25% post-earnings drop. As you can see from the chart above, RALY dropped another gut-wrenching 17% before finding a bottom. The subsequent rally nearly closed the post-earnings gap-down, but it ran into a brick wall at the 200-day moving average (DMA). With momentum and high-multiple stocks falling out of favor soon thereafter, RALY had no chance.
Needham had this to say about its reiteration:
"Despite the upside F15 guide, shares could be weaker due to the unimpressive net-add performance which likely drives some overstated investor concerns…We'd attribute the "softer" bookings to Q3 seasonality and to temporary disruption from the new head of sales and not to any meaningful deterioration of trends. We'd be buyers on weakness, especially given the magnitude of the opportunity and competitive leadership which should support premium growth rates through the intermediate term. We're optimistic that 4Q is shaping up to be impressive, due to favorable seasonality and strong pipeline, which could restore confidence in the direction of trends."
Fast-forward to today and Needham has essentially thrown in the towel with a downgrade to a neutral rating:
"We are downgrading our rating on RALY to Hold driven primarily by increased uncertainty around underlying sales momentum (especially with new logos) and the intensity of the competitive landscape with a backdrop of reduced SaaS investor risk appetites (especially for those that are notably unprofitable with decelerating trends). While we acknowledge the magnitude of the market opportunity, Rally's best-in-class positioning to go after this opportunity, the potential for accelerating trends from the 2H of the year through F16, and valuations that we see as favorable, we'd still prefer to see more tangible evidence that trends are stable to improving before getting more constructive on shares."
In other words, the stock is FINALLY priced for many of the risks that always existed for RALY. I am particularly intrigued by the sudden recognition of competitive pressures and a rating which is adjusting for market sentiment. Notice most importantly that Needham still recognizes the size of the opportunity for RALY but now that the stock price is LOW, the analyst needs certainty before taking another plunge. To me, this is a backwards approach. The time to take risks under these circumstances is not when a stock is priced with a premium valuation primed for perfection, it is when the market has provided a discount that is more in line with those risks. In RALY's case, the market has likely gone overboard because of the extra wrinkle of discomfort with freshly perceived uncertainty.
For reference and comparison, here is some of what Deutsche Bank had to say in its recent downgrade of RALY to neutral:
"Rally reported mixed F1Q15 results with revenue below and EPS above expectations, with revenue/EPS of $19.4m/($0.27), versus our estimates of $19.5m/($0.52) and the Consensus of $19.6m/($0.50), due to slower than expected seat count growth (12k additions during the quarter vs. 16k in the prior quarter) as the negative impact of lower sales was offset by lighter expenses. As the market leader, we see RALY well-positioned to take advantage of the shift towards Agile software development longer-term, but near-term execution issues exacerbated by investor disdain for small-cap growth stocks push us to the sidelines."
Again, an analyst has adjusted ratings partially to align with market sentiment, distracting from what is supposed to be a strong, longer-term opportunity. I again submit that it is much more attractive to invest in such an opportunity when the market sentiment has left it for dead, NOT when the market is over-excited and over-hyped about it. This kind of post-momentum angst opens up opportunities for much better risk/reward trades and investments. Note that RALY also has almost $86M in cash with a burn of about $8.5M in the previous quarter up from a burn of $5.8M in the year-ago quarter. There should be plenty of cushion to see the company through the current rough patch.
I conclude with a quick summary of what I found worrisome in the conference call versus what I found encouraging.
WORRISOME
RALY is suddenly dabbling in off-balance sheet transactions. An analyst on the call asked about it. Management responded by saying it is a rare event, BUT they allowed for the potential for similar transactions in the future. I find off-balance sheet transactions difficult to understand. I do not trust them, and I typically prefer to avoid companies who dabble heavily in them (assuming I am fortunate enough to notice them!). This is something to watch closely in the future.
RALY acknowledged to analysts that "…it's fair to be cautious about how you're modeling year out quarter Q3 and Q4 in subscription and support…"
RALY acknowledged competitive pressure, but first tried too hard to downplay it. Management called it "healthy", and that they observed a "slight increase" in competition. Strangely, the IPO was identified as a trigger for the increased competition. It was not clear whether this is a reference to attracting more attention given the earlier success? Regardless, based on the downgrades, the analysts are clearly no longer willing to give management the benefit of the doubt on this score. Major legacy competitors are IBM, HP, and CA who all operate at the scale RALY targets as generic "business agility." At the lower-end, there is Atlassian, who RALY described more as a partner; and VersionOne, who is a direct competitor with a similar footprint.
The company is scaling back research and development costs in favor of sales. I would prefer RALY to push hard on BOTH fronts.
Renewal rates have declined a fifth quarter in a row. Management is not guiding for a timeline of improvement. A turn-around will come partially through closer partnership with customers to ensure successful Agile transformations. It is not clear to me whether this means a ramp in a (expensive!) service component to the business.
ENCOURAGING
RALY has recognized its issues in sales and marketing and has "retooled." Management expressed confidence that the company is on the "right track" even though it got a late start in its new hires. The sales team apparently has secured a sizeable pipeline of new business two to three quarters from now in strategic accounts. Twenty-three new customers have been signed on, sixteen of which are "named" accounts which I believe are these strategic accounts. Investors are of course justified to stay in "show me" mode on these reported deals.
RALY is not assuming a sudden and dramatic turn-around in the business is imminent. Guidance assumes that the business could stay soft beyond the current (Q2 2015) quarter.
The company is scaling back administrative costs.
The CEO is going back to his roots and taking on the role of VP of Engineering. While this could be considered a worrying sign that the CEO could get over-stretched, I think it is a good sign that he is acting with urgency. He feels compelled enough to get his hands "dirty." Hopefully this will even win him big kudos with his employees. I am assuming the experience will help him understand the technical challenges and opportunities better than ever and enable better management of the company in the future.
Toward the end of the call, management asked analysts to let the company get through this quarter before providing more color on how the company will grow into and through the next fiscal year. RALY is bulking up assuming a growth rate equaling at least 25%. If such a turn-around is coming in RALY, then today's prices are definitely a bargain. Time will soon enough tell whether this bottom-fishing turns up gold. RALY's next set of guidance will be critical.
Note well that bears are still smelling blood in RALY. As of May 30, 2014, shares short were 12.3% of float and have increased ever since RALY began trading. Bears accumulated positions at a rapid clip ahead of earnings: from 740K shares just ahead of March earnings to 2.2M shares just ahead of June earnings, a 197% increase! I will take some encouragement if the next data update shows a sharp decline in these short positions.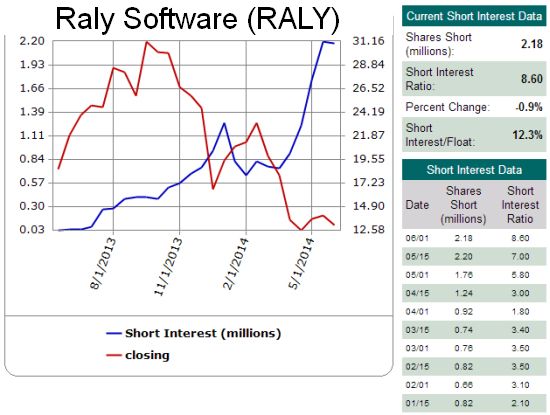 Bears have recently accelerated their accumulation of shares short in RALY
Source: Schaeffer's Investment Research
(Note that I currently need to provide a macro-caveat on any buy recommendation. The market is exhibiting an extreme level of complacency. Whenever (if?!?) this placid phase ends, the resulting pullback will probably not spare a stock like RALY even though it is already beaten down to an attractive valuation given existing risks. At least it is currently at a post-earnings high - a good and early sign of some kind of recovery in the shares).
Be careful out there!
Disclosure: The author is long RALY, TWTR. The author wrote this article themselves, and it expresses their own opinions. The author is not receiving compensation for it (other than from Seeking Alpha). The author has no business relationship with any company whose stock is mentioned in this article.
Additional disclosure: I am short a put spread on TWTR (remaining position from trade described in previous pieces)