By Clinton Holmes
This article applies the Rule 1 Investment Strategy to Monster Beverages (NASDAQ:MNST) in order to evaluate if it is a great company at a fair price.
Background Rule #1 Investment Criteria
The Rule #1 Investment Strategy was first introduced by Phil Town in his book, Rule #1: The Simple Strategy for Successful Investing, in order to establish a framework for novice investors to emulate the great Warren Buffett. This simple investing strategy condenses the equity-investment strategy of Warren Buffett described in the 1977 Berkshire Hathaway (NYSE:BRK.A) (NYSE:BRK.B) Annual report (it can be also found on page 100 of The Essays of Warren Buffett: Lessons for Corporate America, Second Edition) into the four M's: Meaning, Moat, Management, and Margin of Safety.
The success criteria we gleamed for each of Mr. Town's M's are described below and will be applied in our evaluation of Monster Beverages.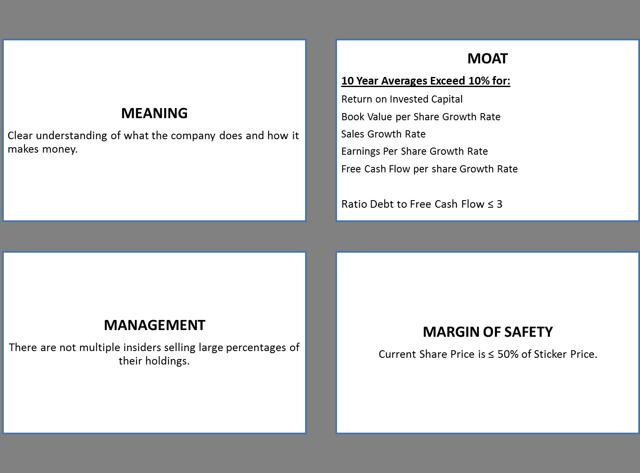 Click to enlarge
Meaning
Monster Beverages generates income through the development, marketing, sale, and distribution "alternative" beverages. The alternative beverages category is made up of non-carbonated ready to drink coffee, ice teas, lemonades, juices, energy drinks, sports drinks, and still water both flavored and un-flavored. Last year, Beverage Marketing Corporation, estimates the alternative beverage category had sales of over $38 Billion in the U.S. Within this category, Monster Beverages has a total of 16 primary brands:

Source: 2013 Annual Report
Of these, Monster Energy is the most recognizable and is the second highest selling energy drink brand in the U.S. behind Red Bull.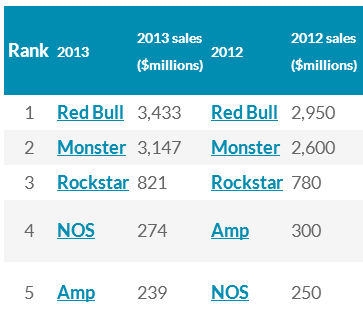 The Monster Energy drinks brand has represented more than 90% of the net sales since 2011. Monster Energy branded beverages include: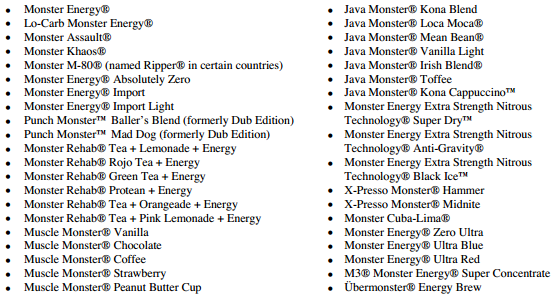 Source: 2013 Annual Report
According to the most recent annual report, Monster Energy drinks are sold in more than 114 countries across six continents.
In the future, Monster Beverages plans to expand into additional countries, launch new product lines, and develop new lower calorie drinks to take advantage of a shift in consumer preference for lower calorie alternative beverages.
Moat
There are 5 big metrics that Phil Town uses to find companies with a wide, sustainable moat:
Return on Invested Capital (NOPAT / (Equity + Debt)
Book Value Per Share Growth
Sales Growth
Earnings Per Share Growth
Free Cash Flow Per Share Growth
Each of these metrics must have a 10 year average in excess of 10% in order to be viewed as having a sustainable moat.
After evaluating these metrics for Monster Beverages, we concluded Monster Beverages exceeds the 10% success criteria on all metrics:
| | |
| --- | --- |
| Big 5 Metrics | 10 Year Average |
| Return on Invested Capital | 59% |
| Book Value Per Share Growth Rate | 34% |
| Sales Growth Rate | 29% |
| Earnings Per Share Growth Rate | 35% |
| Free Cash Flow Per Share Growth Rate | 36% |
Source: Calculated by Author using 10 Year Financials from GuruFocus.
The last factor used by Town to determine moat is the ratio of debt to free cash flow. The ideal company will have a ratio of less than 3, indicating it is generating sufficient cash flow to pay the company's financial obligations.
According to GuruFocus, Monster Beverages has not had long term debt since 2007 allowing us to conclude that Monster Beverages has a wide, sustainable moat.
Management
Monster Beverages meets the criteria of limited insider selling. In 2014, only two Monster Beverages insiders have sold shares:

Click to enlarge
Source: GuruFocus.com
While these transactions were conducted by important insiders, the CEO Rodney Sacks, and Vice Chairmen Hilton Schloseberg, neither liquidated a large portion of their positions. As a percentage both transactions represented less than 2% of the individual's total holdings.
Margin of Safety
Monster Beverages has significant margin of safety for an investor willing to accept a minimum return on investment of 15%. In order to achieve a 15% CAGR with Monster Beverages over the next 10 years, investors would have to be able to buy shares of MNST today at the sticker price of $227.17.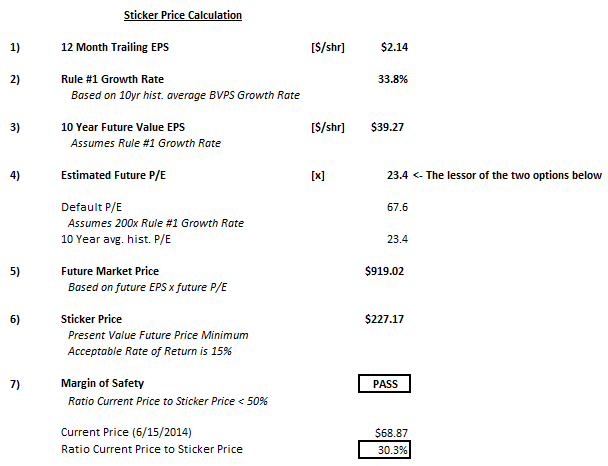 The June 15th, 2014 price of $68.87 only represents 30.3% of the sticker price for a 15% return providing hefty margin of safety.
Conclusion
Monster Beverages is a wonderful company at a very fair price meeting all four M's of Phil Town's book Rule #1: The Simple Strategy for Successful Investing. Investors today have the opportunity to purchase Monster Beverages at price which not only provides a significant margin of safety but could reasonably 15% return year over year.
Disclosure: The author has no positions in any stocks mentioned, but may initiate a long position in MNST over the next 72 hours.
Business relationship disclosure: Black Coral Research, Inc. is a team of writers who provide unique perspective to help inspire investors. This article was written by Clinton Holmes, President of Black Coral Research Inc. We did not receive compensation for this article (other than from Seeking Alpha), and we have no business relationship with any company whose stock is mentioned in this article. Black Coral Research, Inc. is not a registered investment adviser or broker/dealer. Readers are advised that the material contained herein should be used solely for informational purposes. Investing involves risk, including the loss of principal. Readers are solely responsible for their own investment decisions.