How strong is this market? After watching leading tech stocks such as Amazon (NASDAQ:AMZN), Apple (NASDAQ:AAPL), Baidu (NASDAQ:BIDU), Netflix (NASDAQ:NFLX) and Priceline (NASDAQ:PCLN) soar higher most of the week, our $134 price alert on IBM (NYSE:IBM) went off late in the trading day on Friday.
With Big Blue's push to new highs, could a big move be developing in the name? We think so. Needless to say, new leadership is what the market needs and with its recent move into software and its inherent larger margins, it seems as though the market is very close to rewarding IBM with a higher multiple in the near-term:

IBM 1-Year Chart (Click to enlarge)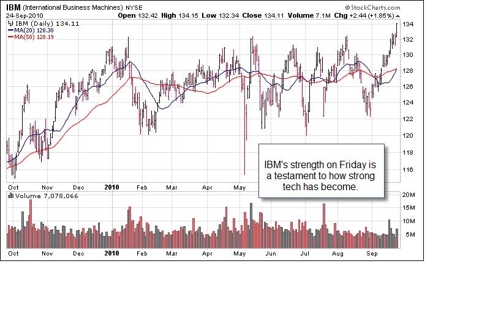 Click to enlarge
Source: StockCharts.com

While some market participants remain focused on the half-hearted economic recovery and the terrible action in the banks and brokers, they have missed out on some very strong moves in tech stocks. It's true that some of the moves may stem from quarter-end window dressing. Nevertheless, the recent emergence in both Oracle (NASDAQ:ORCL) and IBM (to name just two of the biggest tech leaders poised to run) tells us one thing: Traders should stay focused on the technology arena in the very near-term.
What does this mean? In simplest terms, forget about former leaders such as Cisco (NASDAQ:CSCO), Intel (NASDAQ:INTC), and Microsoft (NASDAQ:MSFT). With the PC being overrun by such wireless devices as the iPAD, netbooks, and smartphones, we expect the market to continue to gravitate toward technology companies that do one of three things:

Give higher valuations to the tech companies which give consumers a quick source of fun entertainment (AAPL, AMZN, NFLX come immediately to mind). While many consumers may be in no position to buy a house or that shiny new BMW, we expect consumers to still spend money, and lots of it, on the things that will make them happy. For now, that means watching streaming movies from Netflix downloaded on their computer, surfing the Internet on their iPhone, or reading Franzen's "Freedom" on their Kindle.
Expect the market to reward those companies that allow data to flow through faster and more efficiently. What do we mean? In simplest terms, the companies that help to increase the speed and quickness at which data, video, and wireless traffic get transported around via the Internet will be sure to see increased investor flows. Stocks like Akamai (NASDAQ:AKAM), Entropic (NASDAQ:ENTR), Equinox (NASDAQ:EQIX), Infinera (NASDAQ:INFN), & Savvis (NASDAQ:SVVS) may seem expensive to some, but the market knows best: expect these stocks to all move higher.

Focus on those companies that reduce costs for corporations. One overlooked reason why companies are not hiring so quickly is that they have become a lot more efficient. Through investments in virtualization and in cloud computing platforms, companies have become leaner and able to do more with less. Expect the market to continue to give stocks like Salesforce (NYSE:CRM), Citrix (NASDAQ:CTXS), F5 (NASDAQ:FFIV), VMware (NYSE:VMW), & Red Hat (NYSE:RHT) higher valuations as this trend accelerates in the coming years.
In summary, our objective is clear: Stay focused on the new leaders in tech and buy into all and any pullbacks in the near-term.

Disclosure: Long AMZN calls, INFN stock and calls, EQIX stock and calls, FFIV stock.