Many investors will look at Facebook's (NASDAQ:FB) trailing or forward PE ratios and dismiss the stock as overvalued. However, a deeper look using discounted cash flow analysis reveals that the stock is not overvalued. In fact, I see the current price as attractive for the long term.
One of the fun aspects of investing is trying to find the next big growth stock. The stock that will become a multi-bagger (a stock that increases its original value more than once in a shorter time period than the average stock) is something that many investors seek out. I think that Facebook has a good chance of becoming a multi-bagger stock due to its valuation and high growth. The company is a leader in the internet information provider industry and it is likely to maintain that leadership with a continued focus on long-term growth.
Valuation is Fair
Instead of obsessing over Facebook's PE ratios, I chose to do a more in depth look at the valuation with a discounted cash flow analysis. According to Morningstar data, Facebook grew its free cash flow at an impressive average of 244% for the past three years. I'm using a much more conservative annual free cash flow growth rate of just 20% for the discounted cash flow analysis. The company is expected to grow earnings annually at 35%, so a 20% free cash flow growth rate seems reasonable when taking growth in operating cash flow and capital expenditures into consideration. Using a discount rate of 9%, Facebook is worth about $69 today. The stock is trading a few dollars below that level, so I would consider the current price a fair valuation.
To crosscheck the fair valuation, I looked at the company's expected annual earnings growth rate of 35% in relation to its forward PE of 35.25. This tells us that Facebook's expected growth rate is approximately the same as its PE, giving the stock a fair valuation. The downfall with the forward PE by itself is that it only looks to earnings that are one year ahead. The PEG ratio of approximately one shows that Facebook is priced fairly when taking the longer-term five-year growth rate into account.
My thesis that Facebook's valuation is not overvalued is also supported by industry valuation data from finviz.com. The internet information providers industry is trading with a PEG of 1.69. Facebook's PEG is also between one and two, where I consider the company as fairly valued. To summarize, Facebook's current price is fairly valued in relation to its long-term expected earnings growth, free cash flow growth and as compared to its industry. Since Facebook's current price is fair, I think that the stock will perform well as revenue, earnings and free cash flow continue to grow at high rates.
Catalysts Driving the Future Growth
Facebook's worldwide daily active users continue to grow. As of March 31, 2014, Facebook had 802 million daily active users. This is up 21% over the same time period a year ago. More heads using Facebook means more heads for advertisers to target. Therefore, as Facebook continues to grow its daily active users, the company becomes more valuable for advertisers. This means that Facebook is likely to benefit from increased revenue for the foreseeable future.
One of the risks for the company is competition. However, Facebook is buying some of its fast-growing competitors. Facebook has acquired Instagram and is in the process of acquiring WhatsApp. Instagram grew its user base to 150 million in two years (less time than it took Facebook) according to research by L2thinktank. WhatsApp has also experienced high growth. WhatsApp has grown its user base to 419 million in its first four years. More recently, WhatsApp's user base has grown to $500 million. Facebook has received FTC regulatory approval for the acquisition of WhatsApp and is now waiting on international regulatory approval. These high growth businesses could have been a threat to Facebook, but by acquiring them the company will reap the benefits of their growth.
Facebook is likely to continue to keep its eye out for other acquisitions in the future, not only to prevent the possible loss of market share, but to capitalize on the potential for increased revenue and earnings growth. Facebook can continue its success by continuing the monetization of the growing user base. Large companies pay significant amounts of money to advertise during the Super Bowl because there are over 111 million viewers to advertise to. With Facebook, 1.28 billion monthly active users or 802 million daily active users can be targeted as shown on the company's Q1 2014 earnings report. I think that Facebook will successfully generate ad revenue from its own website and Instagram, while capitalizing on WhatsApp's subscription model. With users growing rapidly on these sites, monetization success looks likely to continue.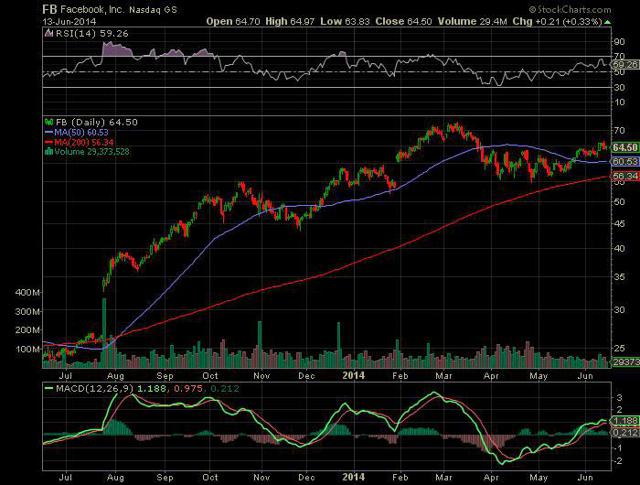 Conclusion
With Facebook's valuation currently fair, the stock is poised to increase approximately in-line with its earnings growth over the long term. With an annual expected earnings growth rate of 35% for the next five years, Facebook's stock could double every 2 to 3 years, making it a likely multi-bagger over the next several years.
Disclosure: The author is long FB. The author wrote this article themselves, and it expresses their own opinions. The author is not receiving compensation for it (other than from Seeking Alpha). The author has no business relationship with any company whose stock is mentioned in this article.