It took nearly six months, but today's release of the NAHB sentiment survey came in better than expected for the first time in 2014. While economists were expecting an overall reading of 47, the actual level came in at 49, which was the highest reading since January (56). The better than expected NAHB sentiment survey also capped off a day where all four economic indicators came in ahead of forecasts.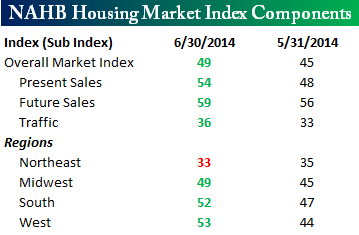 Looking at the monthly survey's various components shows a positive picture. As shown above, all three subcomponents (Present Sales, Future Sales, and Traffic) increased this month. On a regional basis, the Northeast was the only region where overall sentiment declined, while the biggest regional boost was seen in the West.
While today's positive NAHB report is a welcome reversal from the trend of weaker than expected reports that we saw earlier this year, there is still considerable room for improvement before sentiment gets back to its recent highs earlier this year. Also, keep in mind the fact that the overall reading is still below 50, which is the threshold that denotes good building conditions. As stated by NAHB Chairman Kevin Kelly, "builders are facing strong headwinds, including the limited availability of labor."