Yahoo (NASDAQ:YHOO) was founded only 20 years ago by Jerry Yang who is currently a billionaire and by David Filo who may sit on the Board of Directors next to the legendary Charles Schwab and former CEO of Wal-Mart (NYSE:WMT) Harold Lee Scott Junior if he wins the next election.
Microsoft (NASDAQ:MSFT) wanted to buy Yahoo a few years ago and they offered a king's ransom but the generous $44.6 billion offer was rejected.
More recently, Forbes contributor Peter Cohan suggested a second attempt by Microsoft, this time for $53 billion.
Two years ago, Marissa Mayer was appointed President and CEO of Yahoo and she has been very busy lately buying extremely popular companies like Tumblr with a price tag of $1.1 billion.
Marissa Mayer has a very complicated job, perhaps one of the most complicated jobs in the world, which is basically taking a $10,000 used Volkswagen (OTCPK:VLKAY) Jetta and somehow turn it into a $100,000 used Mercedes Benz which is a subsidiary of Daimler (Frankfurt: DAI)
Sure, both of those are cars and both of those can take you anywhere but at some point in the future you are going to need to replace the cheap engine inside the Volkswagen Jetta with a more powerful and expensive high performance engine made by Ferrari which is a subsidiary of Fiat (FIATY) or by Jaguar which is a subsidiary of Tata Motors (NYSE:TTM).
In this context, Fiat is Microsoft and Jaguar is Oracle. (NASDAQ:ORCL)
There are only a few fast search engines out there. It's not like you have the time or money to build a new search engine from scratch.
Yahoo is not Apple (NASDAQ:AAPL), which is currently the third most profitable company in the world after the Industrial and Commercial Bank of China (OTCPK:IDCBY) and Gazprom (OTCPK:OGZPY) with massive annual profits of $37 billion.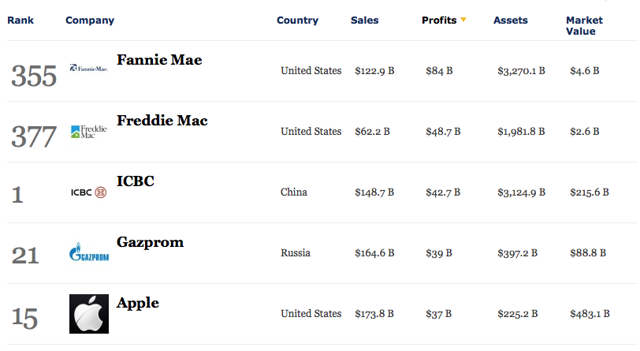 Source: Forbes Global 2000 List
I don't think Fannie Mae (OTCQB:FNMA) and Freddie Mac (OTCQB:FMCC) really count as the first and second most profitable companies in the world, though.
It does not matter if you hire the most experienced CEO in the world to run The New York Times Company (NYSE:NYT); at some point in the future you need to realize the newspaper business is dead and you really need to sell your entire newspaper holdings.
This does not mean you should sell short The New York Times Company. One thing many investors have learned is you don't bet against one of the richest men in the world. Carlos Slim Helú from Mexico invested $250,000,000 in 2009 to save The New York Times Company. It is foolish to sell short this company.
However, it is smart to sell short any other publicly traded newspaper company that you can find in the world.
Back in the day, the newspaper business was a very big and very profitable business. People used to pay money every day for important information.
Yahoo changed all that with the publication of news from all over the world.
Right now there are a gazillion news websites, but back then there were only a few and the only way you could find them was with Yahoo.
This was before Bing was invented in 2009 and before Google was invented in 1998.
Ask.com which is a subsidiary of InterActiveCorp (IACI) is still one of the most profitable companies in the United States of America and the fourth most popular search engine in the United States of America. They turned a profit of $285,784,000 in 2013.
AOL is currently the fifth most popular search engine in the United States of America. They turned a profit of $92,400,000 in 2013.
It appears that the newspapers of today are these five search engines and they are slowly dying and being replaced by the social networks.
Don't get me wrong. Microsoft is a very diversified company and they have the Xbox One and they can make Halo, Gears of War and Forza Motorsports films for at least a decade.
Google is a very diversified company and they have the Android which they can sell to you for $99 tomorrow if they wish to do so and make more money than Microsoft.
In fact, I think Google should charge you $99 each year for the right to use Android on your tablet or smartphone if you make more than $1,000,000 each year.
If anybody knows how much money you are making each year it is Google.
Where should Yahoo invest its billions? Maybe the best thing to do is hold on to the cash, and wait to be taken over. With Alibaba expected to IPO as high as $150 billion, Yahoo could just let its cash speak for itself, unless Marissa can continue to find the right acquisitions, and not repeat the past in which Yahoo spends billions on a company to only scrap it years later, like Broadcast.com. A visit to the actual site of Broadcast.com redirects you to Yahoo. That is an expensive $5.7 Billion link. It was at the height of the internet boom though, in which a plethora of bad deals were made by many companies.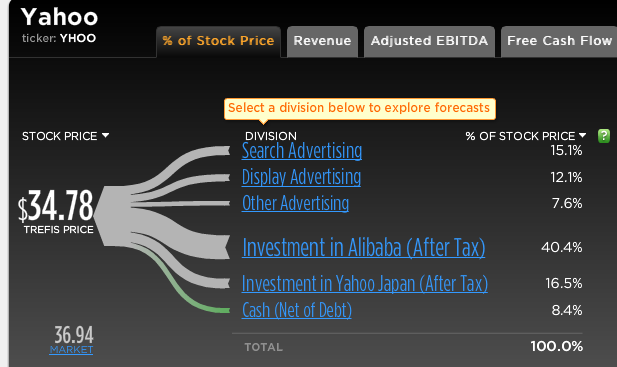 Source: Trefis Yahoo! Stock Price Valuation
One of the major reasons for this is embeded in Yahoo's $34.78 valuation is made up primarily by its Alibaba investment and its Yahoo Japan investment, of which an integral part is more shares of Alibaba. Investments in Alibaba account for almost 50% of the current valuation. Yahoo's core business of Display and Search Advertising makes up around 30-40% of the company's valuation. After Alibaba has its IPO, and Yahoo begins cashing in, Marissa may look to invest. One thing Yahoo is trying to do is leech onto the two prong strategy of social and mobile. But valuations are high right now, and as discussed above, Yahoo may just be better off being bought out or maybe a merger. I could see how Microsoft would want to add to Bing search by a couple of percentage points, and maybe manage Yahoo's cash in a better way.
Disclosure: The author has no positions in any stocks mentioned, but may initiate a long position in YHOO, AAPL, MSFT over the next 72 hours. The author wrote this article themselves, and it expresses their own opinions. The author is not receiving compensation for it (other than from Seeking Alpha). The author has no business relationship with any company whose stock is mentioned in this article.