By: Craig Bowles
Overview
BlackBerry Limited (NASDAQ:BBRY) is slated to report 1Q 2015 earnings before the bell on Thursday, June 19th. The earnings release is expected at approximately 7:00 a.m. EST followed by an 8:00 a.m. conference call available at BlackBerry Investor Relations. The company was formerly known as Research In Motion Limited and changed its name to BlackBerry Limited in July 2013. Turnaround specialist John Chen became CEO in November 2013.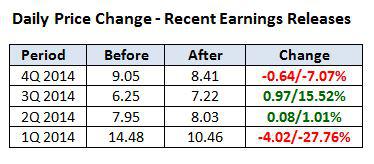 Outliers & Strategy
Key measures:
Adjusted Earnings Per Share: The Street estimate is -$0.25 (range -$0.52 to -$0.02) (source: Yahoo! Finance). Analysts have increased their consensus from -$0.38 three months ago. Over the past four quarters, the company averages beating and missing estimates by 20c.
Earnings Per Share: If an Adjusted EPS figure is not available, this value would compare with forecasts.
Revenues: Analysts expect a decline of 68.4% y/y to $969.56 mln (range $755.00 mln to $1.39 bln).
Price/Book of 1.1 and Price Sales of 0.6 are half of the 5-year average probably because of the negative cash flow.
Analysts remain negative on BlackBerry with 2 Buys, 18 hold, and 11 sell ratings.
BlackBerry shares have a 1-day average price change on earnings of 9.80%. Options are pricing in an implied move of 9.33% off earnings.
Recent News
05/29 CEO Chen said the chances of turning around the company have risen to 80-20. In November, he said the odds were 50-50, according to a post on Bloomberg.com.
05/22 BlackBerry is making a push into Android apps to compete with Apple and Google, according to a post on The Motley Fool.
05/18 BlackBerry CEO said he'd like the company to become a strong software and infrastructure provider after he first returns the company to profitability (cash flow positive by March is expected), reported The Wall Street Journal.
05/16 One of the nation's largest and most successful hedge funds bought almost $23 million worth of BlackBerry stock recently, according to a post on The Motley Fool.
05/19 Z3 'Jakarta' is a small but noteworthy success and the first phone for the new CEO and first collaboration for BlackBerry and Foxconn (US$190 price), according to eWeek.com.
Technical Review
BlackBerry tested the April /May lows in the second half of 2012 and tested below in the second half of last year, so seasonality probably has traders expecting another Q4 low. The selling having started three months early this year could see an earlier rebound than seasonality suggests. Short-term support doesn't have much below $7 down to $6. On the upside, the stock has had trouble above $10.50. (Chart courtesy of StockCharts.com)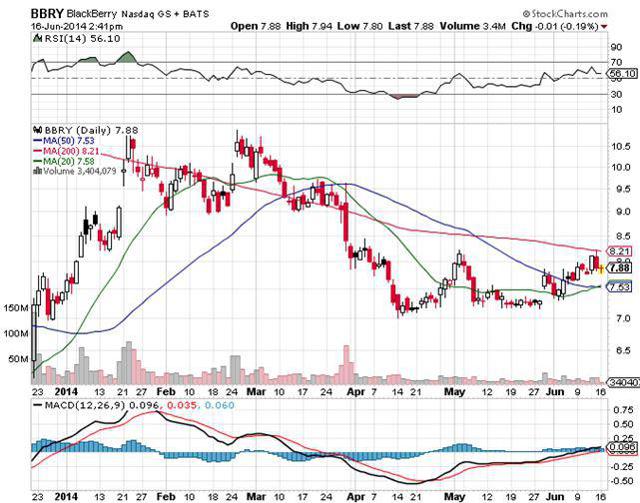 Summary
BlackBerry remains in a turnaround phase and plans to become cash flow positive within the next ten months. Their low-priced touch screen Z3 phone has mixed reviews but is generally seen as a success. Analysts remain negative on the company despite the relatively low valuation ratios. If earnings meet expectations and the company can produce revenue close to $1 billion or even closer to the expectations' mid-point of $1.073 bln, the quarter would probably be viewed favorably. The last two summers have seen weakness for the stock with limited upside until near year-end, so early selling this year may be partly due to expectations of a repeat.
DISCLAIMER: By using this report, you acknowledge that Selerity, Inc. is in no way liable for losses or gains arising out of commentary, analysis, and or data in this report. Your investment decisions and recommendations are made entirely at your discretion. Selerity does not own securities in companies that they write about, is not an investment adviser, and the content contained herein is not an endorsement to buy or sell any securities. No content published as part of this report constitutes a recommendation that any particular investment, security, portfolio of securities, transaction or investment strategy is suitable for any specific person.
Disclosure: The author has no positions in any stocks mentioned, and no plans to initiate any positions within the next 72 hours. The author wrote this article themselves, and it expresses their own opinions. The author is not receiving compensation for it (other than from Seeking Alpha). The author has no business relationship with any company whose stock is mentioned in this article.