It would seem that there are many Arena Pharmaceuticals (NASDAQ:ARNA) investors that are frustrated with the action in the stock price and exactly what it will take for the equity to appreciate. The frustrations seem to have come to a head following the combination of a delay for competitor Orexigen, combined with a 23% uptick in week-over-week prescription sales numbers last week. Investors seem to feel that these two pieces of news should have driven the price of Arena stock upward more than it has. Compounding the issue is that the stock price is down by 3% today.
This is not to say, "I told you so," but I have been stating for quite some time now that prescription sales that track along $100 million are baked into the price. Thus, any numbers that keep that pace will be neutral-to-slightly bullish. I have also been saying for quite some time that a demonstrable shift in sales would be needed to see the street appreciate the stock more. A demonstrable shift would be one that, for a few weeks in a row (at a minimum), shows sales tracking to $125 million or more. That means that we need to see a clear shift. That happens with bigger week-over-week gains.
In my weekly reports, I track several things, and perhaps at times, it is an information overload. Today, I have stretched out the charts a bit, and will also bring the data sets out to the end of the year. This should be able to help you see what it will take to see stock price appreciation. What I have stated is that if sales of $125 million in 2014 can be demonstrated as feasible, that should be enough to allow the equity to appreciate to a new foundation of $8 per share. If sales can demonstrate $150 million in 2014, the equity could set a $10 foundation. Please bear in mind that this is looking at Belviq sales, and not considering the pipeline, which at this stage, has negligible value in the next 12 to 18 months. For numerous reasons outlined in detail in the past, I use IMS Health numbers to assess revenue. If you so choose, you can certainly utilize Symphony Health numbers, but you will need to make substantial adjustments to the average price per script to get to revenue.
The difference between $100 million in sales and $150 million is about 275,000 scripts. There are 29 weeks left this year, and sales currently stand at about 171,000. To get to $100 million, we will need to see 332,000 scripts for the last 29 weeks. That equates to about 11,450 scripts per week. With current scripts on the cusp of 10,000 per week, it is very reasonable to assume that an average of 11,500 is not only attainable, but should be met without much problem even if we consider 6 holidays in the rest of the year. To get to $150 million in sales, we would need to see 607,000 scripts in the remaining 29 weeks. That would be an average of about 20,950 per week. As you can see, this is a much more difficult task. It is not outside the realm of possibility, but also is not very likely. The sweet spot in the middle is $125 million in sales. That would require 469,500 scripts to be sold in 29 weeks. That average is 16,189 scripts per week. Now recall that I stated that it is my opinion that $125 million being demonstrated as likely would deliver an $8 foundation.
In the chart below, I outline a pace for $100 million, a pace for $150 million, and the IMS sales tracking. While difficult to see, the orange line that represents actual IMS channel checks is tracking pretty much in exact sync with the $100 million pace. Given that assessment, it is little wonder that the equity is having trouble appreciating on the pace of scripts demonstrated thus far. As you can see in the models below, a substantial inflection is needed to get above the $100 million pace in a meaningful way.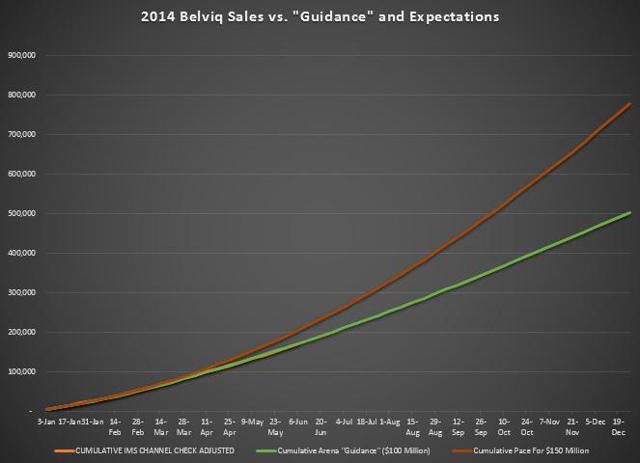 Taking the analysis a step further, we can look at the actual numbers that represent each line. You can see that the pace for $100 million in sales sees scripts max out at just 12,600. Meanwhile, the scripts needed for a pace of $150 million max out at almost 25,000. The red bars in the chart below represent holiday weeks that could potentially throw a wrench into the works.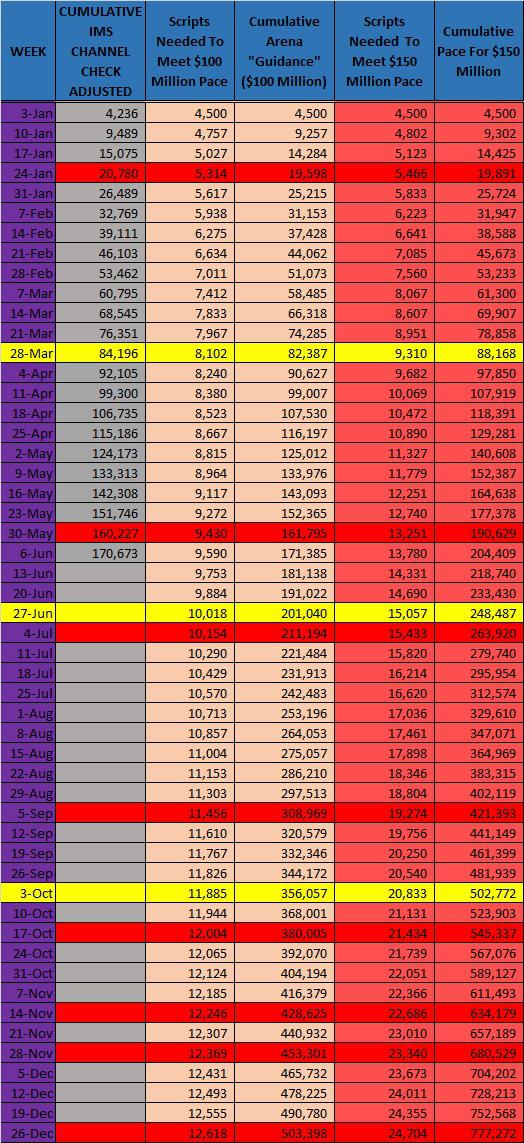 Looking at this even closer, we can assess the annualized run rate of any particular week, as well as see where we are on average. The annualized rate is a simple exercise of taking the scripts in the current week, converting it to gross sales, and arriving at a number that would represent 1 year's worth of sales if the sales in the current week were constant. Last week was the first time that the annualized rate was above $100 million in gross sales. The averaged is simply an average of the annualized rate each successive week. As you can see, the average this year is at about $77 million. The growth rate on the average tells us how quickly that metric is growing.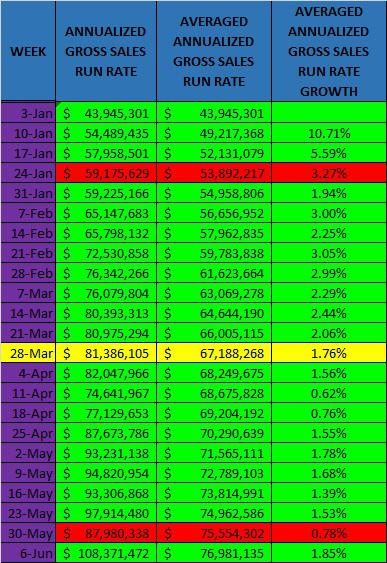 In considering all of this data, we are beginning to see that the $100 million pace will more likely than not be eclipsed. Right now, most of the Street seems to be assuming $100 million in gross sales for 2014. As the numbers begin to show (with more clarity) that $125 million can happen, the stock will likely rise. In my opinion, the numbers began to show early signs of this several weeks ago, but as yet, have not demonstrated a concrete signal. This is one reason that I added to my core position several weeks ago. In looking at the information available, looking at where the equity stood at that time, and looking at reasonable growth assumptions moving forward, I arrived at a conclusion that somewhere around $6 was the bottom.
When I say that the Street needs to see some 10% week-over-week gains in sales to appreciate, I am not saying that 10% week-over-week gains should be implied over a long period of time. This is a point that seems to confuse some readers. The point is that the Street needs to see a demonstrated concrete pace to $125 million. That demonstration happens by a shift in sales that is clear and concise over a period of a few weeks or a month.
Shifting gears to the sector as a whole, Arena investors need to understand that even on a pure market cap basis, Arena trades at a premium to Orexigen (NASDAQ:OREX) and Vivus (NASDAQ:VVUS). Arena's market cap is $1.3 billion. Orexigen sits at $725 million, and Vivus is at $533 million. It is "easier" for some bolder moves in the equities trading at a discount relative to Arena. Essentially, the competitors to Arena have values half of what Arena is valued at.
There are wild cards in this whole situation as well. I will call them potential catalysts. Some have a lot of potential impact on the stock price, others do not. There is a tendency for investors in a company to place more value on these types of things than those that make a concerted effort to analyze the situation from an unbiased standpoint. In 2014, these catalysts include:
1. Study Results on Belviq and Phentermine - A safety study that involves 225 patients and had a duration of 12 weeks. This is perhaps the biggest "catalyst" that I see overvalued most often. Why is it over-valued by investors? It is my opinion that the concept of Belviq and phentermine as a combo is already understood, known, and can be scripted today. The study will allow doctors to have more information, but I do not see it as something that consumers will demand. Why? Because for the most part, they will not be aware. Doctors, many of whom are still not convinced that a "pill" can help obesity or should be used to help obesity, will take a conservative approach. Why script a combo if it may not be needed? My biggest issue is that I want to see how Bel/Phen gets monetized before I begin to place value on it.
2. Approval or Rejection in other countries - This is a big factor, in my opinion. Opening new markets can drive scripts faster than a Bel/Phen combo. Approval could be a nice catalyst, while rejection could cause the stock to suffer. Some countries have now had applications filed for over a year now. One caution I see very few people consider is the restrictions if approved. Other countries do not have to follow the FDA label. By example, a country could approve the drug only for those with a BMI of 30 or greater, which would be more restrictive than the label in the U.S.
3. Belviq and Smoking Cessation - Current studies are ongoing with Belviq and smoking cessation. Results from the current studies should be available at the end of the year. Adding smoking cessation to the label could be a big catalyst for the equity. In my opinion, this issue will not drive the stock price in 2014.
4. Re-Launch of Belviq - Eisai has floated the concept that it will re-launch Belviq in July. Added sales reps are joining the sales force on July 1st, and television ads are already underway. If the re-launch can cause a compelling shift to the sales trajectory, it will be a catalyst. One would assume that the re-launch will target better results than the initial launch.
In summary, equity appreciation is tied directly to the ability for sales to increase at a rate that allows valuation to increase. By taking your emotion out of the equation, you can assess the likelihood of certain aspects of this sector impacting the price of the stock. What happens at certain sales levels? What will a positive catalyst do? What will the competitive landscape look like? Is consumer traction picking up? All of these questions are things you as an investor should be asking yourself. Once you outline the answers to these questions, take a step back and test how you see the street answering these same questions. Some folks will have to dial back their enthusiasm, while others will need to dial it up a bit. It is my hope that what I have outlined here helps you assess the equity better, understand valuations better, and helps you understand what types of things it will take to see the equity appreciate in value and hold it. Stay Tuned!
Disclosure: The author is long ARNA. The author wrote this article themselves, and it expresses their own opinions. The author is not receiving compensation for it (other than from Seeking Alpha). The author has no business relationship with any company whose stock is mentioned in this article.
Additional disclosure: I have no position in Orexigen or Vivus