iShares MSCI Japan (NYSEARCA:EWJ) looks on pace to soon make its seventh attempt since mid-2013 at surpassing and staying above $12 per share. Since April of 2013, EWJ has been generally confined in a channel between $11 and $12, which leads me to the question that this article will focus on: Does the macroeconomic picture look right this time for EWJ to make a sustained push past $12, or will the ETF be rebuffed again?
One important factor to acknowledge is that the answer is dependent on the economic situation outside of Japan. Despite the spotlight being on the domestic economic policy maneuvering under Prime Minister Shinzō Abe's leadership, dubbed "Abenomics", a major influence on Japan's economic growth is demand for its exports. The fact that this is an important issue can be gathered from statements and reports issued by the Bank of Japan. For instance, in the Bank of Japan's April 30th Outlook on Economic Activity and Prices, they identified uncertainty regarding the development of exports as one of four risks to their economic outlook. Included in this was mention of developments in emerging economies (including ASEAN economies), the European debt problem, and the pace of the US economic recovery. In my opinion, this means that determining the strength of EWJ will also require assessing the strength of the EU, US, and Chinese economies, among others. The Bank of Japan expressed in a monthly report released May 22nd that it believes exports will increase moderately, but it is important to keep in mind that a negative change in the export situation would be detrimental.
Regarding other risks, a statement from June 13th released by the Bank of Japan makes frequent references to how there was an initial increase in demand before the consumption tax hike (from 5% to 8%) took effect in April, but that a subsequent decrease in demand has been observed thereafter. This notion is expressed three times in the first page of the June 13th statement alone. Thus, markets should be fully aware that this trend is occurring, and I think EWJ should not be negatively affected when GDP figures show a dip for the current quarter, unless the decrease over the previous quarter is more than anticipated. In its April 30th Outlook, the Bank of Japan estimated that the tax hike would shave .7 percentage points off of the 2014 GDP. (The median estimate for GDP growth by Bank of Japan Policy Board members is 1.1% in 2014, 1.5% in 2015, and 1.3% in 2016. The 1.1% figure for 2014 is a reduction from an earlier forecast made in January of 1.4%.)
Abe is also looking for other avenues of growth. For instance, Abe has recently announced that he would like to introduce a corporate tax cut. Additionally, Japan's economic growth is being challenged by a shrinking population, and Abe has announced plans to support working mothers, which could potential boost the labor force. There is a great deal of room for improvement with regards to female participation in the labor force. Japan has a relatively low participation rate for women and a relatively large gap between the labor force participation rate of men and women. This is shown in the charts below, which compare Japan with other G7 countries and selected developed countries/regions from around the Pacific Rim. (Data from the World Bank.)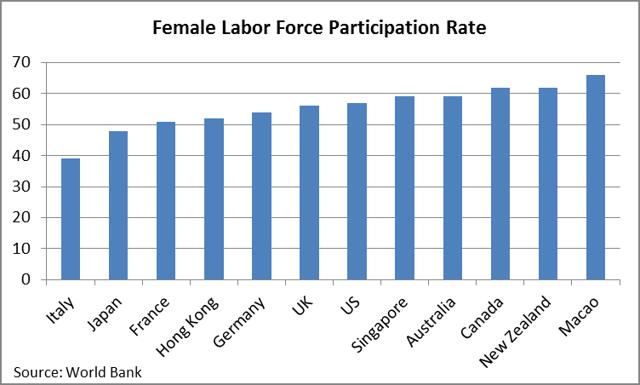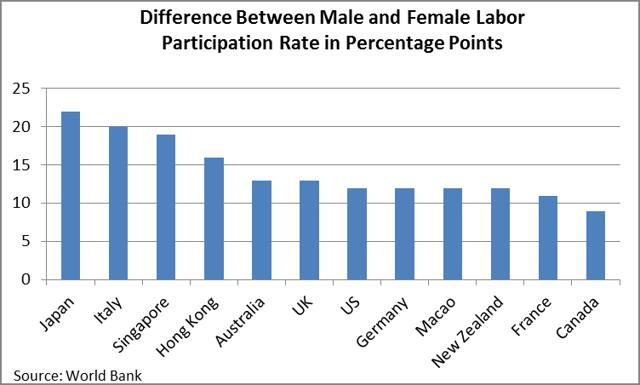 To conclude, I think that Japan's attitude towards improving the country's outlook for economic growth is proactive and that there will not be significant turmoil in the country's export markets. Thus, I plan on continuing to hold a small allocation to EWJ in my portfolio as a long-term holding. Overall, though, even if the Bank of Japan's forecasts are met, growth will still be slow. Therefore, under the present circumstances, I do not plan on adding to my position.
Disclosure: The author is long EWJ. The author wrote this article themselves, and it expresses their own opinions. The author is not receiving compensation for it (other than from Seeking Alpha). The author has no business relationship with any company whose stock is mentioned in this article.