I wrote about Horizon Pharma (NASDAQ:HZNP) in mid-March, which was the time that the massive sell-off in the biotech started to take place. Horizon's share price suffered as a consequence of broad liquidation in the sector, and the stock seems to be recovering and has started to move higher. In the meantime, the company reported Q1 earnings and revenue that easily surpassed analyst estimates, and management guided FY 2014 revenue and EBITDA higher. I am reaffirming my $28 price target, as I believe that the fundamentals are quite strong.
Q1 highlights
Horizon Pharma reported earnings and revenue that blew past analyst estimates. Q1 net revenue was up 497% to $51.9 million, while the adjusted EPS was $0.13. The company's lead product, Vimovo, had $34 million in net sales, followed by Duexis and Rayos with $13.9 million and $3.3 million net sales respectively. Gross margin expanded from 57% in Q1 2013 to 85% in Q1 2014. On an adjusted basis, gross margin was 95% in Q1 2014, compared to 76% in Q1 2013.
The company raised full-year revenue guidance to $270-$280 million from the previous range of $250 million-$265 million. 2014 EBITDA guidance was also raised to $80-$90 million from the previous range of $65-$75 million.
Strong growth going forward will translate into a higher share price
What is evident here is that Horizon is delivering robust growth, while its stock is not adequately valued. Horizon currently trades at 12.3 times its expected 2014 EBITDA, which is quite low given the triple-digit EBITDA growth that is expected in 2014 and 2015. The 2015 EV/EBITDA ratio is currently just 6.1 (according to Sentieo.com). My $28 price target was based on my own 2015 EPS estimate of $1.40 (the low end of the $1.40 to $1.60 range) and a P/E ratio of 20. Analyst estimates for 2015 EPS at the time were $0.91, and have moved up to $1.09. I am still confident with my EPS range and am keeping my price target at $28, which translates into roughly 90% upside from the current price. Analyst opinion is also high for Horizon Pharma, with a mean price target of $23.67, while the highest price target is $31. I have laid out a quite bullish scenario in my previous article, where I said that the price could be trading as high as $48 in the next two years on the premise that it could get its P/E ratio to 30 in two years, which is not impossible given the significant growth opportunities.
There are a lot of things that could push the growth expectations up going forward. Horizon's management stated that they are looking for additional acquisition candidates that could bring in $20 million to $200 million in annual revenues. The acquisition of Vidara is a clear example of how the company is trying to accelerate its growth and come closer to profitability after years of losses. The expanded sales team and the strong prospects of its current product portfolio make Horizon one of the great growth opportunities in the stock market going forward. My previous article gives more detail about these growth opportunities.
Price action
Horizon's share price is facing resistance around the $15 level. The first attempt to break out has failed, as the stock pulled back below $15. The earlier weakness in the share price was the consequence of the strong sell-off in the biotech sector (NASDAQ:IBB), and as the sector now moves up, Horizon is primed to be one of the leaders of the new uptrend. If the stock breaks out decisively above $15, it should get things going and take Horizon above its mid-March highs.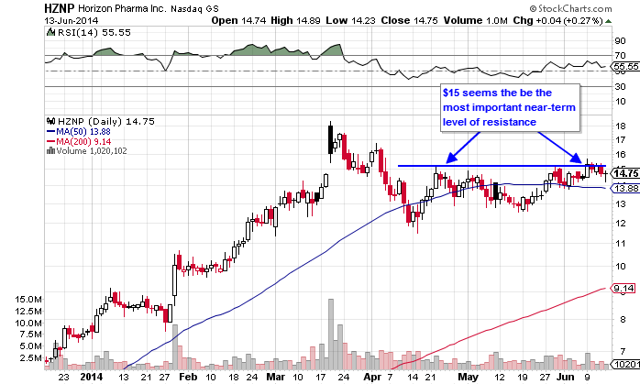 Click to enlarge
Source: Stockcharts.com
Conclusion
Horizon is executing its growth strategy very well. The growth prospects and the current valuation are compelling, and the share price could be trading at or above my $28 price target in the next twelve months. Horizon could carry out more acquisitions that could boost its revenue and diversify its product portfolio, which might be a strong catalyst for the share price.
Disclosure: The author is long HZNP. The author wrote this article themselves, and it expresses their own opinions. The author is not receiving compensation for it (other than from Seeking Alpha). The author has no business relationship with any company whose stock is mentioned in this article.