Turning positive in the second quarter of last year, GDP growth in the European Union raised the expectations for a more broadening growth this year. With expanding domestic consumption and investment, the region was forecast to grow 1.5 percent this year, according to a winter 2014 report by the European Commission. In particular, the Commission saw the euro-area (EA) growing at 1.2 and 1.8 percent, respectively, in 2014 and 2015 - substantial growths, especially in view of negative growth in 2013.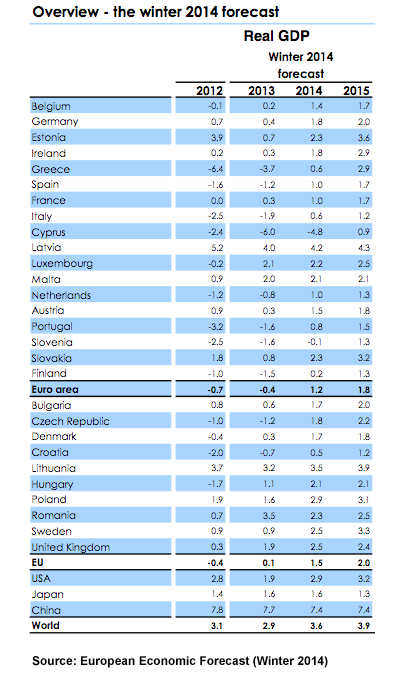 However, the euro-area recovery failed to gather momentum in the first quarter of 2014. According to the economic data released on May 15, seasonally-adjusted GDP rose by just 0.2 percent for the currency bloc, half as much as economists had forecast.
But just when the region's recovery story looked played out, the European Central Bank offered a ray of hope. In face of lackluster growth and low inflation, the ECB had little choice but to swing into action to stimulate the eurozone's flagging economy. In a meeting earlier this month, the central bank announced a string of new measures as it ratchets up its efforts to fight the threat of deflation and poor growth. These measures include:
Cutting all euro-area interest rates - lowering the headline rate to another historic low of 0.15 percent, and imposing negative interest rates of -0.10 percent on bank deposits at the ECB.
A new targeted programme that will provide €400 billion of cheap credit to eurozone banks to lend to small firms.
Agreed to undergo "preparatory work" on buying asset-backed securities.
It will also inject liquidity into the financial system by suspending the sterilization of sovereign bonds bought during the crisis in 2011 and 2012.
With this bold monetary policy package, ECB becomes the first major central bank in the world to adopt a negative bank deposit rate in order to encourage banks to lend more to credit-starved businesses. Clearly, boosting the supply of credit is good for the region's equity markets as the central bank lays the foundation for a possible asset purchase program in the near future.
Across the Atlantic, the US Federal Reserve is already tapering its quantitative easing program and is expected to raise interest rates sometime next year. As a result, a euro-area QE is likely to have funds flow into the region's equities. In fact, European ETFs have already attracted more than $27 billion in the last 12 months, with more than $10 billion coming in this year.
In short, the aggressive monetary policy adopted by the ECB is likely to entice equity investors, who have seen similar central bank actions boost stock markets in Japan and the US in recent years.
For this environment, I have highlighted three ETFs that provide exposure to European equities and are likely to benefit from the ECB action.
Vanguard FTSE Europe ETF (NYSEARCA:VGK)
Although many international ETFs already have significant exposure to European stocks, VGK offers a low-cost way to invest in the region. Not only does the fund provide exposure to countries within the eurozone, but also has significant allocation to countries outside the currency bloc, such as the United Kingdom, Denmark, Sweden and Switzerland. Altogether, it invests in stocks based in 17 developed European markets, representing most of the investable market. It is the cheapest in class, with an expense ratio of just 0.12 percent of assets annually. For that reason, it is also one of the most popular funds in the space.
Of the 515 stocks held in the fund, the top 10 largest holdings account for 17.8% of the assets. Many of the fund's largest holdings are top-notch multinational businesses, such as Nestle, Novartis, HSBC and BP. VGK is up 3.76 percent this year and 19 percent over the past one year. It also pays an attractive yield of 3.73%.
SPDR EURO STOXX 50 ETF (NYSEARCA:FEZ)
FEZ is a targeted approach to invest in countries that use the euro. The fund tracks the EURO STOXX 50 Index by employing a replication strategy, which means that it typically invests in substantially all of the securities represented in the index in approximately the same proportions as the index. Investing in 50 blue-chip companies - many of those being market leaders with a strong global presence - makes FEZ an attractive way of gaining exposure to European equities.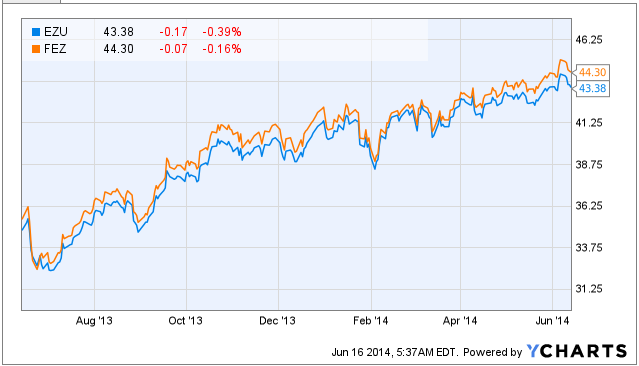 As illustrated in the chart above, its price and returns are comparable to that of iShares MSCI EMU Fund (BATS:EZU). In fact, they also have similar country-wise allocation [1,2], and both are heavy on financials and industrials, together accounting for 36 to 38 percent of their total assets.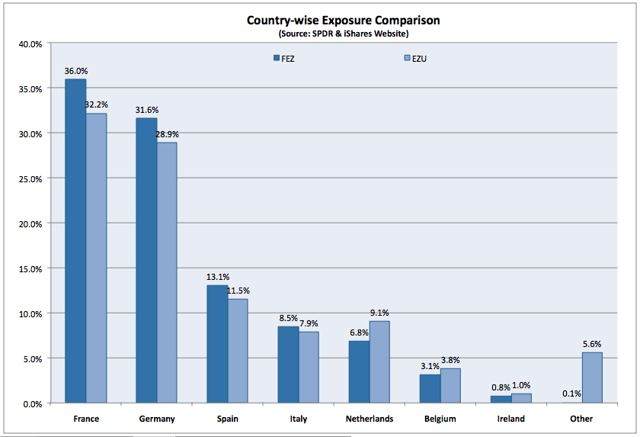 Click to enlarge
However, FEZ has an expense ratio just 0.29%, compared to 0.48% of EZU. Total, Sanofi and Banco Santander are among the top holdings of the fund. FEZ is up 4.98 percent year-to-date and 24.96 percent in the past one year. It pays a yield of 3.51%.
db X-trackers MSCI Europe Hedged Equity Fund (NYSEARCA:DBEU)
For investors seeking broad hedged exposure to Europe without the currency-related risks, DBEU represents an interesting choice. Lately, several funds package institutional-style trades at low cost. These products let investors bet on assets - stocks, for example - while getting rid of a risk in the trade that they don't want, such as exposure to regional currency.
Although DBEU is relatively new fund compared to WisdomTree Europe Hedged Equity ETF (NYSEARCA:HEDJ), it is more diversified and slightly cheaper in comparison.
HEDJ holds 130 securities in its portfolio, and has an expense ratio of 0.58 percent, whereas DBEU holds 441 companies in its basket, and has a decent expense ratio of 0.45 percent.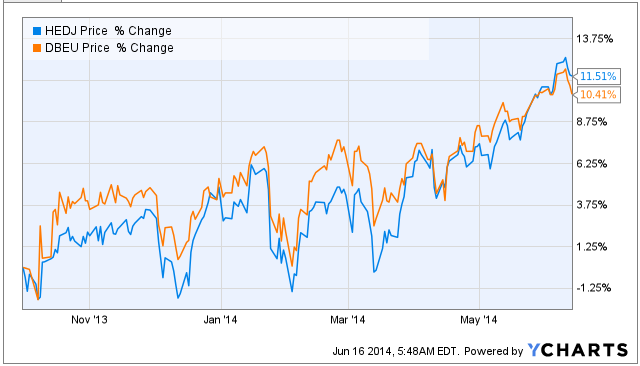 Since its debut on October 1, 2013, DBEU is up 10.41 percent, which is comparable to HEDJ's 11.51 percent return in the same period. DBEU is heavy on financials and consumer staples that account for 22.41 and 18.17 percent, respectively, of its total assets. Its top ten largest holdings include Nestle, Novartis, HSBC, BP and Royal Dutch Shell, making it very similar to VGK.
Bottom line: One of the things investors seem to like about Japan, the United States and now possibly Europe is that their central banks are encouraging equity investments through aggressive monetary policy. Despite a weak show in the first quarter of 2014, Europe is in a much better position today than it was even a year ago. And with the support from the ECB, the uptrend observed in the region's equities is likely to continue going forward. As a result, it would be beneficial to have at least some exposure to European equities, and any of the above said ETFs could be excellent plays for investors in this environment.
Disclosure: The author has no positions in any stocks mentioned, and no plans to initiate any positions within the next 72 hours. The author wrote this article themselves, and it expresses their own opinions. The author is not receiving compensation for it (other than from Seeking Alpha). The author has no business relationship with any company whose stock is mentioned in this article.