U.S. crude output rose to 8.47 million barrels a day in the week of May 23, the highest level since 1986, says the Energy Information Agency. As noted in past articles, Texas is a significant U.S. crude oil producer, largely from the Permian and Eagle Ford Basins. Apache (NYSE:APA) holds 1.7 million net acres in the Permian, one of the largest acreage holders. It also produces in the East Eagle Ford.
As one of the most active Texas drillers, Apache shifted its focus from 66% international and offshore Gulf of Mexico and 34% North American onshore in 2009 to 62% North American onshore by the early part of 2014. Apache's 2009 production in the Central and Permian regions changed from 7% and 10%, respectively, to 16% and 27% as of first quarter 2014 (pro forma production). In the Central region, Apache has 1 million acres, which produced about 91,000 barrels of oil equivalent per day.
Additionally Apache shifted the hydrocarbon mix from 50% liquids in 2009 to 58% as of first quarter 2014. Of its $8.5 billion E&P capital program, 64% is to be directed to North American onshore. The Permian will soak up $2.6 billion and the Central region $1.7 billion. It projects 15% to 18% North American onshore liquids growth, largely oil driven.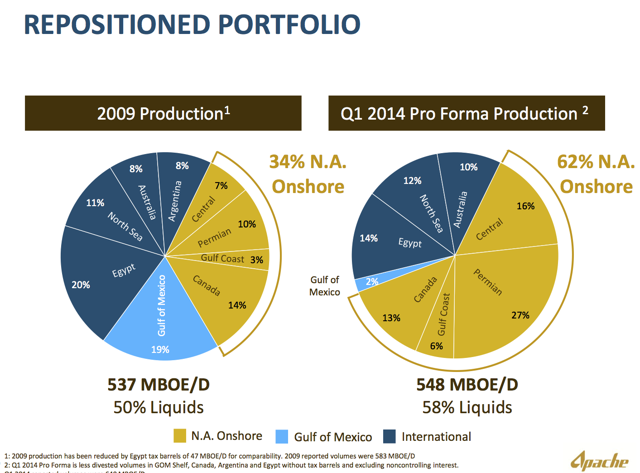 Apache was not the only E&P firm to make this shift back to North America and especially in U.S. shale oil basins. Other large players like Pioneer Natural Resources (NYSE:PXD) and EOG Resources (NYSE:EOG) and conglomerates like Chevron (NYSE:CVX) and Exxon Mobil (NYSE:XOM) have renewed their production in the Bakken, Permian and Eagle Ford Basins. The chart below offers a snapshot of how key Texas producers have grown production and their rankings from 2012 to 2013.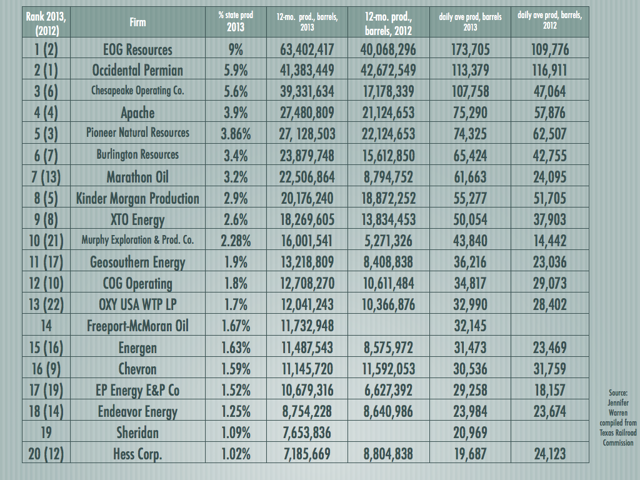 Though other firms have moved up and down in production and rankings, Apache has uncannily stayed at number four. Exxon Mobil, with subsidiary XTO Energy, has held stable. EOG has hit the Eagle Ford pretty hard. Also of note, Energen (NYSE:EGN) has played with the big boys, even surpassing Chevron's production in 2013. That may change in 2014 as Chevron has committed to more Permian production alongside others like Occidental Petroleum (NYSE:OXY), also a top Texas producer.
This chart confirms the intent of the top Texas producers, and Apache in particular. If the U.S. economy keeps steady, 2014 will see increased production in Texas, as well as other Basins.
Aside from its strengthened balance sheet, increased dividend for 2014 and portfolio changes, Apache with its diversified oil and gas portfolio can be considered an independent-conglomerate. Being a conglomerate, over a pure-play, gives Apache flexibility in moving capital around as well as managerial talent. Over time, this is a source of value, which may not be fully realized in the stock price. And, obviously, though a likely short-term phenomenon, geopolitical upheavals in the Middle East and Russia are keeping oil prices in the U.S. and around the world higher.
Sources: Here
Rankings:
Disclosure: The author is long APA. The author wrote this article themselves, and it expresses their own opinions. The author is not receiving compensation for it (other than from Seeking Alpha). The author has no business relationship with any company whose stock is mentioned in this article.