Always a thought leader in its industry, Morgan Stanley's (NYSE:MS) ongoing, forward-thinking revamp is proving uniquely successful in 2014.
It's no secret that this is a pensive time in the overpaid Wall Street finance industry, a time when companies like Morgan Stanley are rethinking the foundations of their enterprises. Rather than repeating the mistakes of the past and hoping for a different outcome, Morgan Stanley seems genuinely committed to renewal and regeneration.
Focus on Fixed Income
Nowhere is this more evident than at Morgan Stanley's fixed-income trading desk. At one time, this volatile department comprised more than 30% of the firm's revenue. In 2007, fixed-income trading reversals famously brought Morgan Stanley to the brink of demise. Apparently having learned a new respect for risk, fixed-income trading now account for as little as 12% of Morgan Stanley's revenue. This posture places Morgan Stanley in stark contrast with Goldman Sachs (NYSE:GS), to name a firm that continues to rely heavily on fixed-income trading.
Re-Establishing Investment Banking
This isn't the only way Morgan Stanley has realigned its business model for greater stability. The company's investment banking division has decisively established itself as the second largest counselor on merging and acquisitions.
In January through May of 2014, Morgan Stanley provided advice on deals worth an impressive $435 billion.
In addition to achieving exemplary volume in this area, Morgan Stanley has burnished its reputation by securing clients with clout. For example, Morgan Stanley served as the exclusive counselor for the Facebook acquisition of WhatsApp -- a headline-generating acquisition worth $19 billion.
Standing Out From The Crowd
In terms of bald share price performance, Morgan Stanley is often lumped in with other megabanks that have recovered slowly from the global financial crisis. Unlike many other banks, Morgan Stanley is showing the willingness to trade risky revenue streams for ventures with long-term reliability.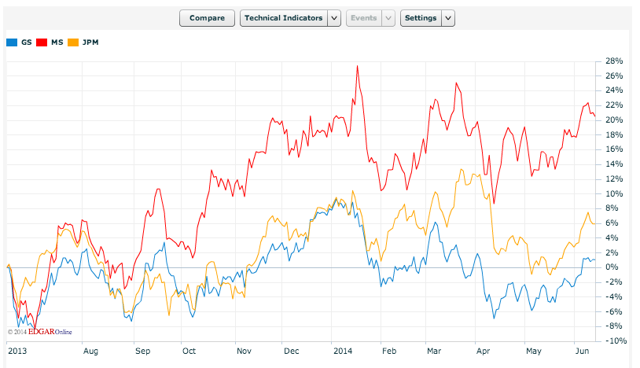 (Nasdaq.com)
Credit to CEO
Morgan Stanley's new CEO deserves much of the credit for the company's remarkable revamp.
An Australian without a background in trading or banking, Gorman was initially viewed with suspicion by many of the old guard at Morgan Stanley. However, time has proven the worth of this former securities lawyer and marketing executive.
Like many other banks, Morgan Stanley continues to face legal fallout from decisions made over the past decade. Some of these cases have merit while many others seem politically motivated. Perhaps a trained lawyer like Gorman is uniquely able to keep a cool head and move forward with confidence in the midst of ongoing legal cases. As Morgan Stanley continues to emphasize wealth management over risky trading, there is every reason to believe that the bank's revamp will prove lasting and effective.
Conclusion for Morgan Stanley Investors
We continue to be positive on Morgan Stanley, a rare exception in the United States taxpayer bailed out megabank industry (while others flail in repeated, extremely costly scandals).
MS reports its earnings results again on July 17th; however, it has a strong track record to stand on, beating analyst estimates for earnings for the past six quarters and recently hiked its dividend.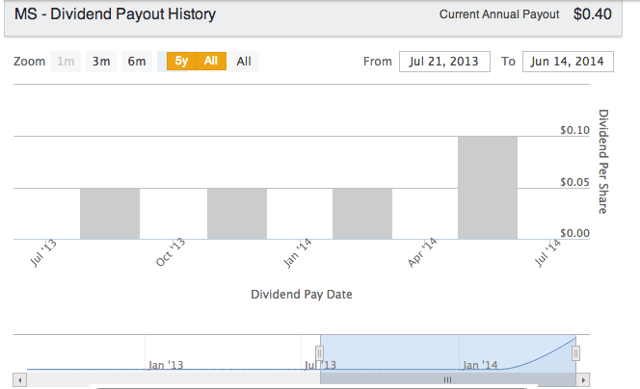 (Source: www.dividend.com)
We recommend investors buy into MS stock now, as good news will likely continue, along with bad news for peers.
Disclosure: The author has no positions in any stocks mentioned, and no plans to initiate any positions within the next 72 hours. The author wrote this article themselves, and it expresses their own opinions. The author is not receiving compensation for it (other than from Seeking Alpha). The author has no business relationship with any company whose stock is mentioned in this article.