When it comes to dividend champions, there may not be a better name in the cigarette space than Altria (NYSE:MO). The company has been one of my most recommended value names in recent years, and has the highest yield of the major cigarette names currently. However, shares have been on a spectacular rally lately, and they may be getting ahead of themselves. Today, I'll detail why a pullback would be good for all.
2015 growth does not stack up:
Let's face it, Altria is not a growth company, and most investors are fine with that. However, when comparing similar names, you would like to see some level of growth. Investors like to be forward looking, and 2014 is nearly halfway over. If we start looking forward to 2015, Altria's growth and valuation does not impress. In the following table, I've compared Altria against the three other names I cover, Lorillard (NYSE:LO), Philip Morris (NYSE:PM), and Reynolds American (NYSE:RAI). These are current estimates for revenue and EPS growth, along with the P/E based on that current estimate for 2015 EPS. You can view all of Altria's estimates here, and from that page you can check on estimates for the others.

Right now, Lorillard and Reynolds are trading at a bit of a premium on hopes that Reynolds will buy out Lorillard. If you were to take each of those names down by 10%, their valuations would be much more reasonable. In that situation, Altria's valuation would be around the average of the other three. Now you may say that Altria looks cheap compared to the others. I would counter by saying that Altria has the least amount of expected growth, so it could deserve the lowest valuation. I don't think Altria is going to be bought out anytime soon, so why should it get a buyout speculation premium?
Also, just because the others are overvalued doesn't mean you should really overpay for Altria. Right now, the only reason to buy Lorillard and Reynolds is for buyout speculation, which is usually a fool's game. Without a buyout, those names will come back down, and Altria probably will too. I'd also prefer going with Philip Morris here for a slight premium to Altria, just because 2015 is expected to be a turnaround year for Philip Morris after a down 2014. Altria's valuation is fair currently, but for the lowest expected growth, I don't see a ton of potential upside from current levels. Altria is also above its mean and median price targets, so analysts actually are looking for the stock to go down.
Dividend raise not here yet:
What happens when share prices rise? Dividend yields fall. If you bought Altria in the low or mid $30s, you'd happily trade a little yield for an extra $5 or so in the stock. But for those that have no position, or those looking to accumulate, the lower yield may not work for you. That's why a pullback would be nice.
Additionally, Altria recently went ex-dividend, according to the company's dividend page. That means that you will have to wait another three months before you receive a dividend payment. You could potentially make more money with options than you would by holding for the dividend payment, depending on the stock's movement of course.
The good news is that the next dividend declaration should be a raise from the company. I believe the $2.05 to $2.08 range will be where the next dividend falls, as compared to the current $1.92 annual rate. This will help to get the dividend yield back up, but again, you have to wait a couple of months for this.
When I looked at Altria back in February, shares were obviously much lower. That presented an opportunity for investors, with a yield that was 5.63%. Since that article, Altria's yield is down by 104 basis points, which is a decline of 18.43%. In terms of basis points and decline, Altria's dividend yield has had the largest fall, when compared to the other three names discussed. Altria won't get its big lead back until the raise later this year, or if the stock performs terribly when compared to its peers. As of Monday's close, Altria had a yield of 4.59%, which led Reynolds by just 15 basis points, although Reynolds has raised its dividend in 2014. If you look at Philip Morris, which raises its dividend around the same time Altria does, Altria currently has a 37 basis point lead. That lead in February was 64 basis points. That's why for the valuation above, I'm just not a fan near $42.
Help for the buyback:
Obviously, when shares were in the mid to lower $30s, the buyback was a lot stronger than it is in the low $40s. Plus, at around $42 a share, the company may not even be buying shares back, or the company may do so at a lower rate. If that is the case, then I always ask investors why they should be buying if the company isn't.
I mentioned in the dividend raise article above that an expanded or increased buyback announcement could come during the next few months. The buyback is important for EPS as well as dividend increases, so the company might want a pullback as well.
Technicals a little stretched:
Altria isn't your run of the mill growth stock that will rally tremendously in a matter of days or weeks. Thus, it can take a huge move in the stock for the moving averages to really budge. Lately though, Altria's 50-day moving average has really shot higher with the stock rallying past $40. In the chart below, I've compared the 50-day moving average to the 200-day moving average over the last five years. The arrows I added in myself to prove a point, which I'll discuss after the chart.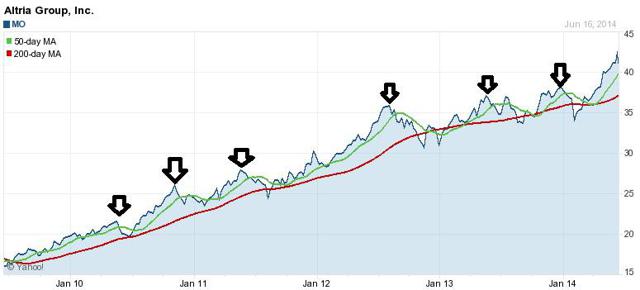 (Source: Yahoo! Finance)
Every time the 50-day gets a bit above the 200-day, the stock tails off a bit and pulls back. The 50-day rolls over and eventually the stock moves higher again. Well, look at the gap between these two moving averages currently. If the five-year chart above doesn't show it quite to your liking, look at what the one-year chart shows.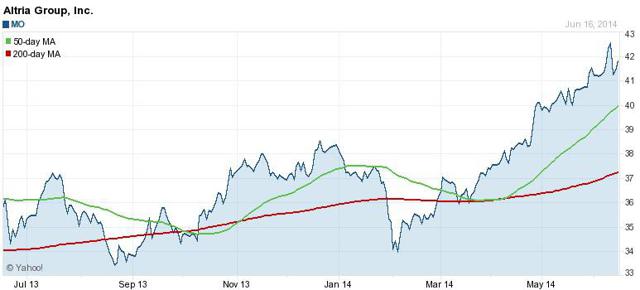 (Source: Yahoo! Finance)
Now I'm not calling for shares of Altria to fall off a cliff and drop to $30. That would take a huge fall in the overall market, and nobody wants to see that. But with the 50-day off to the races, history says investors need to be careful. Even a pullback to $40 would make this better for all.
Final thoughts:
Like others in the cigarette space, Altria shares have been off to the races. Rumors of Reynolds buying Lorillard have fueled a rally that may not be sustainable in the short term. While Altria's yield remains the highest, its lead has fallen, and it will be three months until the next dividend, which should be a raise. Investors looking towards 2015 will see that Altria offers the least amount of expected growth, and the valuation is not that much lower than the group. Technicals show a pullback may soon come as well. A pullback to $40 combined with a dividend raise in a few months would put the yield back over 5%, and that would be something to celebrate.
Disclosure: The author has no positions in any stocks mentioned, and no plans to initiate any positions within the next 72 hours. The author wrote this article themselves, and it expresses their own opinions. The author is not receiving compensation for it (other than from Seeking Alpha). The author has no business relationship with any company whose stock is mentioned in this article.
Additional disclosure: Investors are always reminded that before making any investment, you should do your own proper due diligence on any name directly or indirectly mentioned in this article. Investors should also consider seeking advice from a broker or financial adviser before making any investment decisions. Any material in this article should be considered general information, and not relied on as a formal investment recommendation.