1. Ultra-Low Treasury Yield Tells Us to Get Defensive
Bond yields are determined by the fundamental relationship between supply and demand. There are too many conservative investors in the market seeking safe returns. If the market is scrambling to buy 10 year bonds yielding 2.6%, it only makes sense when market participants believe that the outlook for the future is grim.
The following chart shows the S&P500 (in blue) followed by the 10 year treasury (in red) since January 1, 2007. However, stocks soared over the last few weeks, while treasury yields still trended downward.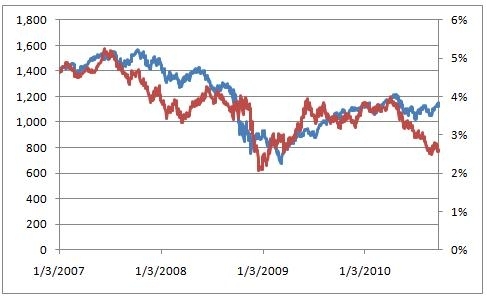 2. Strong Fundamentals
China Mobile's (NYSE:CHL) P/E is 12. It has over $47 billion cash while long term debt is only $5 billion. Over the last 12 months its operation cash follow was over $33 billion.
3. Near Monopoly in China
China Mobile is the largest company in the Wireless Communications industry. It enjoys over 80% of market share in China. In August it added 5.43 million new subscribers, taking its total subscriber base to 564.4 million.
China Telecom (NYSE:CHA) contracted with NIVS IntelliMedia Technology Group (NIV) to build its new 3G phones. With the help of the iPhone, China Unicom (NYSE:CHU) is gaining more traction in the market against China Mobile. However, sales of the iPhone failed to meet expectations. The launch of the iPad is of the Wi-Fi version only, which might not have an immediate threat to China Mobile.
4. Still in Growth Mode
The following charts from Google show China Mobile's income growth over the last 5 years. Even though China Mobile already passed its fastest growth period, last quarter its revenue still increased by 7.9%.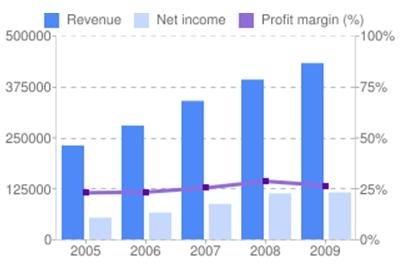 5. High Dividend
China Mobile's current dividend yield is 3.2%. The following chart shows the dividend history of the last 7 years.
click to enlarge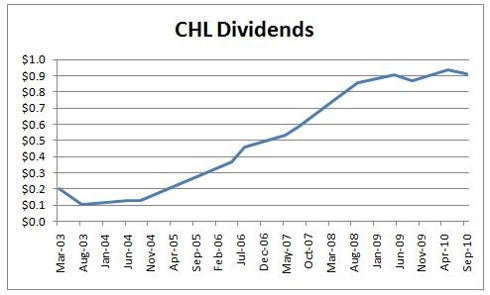 Click to enlarge
6. Trade above 50 and 200 Days Moving Average
Shares of China Mobile crossed above the 50-day moving average indicating a bullish attitude amongst investors. Those moving averages could help investors who focus on quality stocks while looking for the right opportunity to make a trade.
7. Benefit from Potential Yuan Appreciation
Any sizable strengthening of the Yuan will increase the dollar value of Chinese companies getting the majority of revenue from China, thus bumping up share price in dollars.
Two Concerns
1. In the telecom industry, you have to think about the prospects in the next technology generations and future capital expenditures. Even though China Mobile's operating cash flows is around the same amount as Verizon Communications (NYSE:VZ)'s, it has much lower free cash flow than VZ.
2. The recent sale of China Mobile shares was a part of Vodafone (NASDAQ:VOD)'s new strategy to exit non-strategic minority investments. I couldn't think of any good reason for Goldman Sachs (NYSE:GS), Morgan Stanley (NYSE:MS) and UBS (NYSE:UBS) to sell about $2 billion worth of their remaining positions in China Mobile (see here). Maybe these investment banks know something I don't?
Conclusion
Financial crises usually ebb and flow in their severity. They rarely hit once and then subside. They resemble hurricanes in that they gather strength, weaken for a while, and then gain even more destructive power than before, according to Nouriel Roubini, author of Crisis Economics.
In this "unusually uncertain" environment, it doesn't hurt to include a solid, high dividend paying company such as China Mobile in your conservative portfolio. If you can't tolerate stock risk, then you might go for the sector ETFs such as iShares Dow Jones US Telecom (NYSEARCA:IYZ).
Data is from Google and Yahoo Finance and is valid as of September 24, 2010.
Disclosure: Long CHL