It appears the National Association of Home Builders (NAHB)/Wells Fargo Housing Market Index (HMI) has indeed stabilized.
Last month, I interpreted a small recovery in the HMI from a March plunge as a sign of stabilization. The jump in the June HMI seems to have confirmed that interpretation.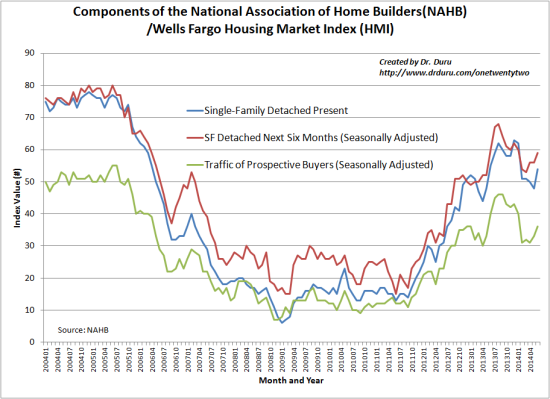 The Housing Market Index Springs Back to Life
Source: National Association of Home Builders (NAHB)
Two of the components of the HMI are seasonally adjusted, but 2014 marks the third year in a row where the HMI dropped in March only to bounce back sharply in subsequent months. It is as if home builders are habitually wary and cautious going into the Spring selling season and become relieved when sales come in as expected (or better). I missed this pattern because I extrapolated builder enthusiasm in the last round of pre-Spring earnings reports as a good sign for sentiment going forward.
Regardless, the good news is that downward momentum has not taken hold. As I have pointed out in previous posts, this index tends to trend strongly. Thus, the absence of a downtrend here is an encouraging sign that the stabilization seen in iShares US Home Construction (NYSEARCA:ITB) will hold long enough for any further upward momentum in the general market to help lift it higher. ITB out-performed the S&P 500 (NYSEARCA:SPY) in response to the HMI with a 0.8% gain (and a nice bounce off potential support at the 50-day moving average).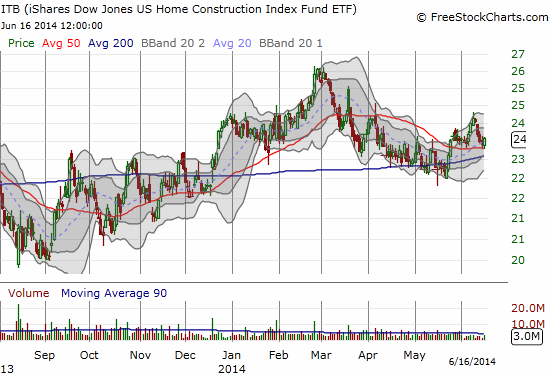 A year of consolidation continues for the iShares US Home Construction
Source: FreeStockCharts.com
Note well that the NAHB commentary accompanying the latest HMI reading reflected continued caution. The aggregated HMI is at 49 so it is just short of indicating "good building conditions":
"After several months of little fluctuation, a four-point uptick in builder sentiment is a welcome sign and shows some renewed confidence in the industry…However, builders are facing strong headwinds, including the limited availability of labor…

"Consumers are still hesitant, and are waiting for clear signals of full-fledged economic recovery before making a home purchase…Builders are reacting accordingly, and are moving cautiously in adding inventory."
Be careful out there!
Disclosure: The author is long ITB. The author wrote this article themselves, and it expresses their own opinions. The author is not receiving compensation for it (other than from Seeking Alpha). The author has no business relationship with any company whose stock is mentioned in this article.
Additional disclosure: I am long ITB through call options