In a push to solidify its market position in the Terminals segment, Kinder Morgan Energy Partners L.P. (NYSE:KMP) announced yesterday that it is going to invest in additional tanker capacity once again. Kinder Morgan Energy Partners' newest order relates to the construction of a LNG-conversion-ready product tanker with a transport capacity of 330,000 barrels. The tanker is contracted to be delivered in the second quarter of 2017.
Just at the beginning of the year, Kinder Morgan Energy Partners acquired American Petroleum Tankers and State Class Tankers for $960 million. Both companies have a strong domestic market position in crude oil, condensate and refined products transportation (also called the Jones Act trade) via tankers. The newest contract adds to Kinder Morgan Energy Partners' tanker fleet and to the other four tankers that are already under construction at the NASSCO shipyard in San Diego.
The strengthening of Kinder Morgan Energy Partners' tanker business makes a hell of a lot of sense. Domestic energy infrastructure investments in transportation, refinery, fractionation and storage capacity are booming and Kinder Morgan continues to take on a leadership role in expanding its asset footprint.
Rob Kurz, vice president of Kinder Morgan Terminals and president of KMP subsidiary American Petroleum Tankers commented on the recent announcement:
We are delighted to build an additional tanker, which clearly demonstrates Kinder Morgan's ongoing commitment to marine transportation of crude oil, condensate and refined products in the United States domestic trade, commonly referred to as the Jones Act. There continues to be increasing demand for waterborne transportation to move petroleum products, and these tankers will provide stable, fee-based cash flow to KMP unitholders for many years to come through multi-year contracts with major oil producers.
American Petroleum Tankers already has five medium range product tankers in operation, each with a 330,000 barrel cargo capacity. Many of American Petroleum Tankers' customers are first-league oil companies.
In addition to the new Jones Act qualified tanker being commissioned for construction, State Class Tankers already ordered four other medium range tankers with expected delivery dates in 2015 and 2016 and the same cargo capacity of 330,000 barrels.
Kinder Morgan Energy Partners obviously is making a significant bet on domestic crude oil transportation via large-storage tankers. The acquisition of the tanker businesses American Petroleum Tankers and State Class Tankers as well as their fleet expansions highlight that marine storage offers solid growth potential.
Add to that, that the tankers will be under long-term charters and will contribute to de-risking Kinder Morgan Energy Partners' cash flow profile. Fee-based contracts are a great hedge for companies that don't want to take on market price risk for the underlying commodity.
Chart picture
Kinder Morgan Energy Partners' units have rebounded strongly since the end of March and two bullish waves have pushed its unit price back to the $80 mark.
With ongoing investments in tanker capacity, Kinder Morgan Energy Partners signals to the market that it expects meaningful demand growth in the coming years.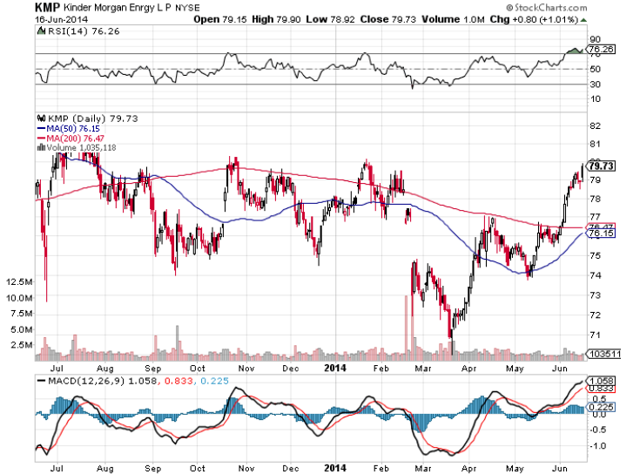 (Source: StockCharts.com)
Bottom line
Kinder Morgan Energy Partners' recent tanker business acquisitions and continued investments in the expansion of its tanker fleet are a great way for the company to grow its energy business beyond its core pipeline and CO2 segments that make up the majority of the firm's earnings.
It is also good to see, that Kinder Morgan Energy Partners focuses on its long-term growth plan and pushes its infrastructure investments throughout the country and in Canada. As I have said before, the U.S. is well on its way to achieve energy independence and the business environment for natural gas, NGLs, crude oil and refined products has rarely been better in the United States than now. Kinder Morgan Energy Partners just delivered another reason why investors should take its aggressive expansion plan seriously. Strong Buy.
Disclosure: The author is long KMP. The author wrote this article themselves, and it expresses their own opinions. The author is not receiving compensation for it (other than from Seeking Alpha). The author has no business relationship with any company whose stock is mentioned in this article.