Share price of Windstream Holdings (NASDAQ:WIN) has risen by 20% over the past 3 months, significantly outperforming a 4% return for S&P 500 Index. Based on current annualized dividend of $1.00 per share and 10% cost of equity, the Gordon Growth Dividend Discount Model suggests that the current share price of ~$10 has priced in a 0% dividend growth rate (see chart below). From an income investor's perspective, I believe the shares are fully valued at the moment as any dividend hike is very unlikely in the next few years.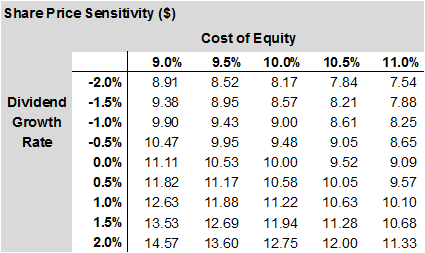 I have performed free cash flow projections from 2014 to 2016 to gauge Windstream's future cash flow and dividend trends. My analysis started with consensus EBITDA estimates which predict the figure to decline by 0.8% CAGR over my forecast period. I then arrived at operating cash flow forecasts based on average EBITDA to operating cash flow conversion ratio of 70% in the past 3 years. For capex, I used the mid-point ($825M) of management's guidance range of $800M and $850M for 2014. I then assumed the spending to decline gradually to $775M by 2016. Based on those assumptions, free cash flow was projected to grow slightly from $732M in 2014 to $756M in 2016 (see chart below).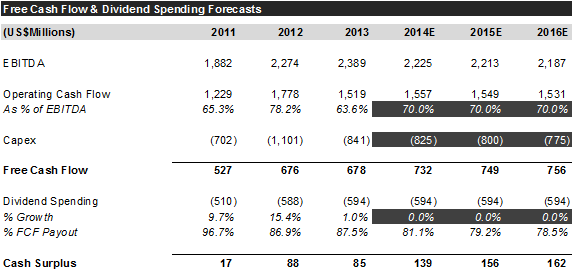 Assuming no growth in dividend spending through 2016, free cash flow dividend payout ratio will drop from 88% in 2013 to 79% in 2016 due to the modest free cash flow growth, which is a good sign. In this case, Windstream would have around $150M excess free cash flow in each year that can be spent on reducing its elevated debt load (see chart above).
As I have assumed no dividend spending growth and the company is unlikely have any funds available for share buyback, the resulted unchanged share count would mean dividend per share will stay flat at $1.00 per annum through 2016. Comparing with consensus EPS estimates which predict the bottom line to grow from $0.32 in 2014 to $0.43 in 2016, the flat dividend per share forecasts imply that earnings dividend payout will decline from 314% in 2014 to 233% in 2016 (see chart below).

Although EPS is expected to experience short-term growth through 2016, over a longer run, consensus estimates predict an average long-term earnings growth rate of -2.0%, which means that the declining earnings payout trend would be just temporary. As EPS declines over time, the payout ratio will shoot up again. Even with a very optimistic 10% long-term EPS growth assumption (which is impossible given the current development), I calculated that it will take the company more than 10 years to drive its EPS from $0.32 in 2014 to $1.00 in order for the payout ratio to reach 100% mark. Windstream's highly leveraged balance sheet (92.4% total debt to capital ratio) is definitely not able to take the hit.
I have also performed a simple analysis to illustrate the balance sheet impact. Based on consensus net income estimates from 2014 to 2016 and my flat dividend spending assumption, net loss after dividend distribution (i.e. retained deficit) will trend from -$405M in 2014 to -$339M in 2016. As of December 31, 2013, shareholders' equity was $840M. The ongoing retained deficit will burn out the equity value after 2015, meaning that total asset value will be less than total liabilities in the balance sheet by that time (see chart below).

In conclusion, Windstream's elevated earnings dividend payout ratio and stretched balance sheet imply that a dividend hike is almost impossible (risk is to a potential dividend cut). However, owing to the recent price appreciation, the share valuation has factored in a flat dividend growth scenario, which is somewhat optimistic in my view.
All charts are created by the author, and historical data used in the article and the charts is sourced from S&P Capital IQ, unless otherwise specified.
Disclosure: The author has no positions in any stocks mentioned, and no plans to initiate any positions within the next 72 hours. The author wrote this article themselves, and it expresses their own opinions. The author is not receiving compensation for it (other than from Seeking Alpha). The author has no business relationship with any company whose stock is mentioned in this article.