McDonald's (NYSE:MCD) is always the first company to be mentioned when anyone talks of raising the federal minimum wage. More than 100 protestors, including some employees, were arrested outside the company's headquarters in May as demonstrations escalate in favor of a higher wage. While operating costs would increase with a wage hike, the increase would be offset by higher prices and would affect a relatively small portion of the company's workforce. Shares appear undervalued on current fundamentals, and may even be slightly undervalued if a minimum wage increase is implemented.
Even weakening, fundamentals are still strong
McDonald's operates largely under a franchisee model, which helps control its own risks and costs in more than 120 countries. Of the 35,400 global locations, approximately 80% are franchised and affiliate-owned, with 90% franchised in the United States. Sales growth has slowed lately as competition heats up in the quick service space, especially in the morning segment. Revenue increased just 2.0% last year, against a 5.2% annual average over the last three years.
Despite the recent weakness, the company is still the clear leader in its industry, with an average $2.5 million in sales per restaurant against an average of $1 million per restaurant across the industry.
While McDonald's may be seeing lower revenue growth, operational efficiency is seeing significant improvement off what was arguably already one of the best-run companies in the market. The company's operating margin has increased from 18.6% a decade ago to 31.2% last year on better cost management and the continued shift to the franchise model.
Cheaper than peers and nearly a 10% discount
Shares trade for 18.2 times trailing earnings, just slightly higher than the 17.0 times average over the last five years, but still well below peers. Shares of Wendy's (NYSE:WEN) trade for 36.4 times earnings and Burger King Worldwide (BKW) trades for 36.1 times earnings, both offering lower dividend yields.
The shares have a fair value of $110.70 on a discounted cash flow basis, nearly 10% higher than the current price. This is calculated using the company's cost of debt and equity capital (6.1%), and estimating future payments of dividends. While the dividend has grown at a 10.1% annual pace over the last five years, I estimated a more conservative 9.5% over the next five and 7.5% over the consecutive five years. This is followed by a terminal growth rate of 5%, which could be overly conservative given the company's 75 years of operations and ability to grow dividends by double digits.

One interesting and overlooked benefit on shares of McDonald's is the ability to use it as a play on global real estate, as well as a stable cash return. The company owns approximately 45% of the land and 70% of the buildings in its network. With more than 35,000 locations, this is a considerable investment across the globe, much of it in high-growth emerging markets. Rents alone brought in $6.1 billion in 2013, more than two-thirds the $9.2 billion in franchise revenue and an increase of 3.4% over the prior year. There is a significant opportunity, as the price of land appreciates in emerging markets, for the company to realize these gains and to pass these on to shareholders.
Valuation on a higher minimum wage
The fervor over an increase in the minimum wage and what it might mean for McDonald's earnings has been overblown. Nearly 90% of the company's U.S. locations are owned by franchisees which determine their own pay rates, and only 31% of the company's $28.1 billion revenue in 2013 originated from U.S. operations.
McDonald's booked $4.8 billion in payroll & employee benefits in 2013, just under a quarter (24.9%) of total operating costs. The company does not detail its amount spent on labor by wage group, but a conservative analysis can provide an estimate of the increased cost to operations. According to Glassdoor, the company pays an average hourly rate of $7.81 to its employees. An increase in the minimum wage to $9.25 per hour would mean an increase of 18% from this, but a smaller increase, since not all employees make the minimum wage.
The table below estimates the effect on payroll of a minimum wage increase to $9.25 per hour. If slightly over half of all workers get an 18% increase to $9.25 per hour, payroll expenses would increase by 9.9% to $5.3 billion. This is assuming that benefits increase by the same amount and that the entire group makes the average $7.81 per hour currently.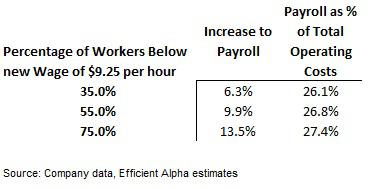 There is no way we will see a $15 minimum wage, and even the President's boost for federal contractors to $10.10 an hour is unlikely for the rest of the country. I think it is much more likely to see something like $8.25 when a measure is passed and a stipulation to be raised to $9.25 over the next couple of years. I have used $9.25 an hour as an estimate for conservatism and to show that even a large increase would mean little to the bottom line.
An increase of 9.9% on payroll costs would increase last year's operating expenses by $477 million and decrease net income by $331 million to $5.25 billion on an after-tax basis. This would have reduced the company's profit margin to 18.7% from the 19.9% reported.
An economist at the University of Kansas recently estimated that McDonald's would increase the price of its products by 17% if the minimum wage were increased to $15 per hour. On an increase in the minimum wage to $9.25 per hour, I estimate that the company would increase prices by 5% at least.
Analyst estimates are for $29.78 billion in sales for 2015 and earnings of $6.27 per share. An increase of 5% in prices would yield $31.27 billion, but costs would increase as well. Applying a profit margin of 18.7% would yield $5.85 billion in net income, or $5.91 per share on the current share count. While this would be below analyst estimates, it would still be an increase of 7.2% from the last four quarters.
On net income of $5.91 per share and a multiple of 18.0 times, the shares would trade at $106.38 each and just over 5% higher than their current price.
On a competitive level, a higher minimum wage could actually help McDonalds gain market share against competitors. Labor costs were approximately 29.7% at Wendy's, and payroll expenses at Burger King were 34.8% last year. Burger King operates less than 0.5% of its locations, but 52% of its 13,667 global locations are in the United States. Wendy's operates 18% of its 6,557 global locations, with 75.8% (4,975) locations in the United States.
The relative reliance on U.S. operations for Burger King and Wendy's leads me to believe that a hike in the minimum wage would hit these two companies harder than at McDonald's. Worse yet, for Burger King, the decision to franchise nearly all of its locations may make it the biggest loser from the wage increase. Profit margins for franchisees are typically lower than for corporate locations, so I would expect to see more Burger King locations failing relative to the other two companies if corporation did not take on a proportion of the increased labor costs.
Estimating the actual affect of an increase in the minimum wage on McDonald's operations and on the stock price is highly subjective to assumptions. What I have tried to do here is to show that even an increase in the minimum wage to $9.25 per hour would mean a relatively minor hit to bottom-line earnings and that the company is well-positioned relative to peers. While headline risk on actions to increase the minimum wage may weigh on the shares near term, long-term investors can be confident in the current valuation.
Disclosure: The author has no positions in any stocks mentioned, and no plans to initiate any positions within the next 72 hours. The author wrote this article themselves, and it expresses their own opinions. The author is not receiving compensation for it (other than from Seeking Alpha). The author has no business relationship with any company whose stock is mentioned in this article.