First Energy (NYSE:FE) is a troubled electric utility that cut its dividend in early 2014. However, the assembly of assets and the new direction the company is taking seems to play well into a rising stock price over time. In January 2014, management cut the annual dividend from $2.20 to $1.44 per share. Adding a bit of insult to injury, long time shareholders had not seen a dividend increase since 2008. Driving this cut was continuing merchant power market weakness in the PJM region along the East Coast and Eastern Midwest. The press release from January reducing the dividend and putting forth 2014 guidance can be found here.
The company is split into three operating segments: Regulated Transmission, Regulated Utilities, and Competitive Energy. An overview of the geography of each segment is below and the latest investor presentation can be found here.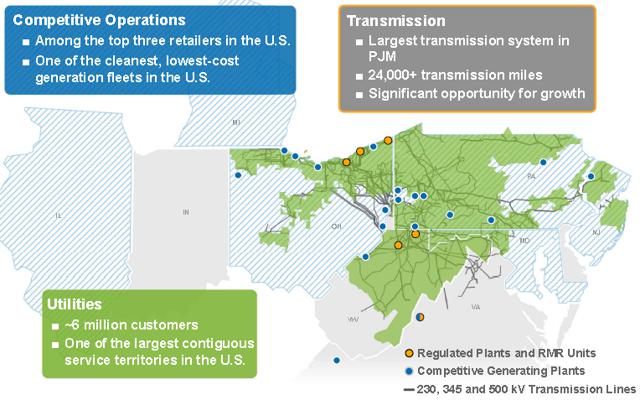 The presentation also provides a detailed segment description: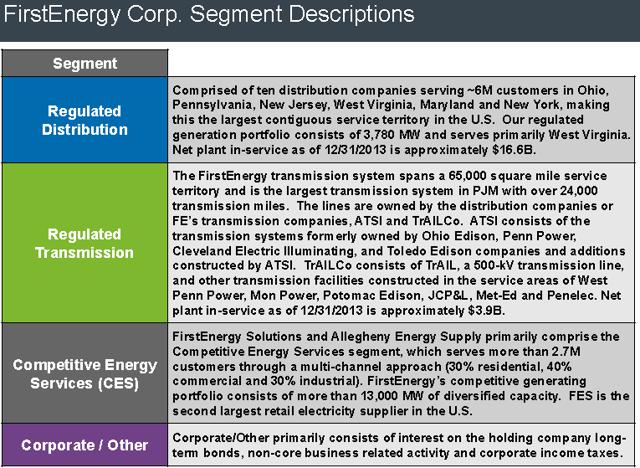 The Competitive Energy segment holds the majority of FE's generating capacity, which is heavily weighted to coal. With 17.8 MW capacities, FE is one of the top three power generating firms. Below is a chart outlining generating capacity by fuel type.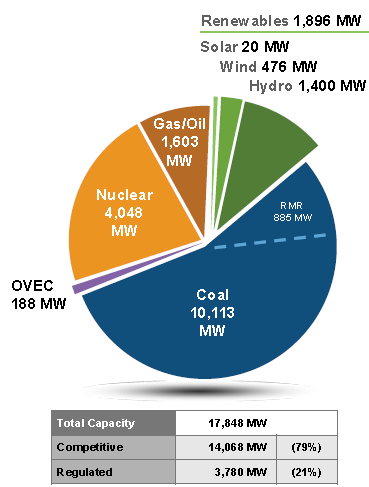 With the retirement of eight plants representing 20% of its generating output over the previous three years, FE continues to mimic its peers by closing unprofitable coal-fired facilities.
Transmission assets remain one of the rising stars of the company, with a current regulated asset base of $3.9 billion. Transmission allowed ROE ranges from 11.7% to 12.7%, and is a premium to state-regulated Distribution ROE. Management expects to invest $4 billion in transmission assets as outlined in their 2014-2017 budgets, and is from a total $7 billion for cap ex. Below is a map of FE's transmission network: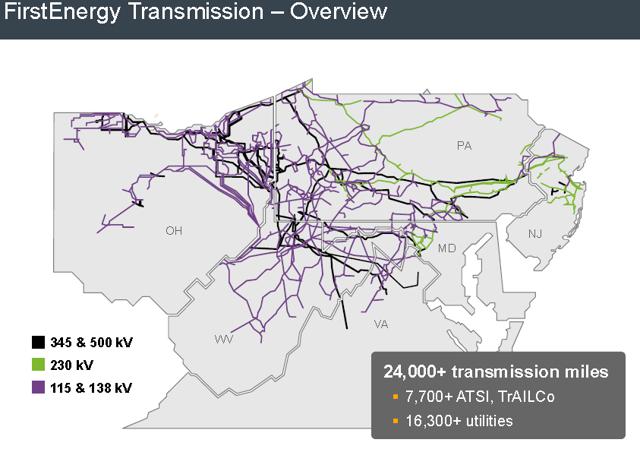 As shown, FE operates one of the largest transmission networks in the US, with a geographic focus on its retail service areas. With higher allowed ROE from the feds, it would seem this expansion is a very investor-friendly move. However, several other large electric utilities also are expanding their transmission footprint, so the added exposure to these higher margins is not exclusive to FE.
The Regulated Retail Utility segment provides service to over 6 million customers from the Ohio-Indiana border to the far suburbs of New York City and from the NY-Pennsylvania border to southern Maryland and southern West Virginia. Outlier areas include about 617,000 customers in Illinois and 1,000 customers in Michigan.
Commercial and industrial customers make up a majority at 69% vs. 31% for residential customers, and constitute a higher percentage than the average utility. Across the country, the average utility has about 57% in commercial and industrial customers. This makes FE a bit more exposed to a rebound in the economies of its service areas.
However, as shown below, the company has produced a -$113 million in free cash flow for the trailing 12 months. In addition, management believes it will generate free cash flow loss of between $1.3 and $1.5 billion this year. This huge cash flow loss is being driven by the 44% increase in cap ex over the previous three-year average. Free Cash Flow Estimates for 2014, from the presentation: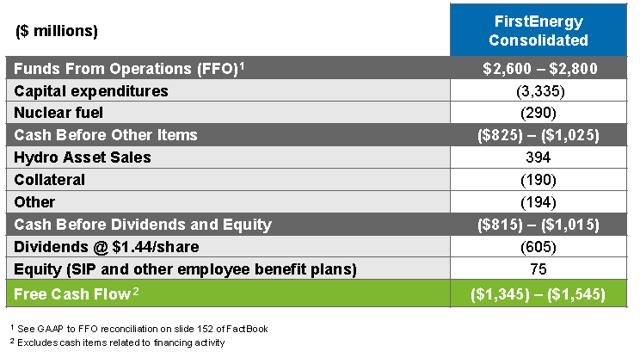 History of annual free cash flow going back to 2004 to trailing twelve months (2004 on the far left and TTM on the far right), per Morningstar:

This capital short fall will be made up from a combination of increase debt and stock sales.
Current update to management guidance calls for operating earnings per share for 2014 at $2.40 to $2.60. Against this, management expects to take special charges of between $0.22 and $0.26 with GAAP EPS estimated at $2.14 to $2.34. Below is the latest breakdown of operating earnings estimates by segment as of May 6, and are lower than the $2.45 to $2.85 guidance offered in January. For reference, operating earnings were $3.04 a share in 2013. By segment, regulated distribution generated $2.05 in 2013, Regulated Transmission $0.51, and Competitive Energy $0.74. The largest difference is a $0.88 per share decline in profitability of the merchant power segment.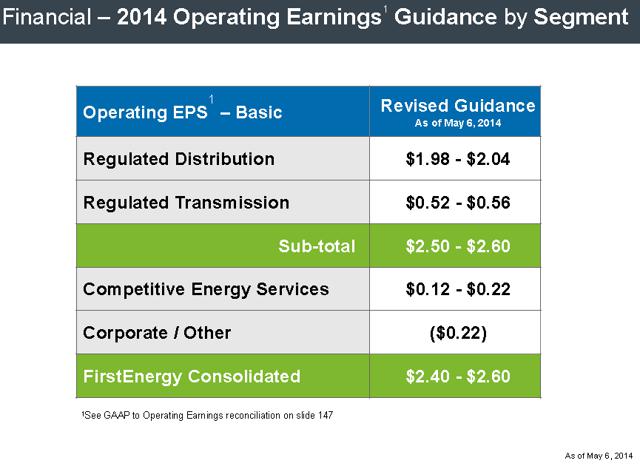 Return on invested capital ROIC has fallen from above average to about industry average. As graphed below from fastgraph.com, ROIC has fallen from 8.5% in 2007 to 4.6% in 2013. While it may not seem like much, management is generating 45% less returns on every dollar of total capital deployed than it did 7 years ago.
Debt maturities are heavily weighted from 2014 to 2019. As shown below, $7.8 billion in debt is set to mature over the next five years. This represents about 50% of the total $16 billion maturing out to 2044, as identified by their presentation chart below. Total debt as of 3/31/14 was $21.3 billion.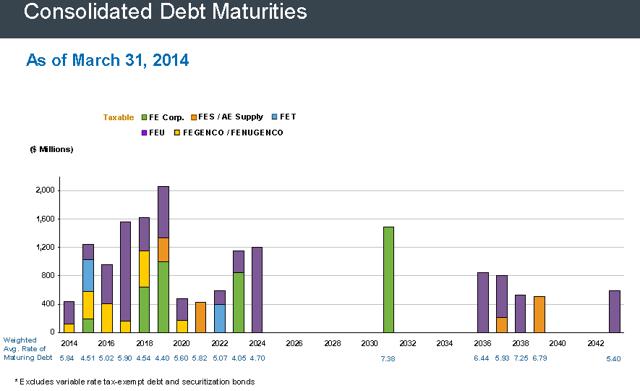 A bullish growth opportunity for FE is the increase in electrical demand associated with the development of the Marcellus and Utica natural gas shale. As depicted below, FE's regulated utilities encompass most of the Marcellus and some of the Utica areas in Pennsylvania, Ohio, and West Virginia.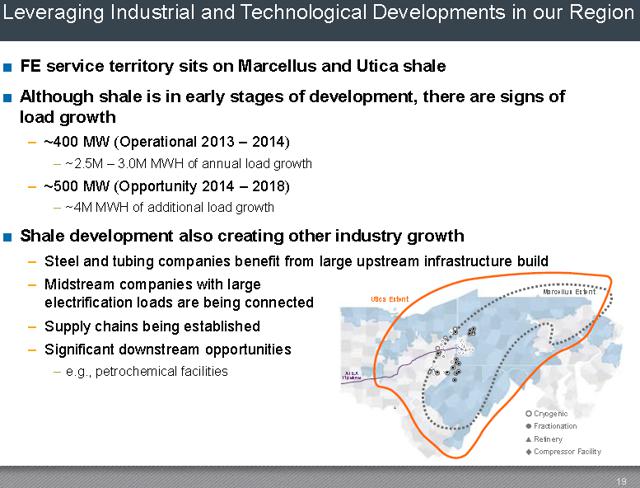 One reason to cut the dividend is to maintain an investment grade credit rating. With the five year need to refinance its outstanding debt and to issue more debt from the shortfall from their negative free cash flow, the company could not afford a credit downgrade. The dividend cut should satisfy the credit ratings agencies, for a while at least. According to the company's latest FactBook (linked below) dated May 6th, Moody's currently rates FE outlook as negative while Fitch and S&P rates FE as stable.
As the plant closing process progresses, costs associated with mothballing facilities are expected to decrease from $120 to $130 million in 2014 to between $40 and $70 million in 2015. This relates to between $0.11 and $0.25 a share improvement.
It seems the PJM power markets have improved with higher prices reported at the recent 2017/2018 auctions and were in line with the 2016/2017 pricing levels. If this stability holds for a few more auction cycles, earnings in the Competitive Energy segment should begin to improve.
Transmission assets will grow from a current $4 billion to $8 billion in 2017 and should fuel a 15% growth in the segment's operating profit. Over the next few years, EPS from Regulated Transmissions could reach $1.00 a share, up from $0.52 to $0.56 anticipated in 2014.
Driven by improving merchant power prices and additions to transmission rate-based assets at favorable FERC-allowed returns, FE should regain its earnings power. EPS are estimated at $2.93 in 2015 and $3.04 in 2016. However, this growth will be on the backs of bondholders as debt is anticipated to increase to $25 billion by 2016 as well. Shareholders should expect the modest issuance of about 10 to 15 million additional shares, on top of the current 418 million shares outstanding.
Share prices have collapsed from $50 in July 2012 to a current price of $34. Based on the $1.44 dividend, the current yield is 4.2% with no likelihood of a dividend increase anytime soon. However, if profits get back to their winning ways and stabilize in the $3.00+ range, share prices could fetch a sector-discounted PE of 14 to 15 and a price target of $42 to $45.
In addition, with a less than 50% payout ratio, shareholders may actually begin to hear the phrases "dividend increase" and "FirstEnergy" used in the same sentence.
This story sounds hauntingly similar to the turnaround at Exelon (NYSE:EXC). While EXC has substantially more exposure to the merchant power market and offers more generating capacity with low-cost nuclear, both firms are expanding rapidly in the regulated markets. EXC is expanding in its retail distribution services while FE is focused on adding higher margined transmission assets. The year-to-date outperformance of EXC over FE reflects EXC's larger impact of improving merchant power markets. In addition, EXC's own dividend cut is becoming a faint memory (for some).
FE and EXC are also hauntingly similar in their mutual lack of generating shareholder returns. The Morningstar.com 10-year total return graph for EXC and FE are eerily the same, as shown below (FE in blue and EXC in yellow):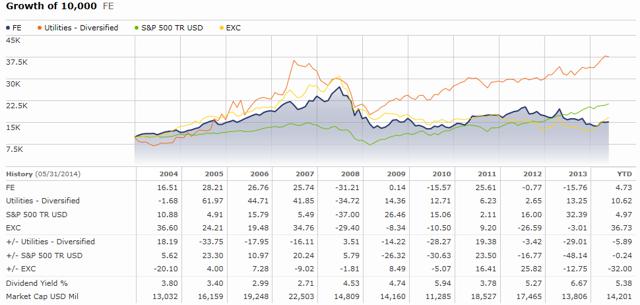 Since the dividend cut announcement, there have been 401 million shares traded or about equal to the total shares outstanding. It would seem logical that most of the weaker hands have been played and those wanting to exit their position have probably done so. New buyers with no ill history of a dividend cut are replacing these weaker players, and this may add some stability to share prices over the next few months.
Investors looking for a speculative turnaround play with average dividend yield should review FE. Detailed information is available from their latest 82-page slide presentation FactBook found here and is a source of great background information.
Author's note: Please review important disclaimer in author's profile.
Disclosure: The author is long EXC. The author wrote this article themselves, and it expresses their own opinions. The author is not receiving compensation for it (other than from Seeking Alpha). The author has no business relationship with any company whose stock is mentioned in this article.