Dear Seeking Alpha readers,
I'm excited to introduce real-time email alerts for authors on Seeking Alpha. You'll now be able to choose your five favorite authors, and receive an email notification whenever they publish an article.
Until now, we allowed readers to follow authors and offered a daily digest comprised of new articles by those authors. Now, we are expanding this service to offer real-time alerts on up to five of those authors, while all your authors will still be included in your daily digest.
This represents a fundamentally new way to use Seeking Alpha.
From our inception until now, it made sense to organize content primarily around stocks; authors wrote about stocks and readers searched for analysis based on their investing interests.
Now that we've become the market leader in small-cap investing insight (coverage of 10,000+ stocks since 2005, 6,500+ stocks in the last year alone, by 9,000+ authors, with 2MM+ real-time subscribers), many of our authors have established expertise in their field and built loyal followings of Seeking Alpha readers. Accordingly, many readers have begun to cultivate a list of authors that they trust to deliver high-quality investing analysis.
The new feature of real-time author alerts facilitates this exchange of ideas between people, and will enable you to discover new investing opportunities from authors you trust, in addition to reading about stocks that you already follow.
You can sign up for real-time alerts on your favorite authors using the "Get real-time alerts on…" link at the top or bottom of any of their articles, or from the "Get Email Alerts" button on their profiles. Clicking these will open a popup showing a list of your favorite authors, so you can easily manage all the authors you follow and select which five on whom to get real-time alerts. You can also adjust and manage your preferences on this page, accessible from the email alerts page and from the emails themselves.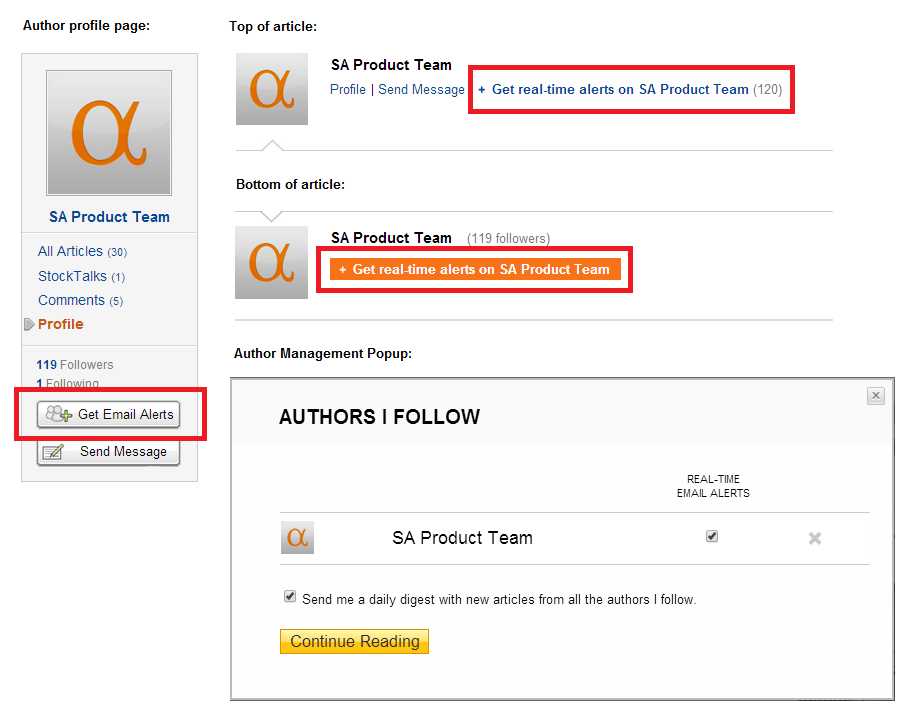 Also, don't worry about double subscriptions; if you happen to be subscribed to real-time alerts on both the author and the ticker of a particular article, we'll only send you one email.
The fact that we're able to offer this feature is a huge credit to our amazing community of investing enthusiasts, both authors and readers.
Feel free to reach out to me with any feedback about this feature.
Adena Goldberger
adena @ seekingalpha.com