General Electric's (NYSE:GE) bid for France-based Alstom (OTCPK:ALSMY) has been turning into a bit of a circus. Both companies seem to be very close to sealing their $17 billion deal. However, French economic nationalism, or dirigisme, and German conglomerate Siemens AG (OTCPK:SIEGY) are standing in the way.
Siemens officially makes its offer
After much speculation in the press, Siemens has finally made public the details of its proposal for Alstom. To put it mildly, the offer is fairly complex.
First, Siemens is teaming up with Mitsubishi Heavy Industries (OTCPK:MHVYF) and Hitachi Ltd. (OTCPK:HTHIY) to divvy up Alstom's energy assets. This three-party bid is needed, as it would give the group enough financial wherewithal to counter the General Electric offer.
Siemens, specifically, will be offering $3.90 billion euros ($5.3 billion) for 100% of Alstom's gas turbine business and associated service contracts. In addition, it will offer a three-year job guarantee, and plans to establish the headquarters of the combined gas company in France. Furthermore, Siemens is also willing to negotiate a combination of its rail assets with Alstom's, though details for this were not disclosed.
Meanwhile, Mitsubishi and Hitachi will partner up and pay $3.10 billion euro ($4.20 billion) for various assets, including 40% of the nuclear and steam turbine business, 20% of the hydropower business, and 20% of the electric grid business. In addition, Mitsubishi has offered to buy up to a 10% equity stake in Alstom from French conglomerate Bouygues SA (OTC:BOUYF), promising to be a long-term shareholder.
In essence, the Siemens/Mitsubishi offer would keep large parts of Alstom in French hands, assuaging fears regarding France's strategic nuclear power assets. In addition are companies claiming that the offer's valuation exceeds General Electric's by $1.0 billion euros.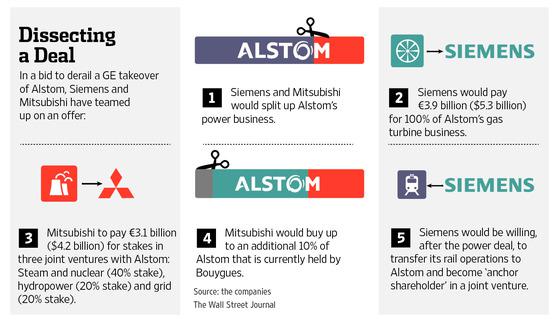 Source: The WSJ
Conclusion: General Electric's offer is simpler, less complicated, and frankly, better
I will admit that doing an apples-to-apples comparison between the General Electric and Siemens offers is difficult. However, it appears as if General Electric's offer is easily the more palatable solution for Alstom. Indeed, according to Bloomberg, Alstom's initial assessment of the Siemens plan is that it's too complex.
General Electric is offering $13.50 billion ($17.0 billion when factoring in debt) in cash for Alstom's energy assets. The Siemens/Mitsubishi bid, by comparison, is offering less than $10 billion in cash.
Furthermore, via the Siemens/Mitsubishi bid, Alstom's energy assets would be divided between two of its major rivals. With General Electric, these assets will stay under the same, arguably stronger, corporate roof.
In addition, much like Siemens, General Electric has been bending over backwards trying to appease the French government, promising to safeguard jobs and create 1,000 new positions. In addition, CEO Jeff Immelt has met with French leaders trying gain approval.
General Electric has noted that it thinks its offer is good enough as is, and does not want to get into a bidding war. However, as I noted in a recent article, the company may need to boost the offer in response to Siemens' proposal. Alstom has until Monday, June 23, to accept or reject General Electric's formal offer.
Disclaimer: The opinions in this article are for informational purposes only and should not be construed as a recommendation to buy or sell the stocks mentioned. Please do your own due diligence before making any investment decision.
Disclosure: The author is long GE. The author wrote this article themselves, and it expresses their own opinions. The author is not receiving compensation for it (other than from Seeking Alpha). The author has no business relationship with any company whose stock is mentioned in this article.
Editor's Note: This article discusses one or more securities that do not trade on a major U.S. exchange. Please be aware of the risks associated with these stocks.