Recap of PR Disaster
Lululemon (NASDAQ:LULU) is trying to overcome the public relations disaster of last year while also trying to improve its financial outlook.
The company had to recall 17% of its yoga pants in 2013. (The pants turned out to be see-through.) The minor incident escalated in November when billionaire founder Chip Wilson tried to shift the blame for the defect, claiming the shape of women's bodies caused the sheerness of the pants. Wilson resigned in December and has kept a low profile since. Recently, at the company's annual meeting, Wilson stepped forward. Wilson issued a statement before the meeting, saying:
"After being asked by the Board to come back from Australia to help the company recover from the product recall last year, I have decided to vote against the re-election of the company's outside Board members. While I am excited about the new management team that I helped put in place, I am concerned that the Board is not aligned with the core values of product and innovation on which Lululemon was founded and on which the company thrived. As a 27% shareholder in the company, I believe change is now needed at the Board level to increase shareholder value."
Wilson stated that his view is that the board "heavily weighted towards short-term results at the expense of product, culture and brand and longer-term corporate goals."
Overview of LULU Stock
Shares of Lululemon have dipped to 16% to $37.25 following the company's profit outlook for the year. The company claims it is probable that it will earn between $1.71 and $1.76 a share in the current fiscal year, which is below the anticipated $1.86, according to S&P Capital IQ.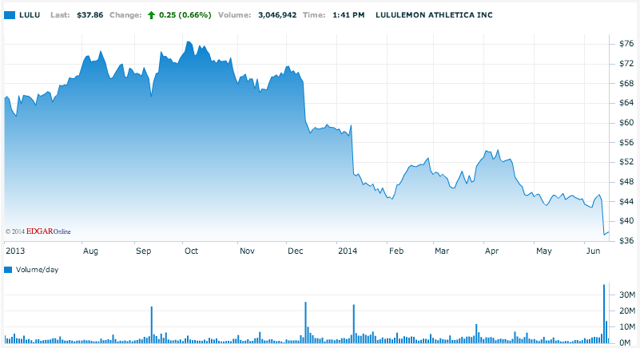 (Nasdaq.com)
While the retail sector has certainly seen its share of challenges in the past year (see below for details), LULU has increasingly underperformed the industry (NYSEARCA:XRT) YTD.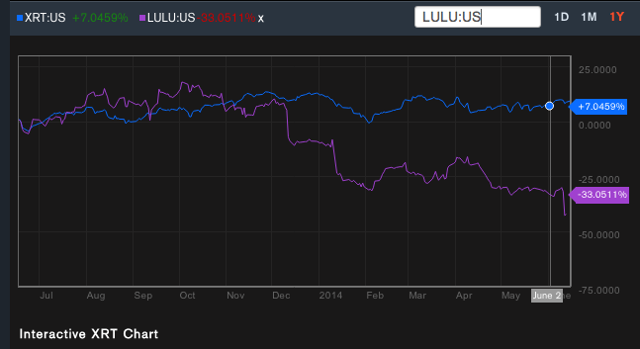 (bloomberg.com)
Retail Sector Slammed
Retail stocks in the past few years have been facing declines in profits. Commodities are increasing, and companies and investors have no choice but to take notice. Agricultural goods and apparel companies must either raise pricing or damage profit margins.
The recent Wal-Mart (NYSE:WMT) report illustrates the tale for most retailers at the moment. The company has reported a 21% decline in earnings and that the fourth consecutive quarter of sales are down at Wal-Mart stores that have been open for at least a year. The company claims increased taxes, government program reductions and tighter credit as main reasons for the decline. Issues of foreign bribery and poor management also come into play.
For the past few years, retail companies have been buying back stock, firing people and closing stores - which has let some show profit growth despite declining revenue. But this season the earnings reports on retail are showing that companies are finally running out of tricks.
The choice most retail management teams are now making is whether to keep prices at a stable level and let the company suffer the higher costs, or pass on higher costs to customers by raising prices, and cut out a large percent of their customer bases.
Increasingly Strong Competition
GAP (NYSE:GPS) and Victoria's Secret have both quickly developed cost-effective alternatives to Lululemon's expensive exercise-wear. Analyst Jamie Nuss describes how, due to declining quality, she has "converted to Victoria's Secret's workout line. Lululemon is no longer even a thought."
Victoria's Secret has the same lightweight fabric, flattering cuts, and "super-light, cute and colorful matching tanks," exactly what the female fashion expert needed, "with lower prices to boot."
With decreasing ability to charge top industry prices for clothing that can now be matched by other brands, it's becoming more difficult to see how LULU will stand apart-in a strong or weak retail market.
On the market, LULU has underperformed, relative to competitor The Gap.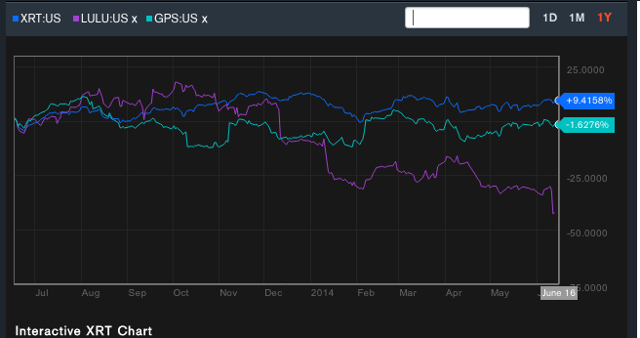 (bloomberg.com)
Choices for LULU, Investors
The pricing conundrum likely prompted former, outspoken CEO Chip Wilson to take action at Lululemon's annual meeting. The choice that the management team makes will control the company's financial future. While Wilson has chosen to take action, the financial community has chosen to watch and wait.
Brian Tunick of J.P. Morgan states:
"While we've tried to take a somewhat longer-term/global view despite near-term negative sales and EPS revisions, we see the risk/reward as skewing negative…LULU is the ultimate show-me story in our coverage universe, but we need to see greater signs of demand improvement or that the investment cycle is abating before once again getting constructive on the shares."
As shares of LULU have plummeted, the press has been consistently negative, and the return of former, outspoken CEO has yet to bring a clear path forward to recovery, we are not optimistic on LULU going forward in 2014 and suggest investors hold sell.
LULU itself has lowered guidance for the past three quarters.
Disclosure: The author has no positions in any stocks mentioned, and no plans to initiate any positions within the next 72 hours. The author wrote this article themselves, and it expresses their own opinions. The author is not receiving compensation for it (other than from Seeking Alpha). The author has no business relationship with any company whose stock is mentioned in this article.