While AT&T (NYSE:T) is not the "Ma' Bell" of old, the company is still the behemoth in the telecom sector. Over the past several decades, the "new" T has enriched shareholders with its wonderful dividend that has been constantly raised, each and every year for 30+ consecutive years.
It is my opinion that dividend growth investors should own shares of AT&T for any type of portfolio.
As a matter of fact, I think the stock is too cheap at current levels.
Size And Cash Flow Does Matter
Putting market cap aside for a moment, since that is simply a reflection of the number of shares and the current share price, let's look at this chart from Yahoo! Finance, which compares T to its main competitors: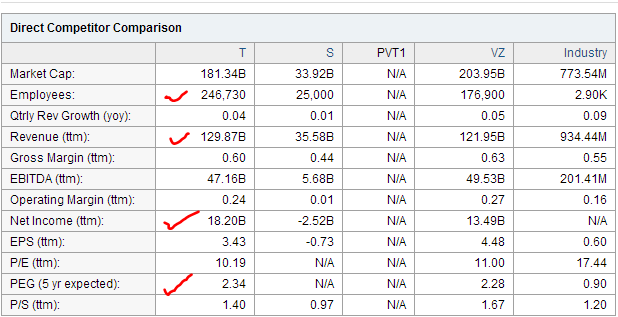 Size matters where it counts folks: Revenues, Net Income, PEG, as well as a very reasonable price to sales ratio of just 1.40. There is no doubt the Verizon (NYSE:VZ) right now is leading in market cap, but I wonder if that will be true if the DirecTV (DTV) deal goes through?
As far as cash flow is concerned, when it comes to these enormous blue-chip, mega-cap stocks (and even little tiny baby ones) cash flow is perhaps the single most important component for an investor to make note of. Why? Well especially for dividend investors, we want to know if enough cash is coming in to pay debts (or CapEx) and have enough left over to keep paying shareholders a sweet dividend.
This chart is from the AT&T 1st quarter earnings report, and it basically says it all:
AT&T paid shareholders $2.4 billion in dividends in the first quarter of 2014 as well as another $1.2 billion in share buybacks from cash reserves, which T has plenty of. Those who are bearish on T point to the payout ratio for continued dividend increases, and in this case, and many others by the way, as long as that cash flow is raining down, then shareholders will be rewarded.
That has been the case for 31 straight years, and I expect that to continue for another 31 straight years.
How About Overall Growth To Keep On Truckin'?
I am always hearing that T has stopped growing and is an old fuddy-duddy company. Given the fact that T has been around a long time, and is so huge and it takes quite a lot to move the growth needle, this excerpt from the earnings report should quell any investor notions that AT&T is at a standstill: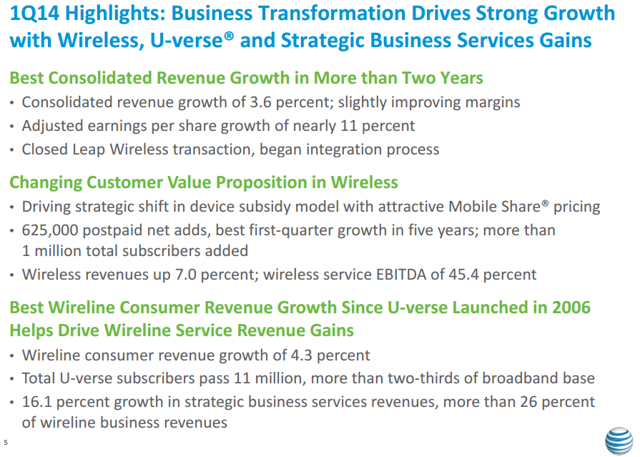 To me it is clear that T is growing each of its core businesses to higher and higher levels. If the DirecTV deal goes through, what would the charts look like then?
I have no crystal ball, but just the synergies of the combined entities alone would be enormous, as mentioned here.
...synergies created by combining their operations would allow them to expand their broadband footprint to at least 15 million new customer locations within four years of closing the transaction. The majority of those locations would be in rural areas currently with no or limited broadband service.

They also said the added competition for bundled services will drive down overall prices for bundled services.
While the FCC might have an issue with this, as a shareholder, I am ecstatic that this deal is even on the table! If the deal does NOT go through, this time there will be no penalty to T like there was in the T-Mobile deal from several years ago. The money can (and more than likely will be) used to further expand on its own anyway.
Organic growth counts just as much as acquisition growth in my book. Keep growing the cash flow and paying those dividends, and I am one happy camper to say the least. Of course I have owned shares of T, in whatever shape or form it has been since I was, well, a tiny little baby!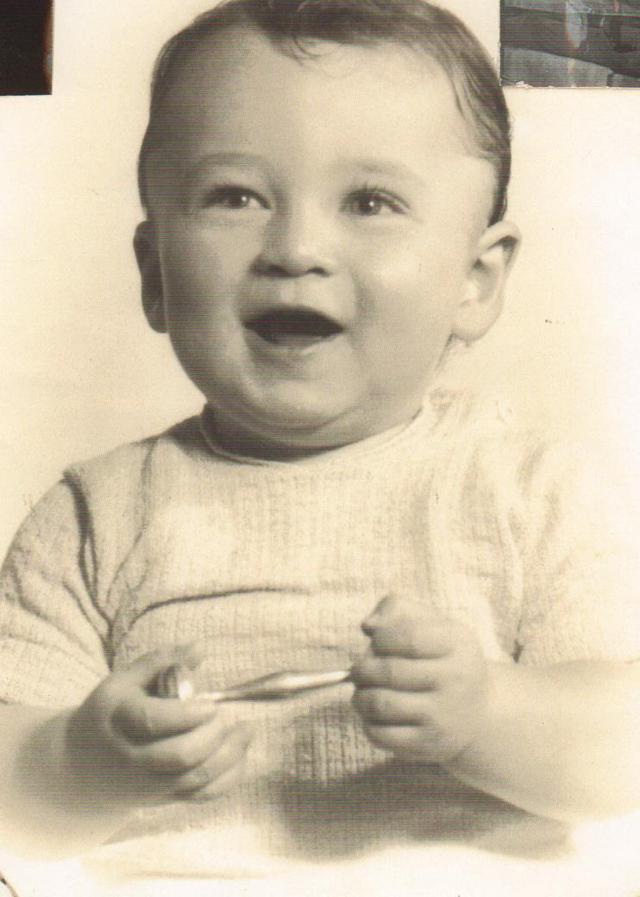 (Look how happy I was knowing I owned shares of AT&T!)
The Basic Fundamentals Are Fine And Dandy
Let's take a look at the metrics we all look at during our due diligence.
An enterprise value of nearly $260 billion.
A forward PE of just 12.66, lower than the S&P 500 average.
Over $35 billion in operating cash.
Price to book value of just 2.00.
Over 62% of all outstanding shares are held by institutions.
Operating margins of about 24% in a very competitive business.
A very sweet dividend yield of 5.31%.
Plenty of naysayers like to point to the amount of debt T has, but as long as the company continues to generate enough cash flow to pay debts, pay and increase dividends, and spend money to grow inwardly and/or outwardly, I want to own this stock.
Which I have, since I was that tiny little baby!
The Bottom Line
I believe that the stock price is cheap right now, for all the reasons I outlined above. To add to an existing position or open a brand new one, now is a great time to buy T.
What are you waiting for?
Disclosure: The author is long T. The author wrote this article themselves, and it expresses their own opinions. The author is not receiving compensation for it (other than from Seeking Alpha). The author has no business relationship with any company whose stock is mentioned in this article.