Viper Energy Partners LP (NASDAQ:VNOM), an oil and gas E&P formed by Diamondback Energy (NASDAQ:FANG) to acquire and exploit resources in North America, plans to raise $100.0 million in its upcoming IPO.
The Midland, Texas-based firm will offer 5.0 million shares at an expected price range of $19-$21 per share. If the IPO can hit the midpoint of that range at $20 per share, VNOM will command a market value of $1.5 billion.
Several Strong Underwriters
VNOM filed on May 7, 2014.
Lead Underwriters: Barclays Capital Inc.; Credit Suisse Securities LLC; Wells Fargo Securities, LLC
Underwriters: Northland Securities, Inc; Raymond James and Associates, Inc; Robert W. Baird & Co. Incorporated; Scotia Capital Markets; Simmons and Co. International; Sterne, Agee and Leach, Inc; Stifel Nicolaus & Company, Incorporated; Tudor, Pickering, Holt & Co. Securities, Inc; Wunderlich Securities, Inc.
Details of Spin-Off From Diamondback Energy
VNOM, a spin-off of Diamondback Energy, was formed to acquire and exploit natural gas and oil properties in North America, with an initial focus in the Permian Basin.
Diamondback will own and control VNOM's general partner, which in turn will hold some 93% of VNOM's common units. A map of FANG's operations is below.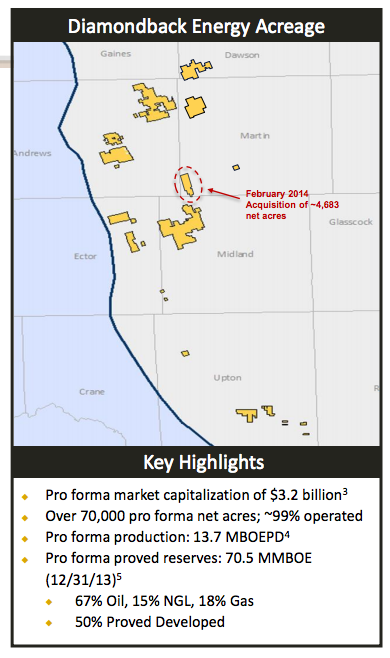 (Source)
VNOM's initial assets were made up of the mineral interests underlying some 14,804 acres in the Permian Basin, which contained 210 producing vertical wells and 22 producing horizontal wells for an average net production of some 2,197 net BOE/d during March 2014. The firm's initial assets include estimated proved reserves of 10,270 MBOE, composed of some 18% natural gas, 11% natural gas liquids, and 70% oil.
VNOM's mineral interests entitle it to a 21.4% royalty interest on production from the acreage. Diamondback operates some 50% of these interests; as of March 31, 2014, Diamondback had identified 73 potential vertical drilling locations based on 40-acre spacing and 184 potential vertical locations based on 20-acre downspacing as well as 322 potential horizontal locations on the acreage it operates. VNOM does not have similar data for the rest of its acreage, the majority of which is operated by RSP Permian, Inc. (NYSE:RSPP).
Valuation
VNOM offers the following figures in its S-1 balance sheet for the three months ended March 31, 2014:
Revenue: $15,853,000.00
Net Income: $3,853,000.00
Total Assets: $447,253,000.00
Total Liabilities: $440,412,000.00
Stockholders' Equity: $6,841,000.00
Competition From Stronger, More Established Oil and Gas Firms
VNOM must compete with other oil and gas firms for desirable acreage and for limited skilled personnel. The firm's larger competitors may be better able to absorb fluctuating oil and gas prices and to outbid VNOM for acreage.
Major firms operating in the Permian Basin include Abraxas Petroleum Corp. (NASDAQ:AXAS), Anadarko Petroleum Corporation (NYSE:APC), ConocoPhillips (NYSE:COP), El Paso Corporation, and Rice Energy Inc (NYSE:RICE), among many others. VNOM hopes to acquire assets on favorable terms through its relationship with Diamondback.
Very Experienced Management In Oil/Gas Industry
Travis D. Stice has served as CEO of VNOM's general partner since February 2014, and has served as CEO of Diamondback since January 2012. He also previously served as Diamondback's President and COO.
Mr. Stice previously worked as Vice President and Secretary of MidMar Gas LLC, as a Production Manager of Apache Corporation, as a Vice President of Laredo Petroleum Holdings, Inc, and as a Development Manager of ConocoPhillips/Burlington Resources Mid-Continent Business Unit. Mr. Stice has a total of over 26 years of experience in the oil and gas industry.
He holds a B.S. in Petroleum Engineering from Texas A&M University and is a registered engineer in the State of Texas.
Conclusion: Due To Conflict of Interest With Diamondback, We Suggest Investors Hold Off
We are positive on this IPO. We are hearing this energy IPO like many recent energy related IPOs is seeing strong demand. We expect this company to launch higher out of the gate.
Though VNOM should be able to generate revenue easily through royalties on its mineral rights, there is an apparent conflict of interest in the firm's shared management with Diamondback, and we wonder if Diamondback will place its own interests over those of VNOM.
E&P firms operating in the Permian Basin are plentiful but we suspect that investors will continue to buy firms like VNOM when we have continuing trouble around the world.
In conclusion, we recommend that aggressive investors buy the VNOM's IPO.
We invite readers wishing to join the discussion on IPOs to click the +FOLLOW button above the title of this article and follow @DRDInvestments on twitter.
Disclosure: The author has no positions in any stocks mentioned, but may initiate a long position in VNOM over the next 72 hours. The author wrote this article themselves, and it expresses their own opinions. The author is not receiving compensation for it (other than from Seeking Alpha). The author has no business relationship with any company whose stock is mentioned in this article.