The transportation industry doesn't get much love from the majority of investors, as it isn't the most exciting industry out there. The companies that do get our attention represent a small fraction of the investment options that are available in the industry. Transportation, and logistics as a whole for that matter, has been getting an increased amount of attention in recent years, as companies realize it is a way to differentiate themselves and not just a necessary evil. As the world becomes smaller, thanks to the internet and globalization, the need for transportation companies and transportation resources is only going to grow, so investors with an extended timeline can be sure of their long investments.
Our subjects today will be Capital Product Partners L.P. (NASDAQ:CPLP) and Martin Midstream Partners L.P. (NASDAQ:MMLP). Both of these companies are considered to be small cap, CPLP with 1.17B and MMLP with 1.09B.
The companies being examined today have a great deal in common, which makes them comparable firms, so for clarity's sake we will begin there and continue to their differentiating factors. Both of these firms are shipping companies at their cores, specializing in the movement of liquefied natural gas, oil, and other chemicals. These two limited partnerships stuck out as quality high yield candidates with yields of 8.62% and 7.86%, respectively. These companies are relatively new to the exchange, neither being traded longer than 15 years so their dividend growth habits are by no means set in stone; however, both have exhibited some level of consistent dividend growth. However, this is to be expected of an LP so we can't give them too much credit for that. They do, however, have healthy cash flow statements both with at least $10 million flowing in this past year. This trend seems to be sustained, as their geometric average returns since 2010 are 25% for CPLP and 13% for MMLP. As you are well aware, a healthy cash flow statement is a must for any LP as it is where the dividends, and a good portion of the returns, come from for any investor.
Now, here is where things get interesting, the differences, and the answer to that all important question, where to put the money?
CPLP has a hefty fleet of 30 ships all chartered by companies such as BP and Maersk to name a couple, with an average carrying capacity of a 41,115 TEUs (a measurement of container-loads for those of you not well versed in logistics terms). This fleet is dwarfed by the 77 boat fleet at MMLP's disposal. It is also worth noting the age difference in the fleets. The average age of the boats in industry service is 9 years while the average age of the MMLP fleet is 23 years. There is a significant fundamental difference between these fleets as well, and alludes to key difference in the business model of the two companies. While MMLP has nearly twice as many ships, 73 of them are for inland water use and the remaining 4 are marine tug barges, compared to the CPLP fleet which are all ocean-going vessels. The reason for this is because while CPLP focuses on international movement, primarily Asia, MPLP deals almost exclusively to the US market, doing most of its business in the Gulf of Mexico. This doesn't mean that MMLP does not have diversified operations. MMLP is also involved in storage and retail sale throughout the Midwest and Southeastern US.
Source : martinmidstream.com/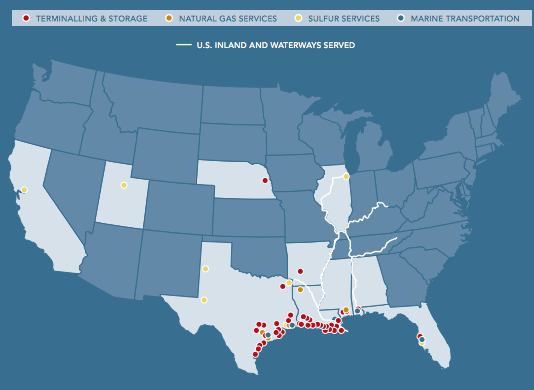 Now, how do these differences in the companies effect their attractiveness as investments?
Let's start with how these two companies are financing their endeavors by looking at their capital structures and a few ratios.
Source: Google Finance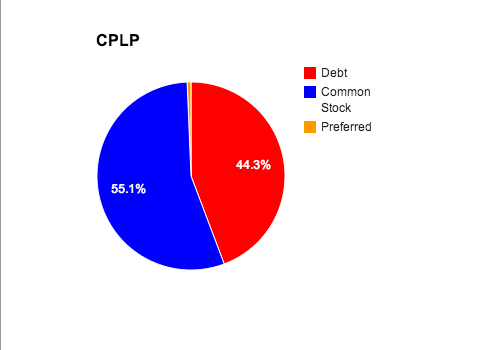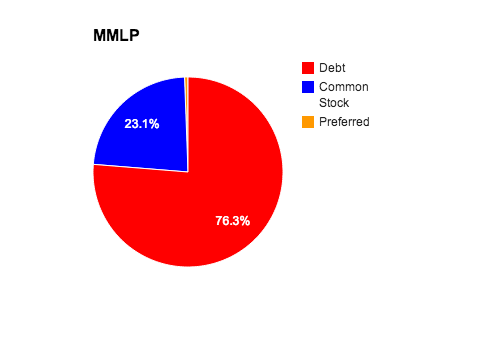 | | | |
| --- | --- | --- |
| | CPLP | MMLP |
| Quick Ratio | 1.772412022 | 1.105498613 |
| Debt to Equity | 0.7938650935 | 3.215958836 |
These figures make it clear that CPLP has a much more appealing financing strategy than MPLP. Comparing the quick ratios of the two further show the financing advantage that CPLP has over MPLP and the Debt to Equity ratio tells a similar story to the capital structure graphics.
Now, if we look at the stock price performance of these two, they tell a different story as what we see above. This fiscal year hasn't been kind to MMLP, as it is underperforming when compared to the Dow Jones Industrial and Transportation Averages when it had been doing better than both towards the end of 2013. When compared to the Alerion Master Limited Partnership Average, you see MMLP continues to fall short while CPLP excels.
Source: Google Finance


However, if we look at the performance of theses stocks over a longer timeline, since the bottom of this most unfortunate recession, we see something a little different for MMLP, the underdog until now. MMLP is consistently beating both the Dow Jones Industrial and Transportation Averages and keeping pace with the Alerion Master Limited Partnership Average, all of which are leaving CPLP behind. While CPLP is recovering it is has a long way to go before it recovers to its pre-recession highs in the upper 20 range.


Now, we have seen the stock performance, the financing and the business strategy of each of these stocks, and we see a good bit of back and forth. Now lets see if these stocks are worth their prices.
I have estimated the fair value of MMLP to be between 35 and 45, while I have valued CPLP between 12 and 15 using the comparable firms method. At the time this article was being written, CPLP was being traded at 10.73 and MMLP was being traded at 40.28.
In conclusion, although MMLP has been performing better since the hit of the recession, CPLP is currently undervalued and has room to grow back to its pre-recession highs in the future. Especially considering CPLP's favorable capital structure in a growing industry that will allow it to progress in the recovering economy. The increasing demand in Asia for energy sources will also stimulate growth in the industry and for CPLP. MMLP is also a good investment, but the comparison between these two has shown that there is more future growth potential in the near term for CPLP, as MMLP has already breached its all-time high and is now facing resistance. As an added bonus, you only need to fill out a 1099 tax form with CPLP, as opposed to the usual K-1 form you need for other LPs.
Disclosure: The author is long CPLP. The author wrote this article themselves, and it expresses their own opinions. The author is not receiving compensation for it (other than from Seeking Alpha). The author has no business relationship with any company whose stock is mentioned in this article.