AT&T, Inc. (NYSE:T) stock has significantly underperformed the market in the last years; Since the beginning of the year, T's stock has declined 0.4%, while the S&P 500 index has increased 4.8%, and the Nasdaq Composite Index has risen 3.2%. Moreover, since the start of 2013, T's stock has gained only 3.9%, while the S&P 500 index has increased 35.8%, and the Nasdaq Composite Index has risen 42.8%. Nevertheless, AT&T's stock is an excellent combination of very good value and solid growth high-yielding dividend stock, and in this article, I will explain why, in my opinion AT&T's stock is a promising long-term investment.
The Company
AT&T Inc. provides telecommunications services to consumers and businesses in the United States and internationally. The company was founded in 1983 and is based in Dallas, Texas.
Valuation Metrics
The table below presents the valuation metrics of AT&T, the data were taken from Yahoo Finance and finviz.com.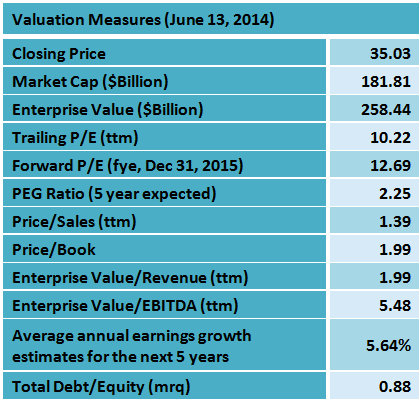 AT&T's valuation metrics are very good; the trailing P/E is low at 10.22, and the Enterprise Value/EBITDA ratio is extremely low at 5.48. According to James P. O'Shaughnessy, the Enterprise Value/EBITDA ratio is the best-performing single value factor. In his impressive book "What Works on Wall Street", Mr. O'Shaughnessy demonstrates that 46 years back-testing, from 1963 to 2009, have shown that companies with the lowest EV/ EBITDA ratio have given the best return. Mr. O'Shaughnessy explains that EV/ EBITDA is a better way to assess value-that is, how cheap or expensive it is-than looking at the PE ratio alone. The EV/ EBITDA is neutral to a company's capital structure and capital expenditures. Stocks that have very high debt levels often have low PE ratios, but this does not necessarily mean that they are cheap in relation to other securities.
Latest Quarter Results
On April 22, AT&T reported its first-quarter 2014 financial results, which beat EPS expectations by $0.01 (1.40%). For the quarter ended March 31, 2014, AT&T's consolidated revenues totaled $32.5 billion, up 3.6 percent versus the year-earlier period, the company's strongest growth in more than two years. Compared with results for the first quarter of 2013, operating expenses were $26.2 billion versus $25.4 billion; operating income was $6.3 billion compared to $5.9 billion; and operating income margin was 19.3 percent compared to 18.9 percent. First-quarter 2014 net income attributable to AT&T totaled $3.7 billion, or $0.70 per diluted share, compared to $3.7 billion, or $0.67, in the year-ago quarter. Adjusting for $0.01 of Leap transaction-related costs, earnings per share was $0.71 compared to an adjusted $0.64 in the year-ago quarter, an increase of almost 11 percent.
In the report, Randall Stephenson, AT&T chairman and CEO said:
We have been working very deliberately to transform our business, and this quarter you really start to see the benefits. Customers really like the new mobility value proposition and are choosing to move off device subsidies to simpler pricing while at the same time, they are continuing to move to smartphones with larger data plans. Wireless postpaid net adds were more than twice as many as a year ago, AT&T Next sales surpassed our expectations, and we had a tremendous surge in Mobile Share plans of 10 gigs or higher. We also had our best wireline consumer revenue growth since we first introduced U-verse in 2006 as our Project VIP build continues to make progress.
Dividend and Share Repurchase
AT&T has been paying uninterrupted dividends since 1984, the forward annual dividend yield is very high at 5.25% and the payout ratio is at 52.6%. The annual rate of dividend growth over the past three years was at 2.1%, over the past five years was at 2.3%, and over the past ten years was at 4.5%.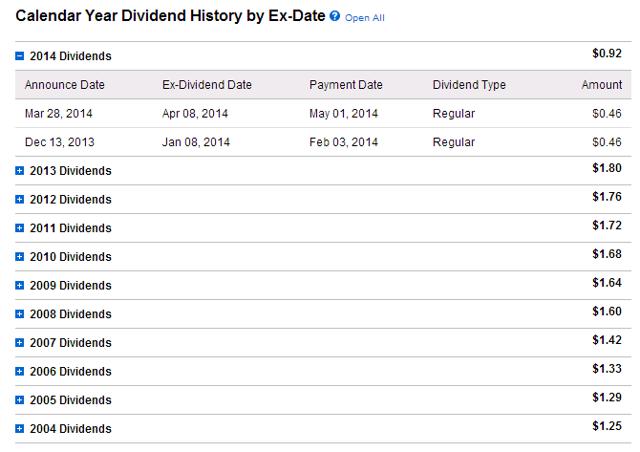 Click to enlarge
Source: Charles Schwab
The company continues to repurchase shares opportunistically. During the first quarter, the company repurchased 37 million of its shares for $1.2 billion. In March, the board of directors authorized the repurchase of another 300 million shares with no expiration date. This gives the company 425 million shares remaining in its repurchase authorizations. This is the fourth recent 300 million share authorization. Since the company began buying back shares in 2012, it has bought back about 13 percent of outstanding shares.
Competitors
A comparison of key fundamental data between AT&T and its competitors is shown in the table below.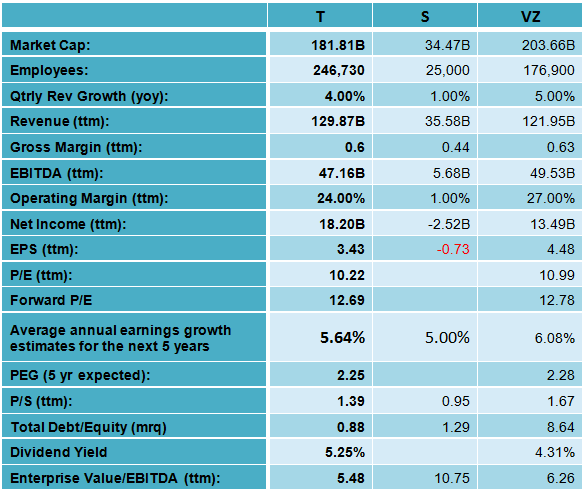 AT&T has a lower trailing P/E, a lower EV/EBITDA ratio, and a lower debt-to-equity ratio than its competitors. Furthermore, its dividend yield is the highest in the group.
Ranking
According to Portfolio123's "ValueRank" powerful ranking system AT&T's stock is ranked first among all S&P 500 stocks. The "ValueRank" ranking system is quite complex, and it is taking into account many factors like; 5-years average yield, sales growth, trailing P/E, price to book, price to sales and return on equity, as shown in Portfolio123's chart below. Back-testing over fifteen years has proved that this ranking system is very useful.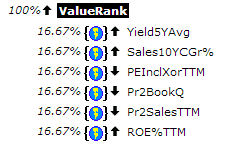 Technical Analysis
The charts below give some technical analysis information.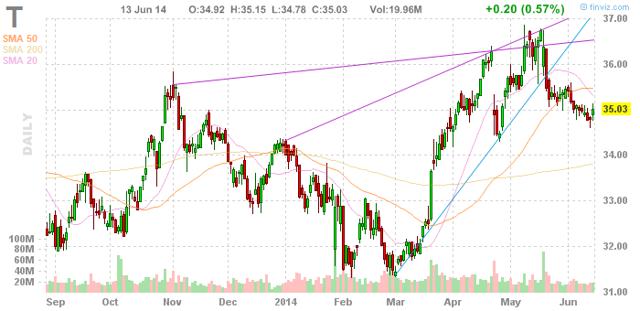 Click to enlarge
Chart: finviz.com
The T stock price is 1.03% below its 20-day simple moving average, 1.30% below its 50-day simple moving average and 3.59% above its 200-day simple moving average. That indicates a trading range.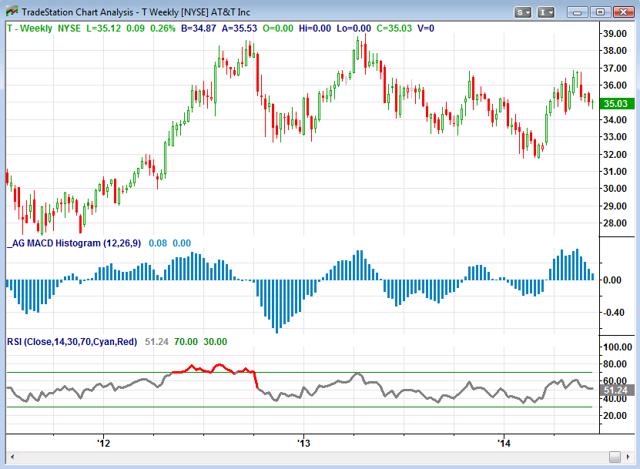 Click to enlarge
Chart: TradeStation Group, Inc.
The weekly MACD histogram, a particularly valuable indicator by technicians, is at 0.08 and descending, which is a bearish signal (a rising MACD histogram and crossing the zero line from below is considered an extremely bullish signal). The RSI oscillator is at 51.24 which do not indicate oversold or overbought conditions.
Analyst Opinion
Many analysts are covering the stock, but their opinion is extremely divided. Among the 32 analysts, four rate it as a strong buy, four rate it as a buy, twenty-two rate it as a hold, one analyst rates it as an underperform, and one rates it as sell.
TipRanks is a website that ranks experts (analysts and bloggers) according to their performance. According to TipRanks, among the analysts covering T stock there are only seven analysts who have the four or five star rating, four of them recommend the stock, and three others have a hold rating on the stock.
On May 19, Raymond James's analyst Frank Louthan raised his ratings on AT&T to Outperform, writing that the deal [buying DirecTV (DTV)] will "be accretive to AT&T's free cash flow". I consider Mr. Louthan's analysis very valuable, since he has 4.5-Star rating from TipRanks for the accuracy of his previous calls.
Major Developments
On May18, AT&T and DIRECTV announced that they have entered into a definitive agreement under which AT&T will acquire DIRECTV in a stock-and-cash transaction for $95 per share based on AT&T's Friday closing price. The agreement has been approved unanimously by the Boards of Directors of both companies.
Since AT&T is paying an enormous sum of $48.5 billion in total ($14.5 billion in cash and about $34 billion in AT&T stock) for DTV acquisition, investors may ask if the deal is beneficial for AT&T's shareholders? First concern is if the deal is going to be approved by the authorities. The fact that DTV stock is trading at about $83, 12.6% below the offered price of $95 is showing that the market has its doubt about the approval of the acquisition, or it fears that one of the companies will go back from the agreement.
In my opinion, if the deal will be approved, it will be very positive for AT&T and its shareholders. Since user's tendency, these days are for mobile and for video, the combined company will have the possibility to deliver video to multiple screens - mobile, TV, laptops and more - to meet consumers' future viewing and programming preferences. Also, according to AT&T, cost synergies are expected to exceed $1.6 billion annual run rate by year three after closing.
Conclusion
AT&T has very good valuation metrics and solid earnings growth prospects. Furthermore, T stock is ranked first among all S&P 500 stocks according to the "ValueRank" powerful ranking system. AT&T is generating strong cash flow, and it returns value to its shareholders by stock buyback and by increasing dividend payments. AT&T has a record of 30 years of uninterrupted dividend payments; its dividend yield is very high at 5.25%. All these factors bring me to the conclusion that T stock is a smart long-term investment. Furthermore, the rich dividend represents a gratifying income.
Disclosure: The author has no positions in any stocks mentioned, but may initiate a long position in T over the next 72 hours. The author wrote this article themselves, and it expresses their own opinions. The author is not receiving compensation for it (other than from Seeking Alpha). The author has no business relationship with any company whose stock is mentioned in this article.