Analyzing companies by using a top-down approach allows investors to glean a more holistic outlook. It is fallacious to simply use a bottom-up approach to determine an investment thesis; a strong-balance sheet will not compensate for an industry shift that the company is not positioned for. Blockbuster is the epitome of failing to pivot its business model. Simply relying on financial statements would not allow investors to see the gloomy outlook that laid ahead. By the time the balance sheet began to deteriorate, the stock had already priced this in, as the market is generally forward looking. GameStop (NYSE:GME) is the next retailer that will suffer a similar fate.
About GameStop
GameStop is a global family of specialty retail brands that makes the most popular technologies affordable and simple. It is the world's largest multichannel video game retailer, and sells new and pre-owned video game hardware, video game accessories, as well as new and pre-owned mobile and consumer electronic products. As of May 3, 2014, they operated 6,680 stores, in the United States, Australia, Canada, and Europe.
Recent Financial Performance
From a financial perspective, GameStop is performing well. In 2010, gross margins were 26.8% and as of the most recent quarterly filing, rose to 29.4%. Further, although revenue hasn't grown too much as of late, it is remaining steady. Finally, GME has a strong and improving free cash flow. Those that claim that GME's financial outlook is deteriorating are, to be frank, wrong.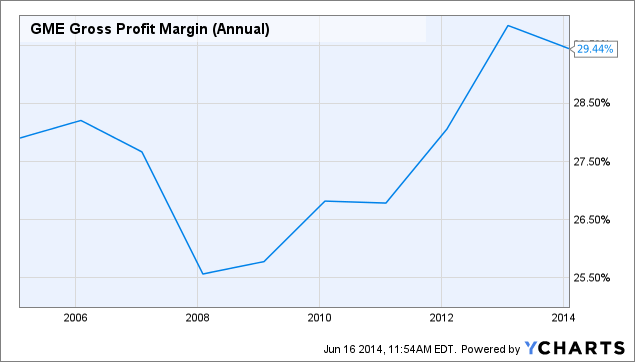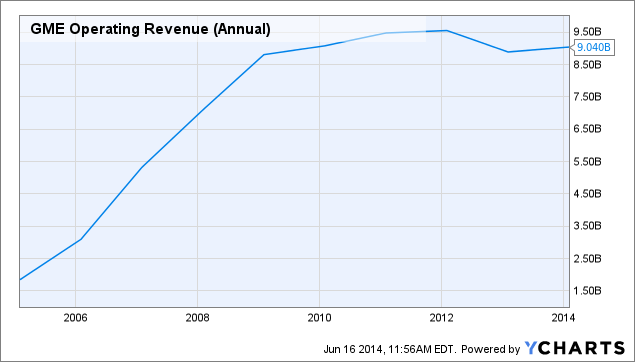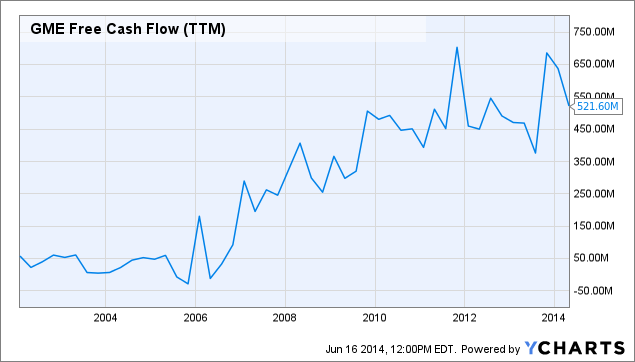 Trading Multiples
Some companies have trading multiples that do not support their business fundamentals, compared to industry peers and historically. However, GameStop is not ruled out as a good investment because of its trading multiples. GameStop trades at a reasonable price to earnings multiple of 12.47 and price to sales multiple of .488. On a price to sales multiple, it is a little overvalued compared with retailers such as Best Buy (NYSE:BBY) and Sears (NASDAQ:SHLD). However, on a price to earnings multiple, it is undervalued compared to SHLD's and BBY's loftier 27.85 and 18.71, respectively. On a historical basis, GME is within its normal range as well.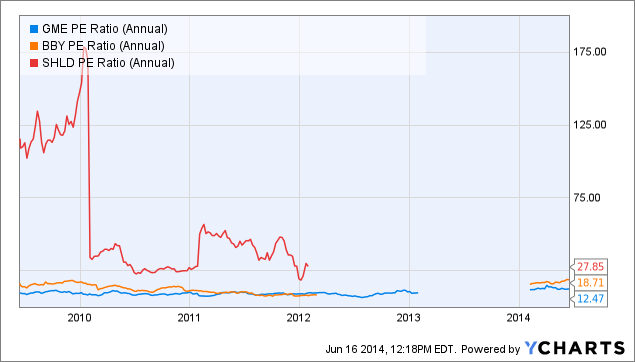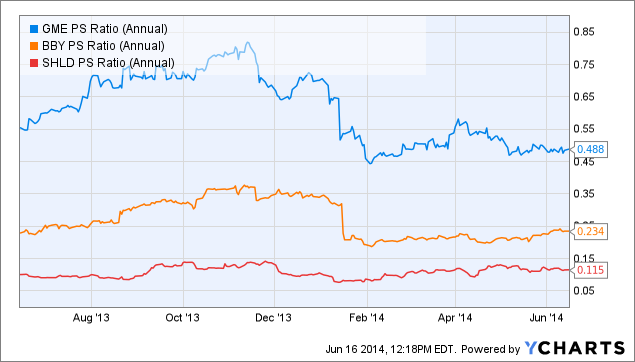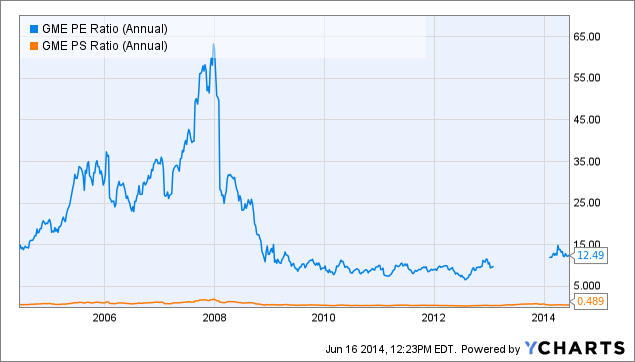 GameStop has a steady, profitable business, and is not overvalued based on traditional valuation metrics. So now you're probably thinking, "okay...I was expecting a bear argument here, what's going on?"
To that, I reply that you must cast a wider net in your analysis. It would be imprudent to not include an industry analysis.
Industry Analysis
With the recent releases of 2 new consoles, the Xbox One and PlayStation 4, the video game market is in an uptick. Sales of these consoles are strong which should result in a high number of game sales as well. Unfortunately for GameStop investors, the company is being cut out of the equation. GameStop is essentially a middle-man that is no longer necessary in the industry.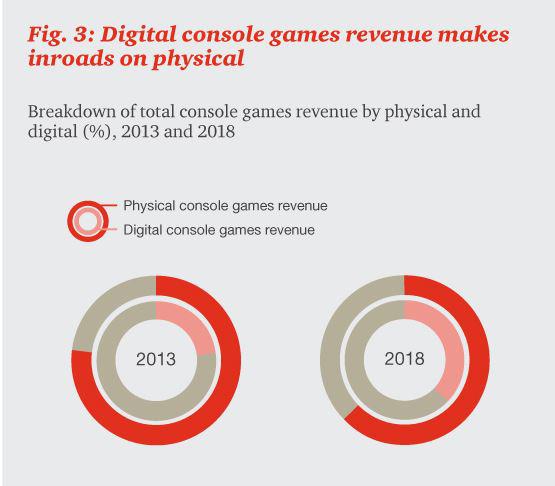 Source: PwC Global Entertainment Outlook
Digital downloads are becoming increasingly more prevalent. In 2013, digital accounted for 23% of video game distribution. PwC predicts that it will account for 37% by 2018. IDC analyst Lewis Ward has a more pessimistic outlook for GameStop, predicting that digital sales will surpass packaged discs by just 2019. No matter the degree of change, it is clear that GameStop is being left out of this industry. Digital sales represent a miniscule 5.7% of gross profit for GameStop. Growing digital sales will also be difficult as Sony and Microsoft are entering this market themselves.
Another cause for concern is with the used game market. Used games provide lucrative margins. Sales from this segment were 30% of total revenue, but gross profit in this segment was a staggering 50%. Conversely, console sales have a slim 10% margin. Wal-Mart has entered the used game market which should hurt this revenue stream, and compress margins. Moreover, with a shift to digital sales, and with new consoles not being backwards compatible, this revenue source will dry up. Investors should cringe when they realize 68% of GME's gross profit (new and used physical games) is tethered to a market that will shrink dramatically in the coming years.
Sony - PlayStation 4
PlayStation 4, which is one of the two dominant consoles in the market, has removed backwards compatibility from its platform. Gamers can no longer play older games on their new console. This presents a significant headwind to GME's business model. Additionally, Sony is squeezing GME out of the market by undercutting it with digital downloads. An example can be found with the newly released game, Warhawk. The packaged game of Warhawk was $60, but to download it digitally only costs $40. In a price sensitive market, GameStop is in trouble.
Microsoft - Xbox One
Microsoft has hurt GME's business model in a similar fashion to Sony. Xbox One is not backwards compatible either. A large percentage of GME's inventory is in used games, so this presents another risk that investors should be aware of. It is entirely possible that much of this inventory will have to be written down as the market transitions.
Flight to Mobile
The proliferation of mobile phones and mobile gaming provides another headwind to GameStop. Mobile games are growing at a breakneck pace and GME does not have a way to enter this market. It sells mobile electronics, but this represents around 5% of gross profit and still is not a gateway into the mobile gaming industry. Moreover, GME cannot compete with wireless carriers on pricing, so growing phone sales will be difficult.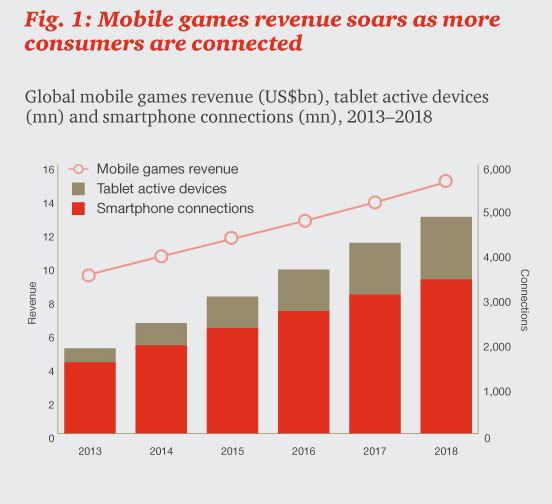 Source: PwC Global Entertainment Outlook
Conclusion
Fundamentally, GME has a strong business, currently, and does not trade at a high multiple compared to peers and historically. However, the industry trends paint an exceptionally grim picture for the future of this company. GameStop is being cut out of the market and their business will deteriorate. In the long run, this company is doomed and it is only a matter of time before the cracks in this business begin to percolate.
Disclosure: The author is short GME. The author wrote this article themselves, and it expresses their own opinions. The author is not receiving compensation for it (other than from Seeking Alpha). The author has no business relationship with any company whose stock is mentioned in this article.
Additional disclosure: I hold LEAP put options on GME.