The last time I wrote about General Electric Company (NYSE:GE), I stated, "Due to the inexpensive fundamentals, slightly bullish technicals, and the high yield, I'm going to actually pull the trigger on this particular name but only for a small batch." It's been three months since writing the article, and the stock has popped 5.3%, versus the 4.2% gain the S&P 500 (NYSEARCA:SPY) posted. I've made out pretty well on that decision, looking back on it. General Electric is a diversified technology and financial services company operating in the segments of aircraft engines, power generation, industrial products, water processing, household appliances, medical imagine, and business and consumer financing.
On April 17, 2014, the company reported first-quarter earnings of $0.33 per share, which beat the consensus of analysts' estimates by $0.01. In the past year, the company's stock is up 14.03% excluding dividends (up 17.28% including dividends), and is losing the S&P 500, which has gained 19.12% in the same time frame. Since initiating my position back on 28th May, '13, I'm up 8.32%, including reinvested dividends and dollar cost averaging. With all this in mind, I'd like to take a moment to evaluate the stock on a fundamental, financial and technical basis to see if right now is a good time to purchase more of the stock for my dividend portfolio.
Fundamentals
The company currently trades at a trailing 12-month P/E ratio of 18.89, which is fairly priced, but I mainly like to purchase a stock based on where the company is going in the future, as opposed to what it has done in the past. On that note, the 1-year forward-looking P/E ratio of 14.73 is currently inexpensively priced for the future in terms of the right here, right now. Next year's estimated earnings are $1.82 per share, and I'd consider the stock inexpensive until about $27. The 1-year PEG ratio (2.54), which measures the ratio of the price you're currently paying for the trailing 12-month earnings on the stock while dividing it by the earnings growth of the company for a specified amount of time (I like looking at a 1-year horizon), tells me that the company is expensively priced, based on a 1-year EPS growth rate of 7.43%. Below is a comparison table of the fundamental metrics for the company for when I wrote all articles pertaining to the company.
| | | | | | | | |
| --- | --- | --- | --- | --- | --- | --- | --- |
| Article Date | Price ($) | TTM P/E | Fwd P/E | EPS Next Yr. ($) | Target Price ($) | PEG | EPS Next Yr. (%) |
| 02Oct13 | 24.17 | 17.26 | 13.36 | 1.81 | 27 | 1.92 | 8.98 |
| 16Dec13 | 26.98 | 19.27 | 15.51 | 1.74 | 26 | 3.06 | 6.30 |
| 01Feb14 | 25.13 | 16.87 | 13.81 | 1.82 | 27 | 2.46 | 6.87 |
| 02Mar14 | 25.47 | 17.09 | 14.06 | 1.81 | 27 | 2.62 | 6.53 |
| 16Jun14 | 26.82 | 18.89 | 14.73 | 1.82 | 27 | 2.54 | 7.43 |
Financials
On a financial basis, the things I look for are the dividend payouts, return on assets, equity and investment. The company pays a dividend of 3.28% with a payout ratio of 62% of trailing 12-month earnings, while sporting return on assets, equity and investment values of 1.9%, 9.9% and 3.2%, respectively, which are all respectable values. Because I believe the market may get a bit choppy here and would like a safety play, I believe the 3.28% yield of this company is good enough for me to take shelter in for the time being. Below is a comparison table of the financial metrics for when I wrote all articles pertaining to the company.
| | | | | | |
| --- | --- | --- | --- | --- | --- |
| Article Date | Yield (%) | Payout TTM (%) | ROA (%) | ROE (%) | ROI (%) |
| 02Oct13 | 3.14 | 54 | 2.1 | 11.5 | 2.8 |
| 16Dec13 | 3.26 | 63 | 2.1 | 11.3 | 2.8 |
| 01Feb14 | 3.50 | 59 | 3.1 | 16.6 | 5.0 |
| 02Mar14 | 3.46 | 59 | 3.1 | 16.6 | 5.0 |
| 16Jun14 | 3.28 | 62 | 1.9 | 9.9 | 3.2 |
Technicals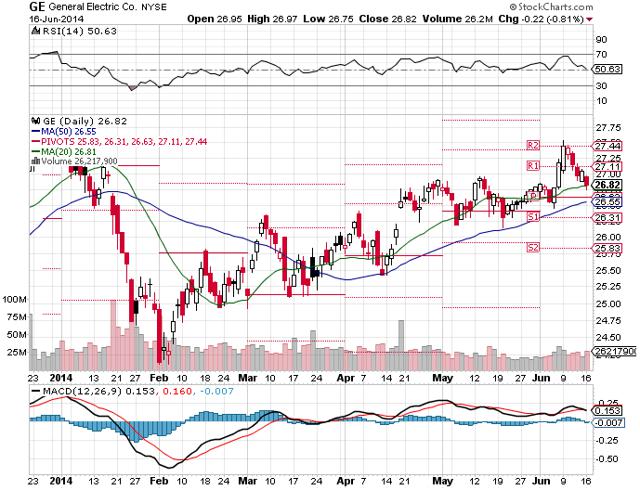 Click to enlarge
Looking first at the relative strength index chart [RSI] at the top, I see the stock in middle-ground territory, with a current value of 50.63 but with downward trajectory. I will look at the moving average convergence-divergence [MACD] chart next. I see that the black line just crossed below the red line, with the divergence bars decreasing in height, indicating bearish momentum is just be getting started. As for the stock price itself ($26.82), I'm looking at $27.11 to act as resistance and the 50-day simple moving average (currently $26.55) to act as support, for a risk/reward ratio which plays out to be -1.01% to 1.08%.
What Has Changed?
It has been three months since I've last reported on the stock, and quite a bit has happened, primarily the first-quarter earnings report and the Alstom (OTCPK:ALSMY) deal the company has proposed. Starting with the former, the company reported earnings which were 12% lower than a year before on slightly less revenue, while the share price was up 1.14% between the previous earnings call, excluding dividends. I don't like that both revenue and earnings declined on a yearly basis. The results were bad to me, but investors seem to think they were good, as the stock popped 1.68% after reporting, while the S&P 500 increased in value by 0.14%. I believe the reason the stock was up after earnings was because the company beat analysts' expectations.
Now for the latter part of what has happened; the Alstom deal. The latest bit of news is that Siemens (OTCPK:SIEGY) made a counter-offer for the gas turbine assets of Alstom. Siemens has tag-teamed with Mitsubishi Heavy Industries and Hitachi as part of a bigger deal. The involvement of the two Japanese titans has complicated things dramatically. Are you ready with your scorecard? Siemens has dibs on Alstom's gas turbines; Mitsubishi Heavy Industries (OTCPK:MHVYF) and Hitachi are paying a little less than Siemens did for the gas turbines to split ownership of the steam turbine, power grid and hydro businesses. Mitsubishi also is offering to buy about €900 million of Alstom, which equates to about 10% of the French company. On top of this, Seimens is still looking for a way to combine its rail business with Alstom. You got all that? Alstom has to respond to GE in about a week, on the 23rd.
For about a week now, I've been thinking to myself that this situation has been messy from the start, and actually thought about a company that GE should buy instead, if the Alstom deal fell through. But now that company actually has been bought too; it was Covidien (COV). Covidien, I think, would have been great to add to GE's healthcare division, as it provided that double-digit profit margin and earnings growth that GE is looking for. Currently, GE's healthcare products comprise R&D equipment and other large-ticket items. Covidien would have brought medical devices which are utilized in surgery rooms, not just the laboratory equipment and other big-ticket equipment currently in the healthcare portfolio. CMOs such as Quintiles (NYSE:Q) are beginning to gain traction within the biotech community, and purchasing R&D equipment may become a fad, and this can hit GE's healthcare division; that's why I thought Covidien could help GE. Since Covidien was snapped up by Medtronic (NYSE:MDT) this morning, I'm going to have to think of an alternative if the Alstom deal falls through and write an article on it later.
Conclusion
From the first-quarter earnings report, I didn't like the Alstom deal that just seems like it keeps on dragging; I haven't really liked the stock of late. That being said, fundamentally, the company is inexpensively valued based on next year's earnings estimate, but expensive on future growth potential, while next year's earnings estimates have increased by a penny. Financially, the company sports a high dividend yield, which is well supported, but the financial efficiency ratios have deteriorated quite a bit. On a technical basis, the stock may experience some more downward momentum in the near future. I'm only buying a small batch right now to grab a slice of the dividend, but am not really enthusiastic about it.
Disclaimer: This article is meant to serve as a journal for myself as to the rationale of why I bought/sold this stock when I look back on it in the future. These are only my personal opinions and you should do your own homework. Only you are responsible for what you trade and happy investing!
Disclosure: The author is long GE, SPY, Q. The author wrote this article themselves, and it expresses their own opinions. The author is not receiving compensation for it (other than from Seeking Alpha). The author has no business relationship with any company whose stock is mentioned in this article. The author was long Covidien in their dividend portfolio, but sold it immediately the morning after the acquisition by Medtronic was announced.
Editor's Note: This article discusses one or more securities that do not trade on a major U.S. exchange. Please be aware of the risks associated with these stocks.