I'm imagining that title as a bumper sticker you'd see somewhere.
Like my old buddy in college who had a bumper sticker that said, "Chemists have Solutions" - "Tesla's Got Momentum". Of course, this means two things today. One is that Tesla's (NASDAQ:TSLA) stock, referred to as a "momentum" stock because of its wicked high valuation, had a great day yesterday. The other is that the "momentum" comes with two days' worth of small, albeit positive news for the company.
And I'm officially going for the record for the amount of Elon Musk praise you can cram into 24 hours with this article.
Before I do that, I'm going to take a moment and just point out the stock's major move yesterday on the Model X reservation news, combined with rumors about Tesla striking a deal with BMW and/or Nissan (OTCPK:NSANY). Inclusive of yesterday, for the last twelve months, that makes a gain of 119% for Tesla. That, of course, is already on top of the many times over Tesla has multiplied since its IPO near $17.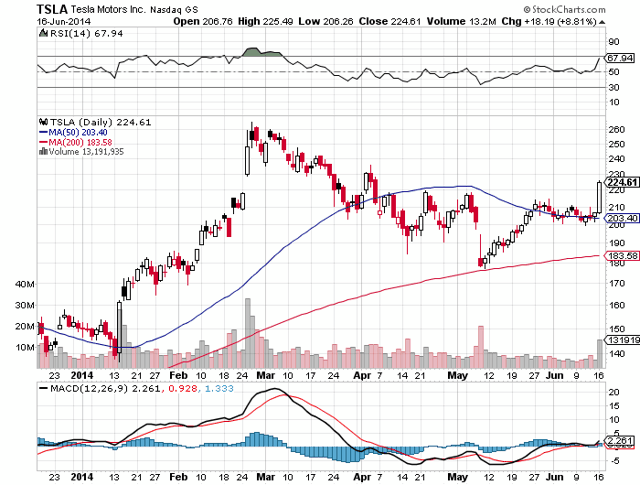 Yesterday, I penned a piece making my argument that Tesla could eventually be a $400 stock. I argued that the company's Model X reservations going out ahead of schedule (of the latest release date) was just another sign that the company is hell-bent on executing. I also made the argument that Tesla could potentially branch out from vehicles and turn into a company that does more than just produce vehicles.
My article pointed out that although the company's valuation is sky-high, people are willing to bet on the company's future growth due to the success the company has had in reaching or beating its goals in its short history.
No sooner did I finish making the point that things "fall into piece" for Tesla; whether it be the faux-fire issue, the battery production problem, or the confidence behind the company's stock - than Seeking Alpha produced a bit of news with regards to the company's previous problem with direct selling in New Jersey.
As you can see, one of the key points that I wanted to make in my article entitled "Can New Jersey Harsh Tesla's Mellow?" was that these small hiccups that everyone was focusing on would eventually be overcome and forgotten about. I couldn't imagine that people were trading Tesla based on the direct selling news, which I saw to be "minor league" news.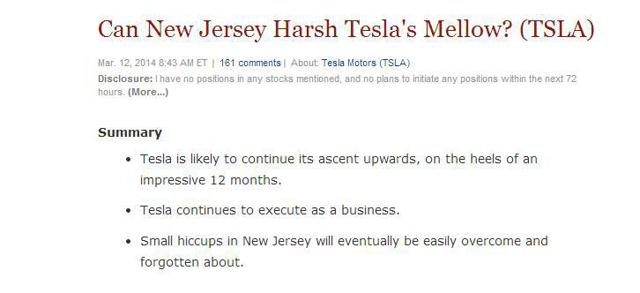 In that article, I argued:
When I think about Governor Larry the Cable Guy trying to prevent Musk from direct selling his vehicles in New Jersey because Tesla obviously isn't playing ball with special interest groups and the government of New Jersey, that gets filed under "small talk" problems for me.

Further, there's no doubt in my mind that Musk and his team are significantly smarter than the constituency that makes up the New Jersey government - and I mean that in the nicest way possible. For every problem, there's a solution, and Tesla is no doubt going to find that solution - or at least an "end-around" - to this little problem that it's facing.
And, imagine that. It's been all of about three months before news broke this morning that the State Assembly in New Jersey has passed a bill that's going to allow the company to direct-sell its vehicles. Seeking Alpha reported:
The state assembly in New Jersey passes a bill which sets the stage for Tesla Motors to sell vehicles directly to consumers.
The bill will move to the New Jersey Senate for approval.
The EV automaker's progress in the state has been in limbo since April.
If the bill makes it through the Senate, it's going to be a success for Tesla, and other states are likely to follow NJ's lead to accept direct selling the same way that they followed their lead with giving Tesla a hard time about it.
If the bill doesn't pass through the Senate, we're more than likely to witness Musk and his team of creators putting together some alternate way to skirt the rules and make sales in Jersey easy. Maybe the State Assembly realized, "Hey, we're outmatched here, so let's just get this passed so we don't all look like rubes."
Even though it's hardly earth-shattering news for Tesla, it's a case of "another day, another step forward" for the company that continues to defy "rational" odds.
As I said in yesterday's piece, if Tesla can continue to exceed the goals it set out for itself, the company continues to make themselves attractive to investors. I stand by my statement that Tesla could easily be a $400 stock in the coming years.
Disclosure: The author has no positions in any stocks mentioned, and no plans to initiate any positions within the next 72 hours. The author wrote this article themselves, and it expresses their own opinions. The author is not receiving compensation for it (other than from Seeking Alpha). The author has no business relationship with any company whose stock is mentioned in this article.