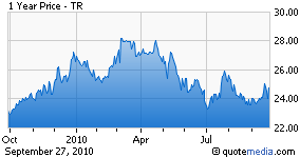 Click to enlargeTootsie Roll Industries (NYSE:TR) has been engaged in the manufacture and sale of confectionary products for 113 years and operates a candy portfolio that includes the popular brands Tootsie Roll, Tootsie Pop, Junior Mints, and Mason Dots. Led by the husband and wife team of Melvin and Ellen Gordon, who control 60% of the company's voting power, Tootsie Roll employs 2,200 associates and distributes its products primarily across North America.
In fact, Melvin Gordon is a very robust ninety year old who has served as the company's Chairman since 1962. Moreover, this year represents the sixty-eighth consecutive year the company has paid cash dividends and the forty-sixth consecutive year that a stock dividend was distributed. A year ago, the company also purchased 937,956 shares of common stock on the open market for an aggregate cost of $21 million.
Net products sales in 2009 were $496 million as compared with 2008 net product sales of $492 million; Halloween once again the largest selling season of the year. Net earnings grew to $53 million from $39 million in 2008. This earnings increase was attributable from selected price increases and product weight adjustments as well as from lower energy and fuel costs coupled with foreign income tax benefits.
Commodity and packaging costs have risen dramatically in recent years; however, CEO Melvin Gordon continues to commit to low-cost initiatives:
As a value oriented confectioner, we deem it essential to be a low cost producer and actively pursue investments in the latest technology to keep us so…We also embarked on an extensive internal review of cost drivers during 2009 which is a key element in our ongoing efforts to eliminate waste.
Furthermore, Tootsie Roll is conservatively financed with the overall financial structure substantially strong. The company has no defined benefit pension plan and very minimal long-term debt. Occasionally, Tootsie Roll will make an acquisition and accumulates bank debt to finance such a transaction. However, with operating cash flows strong enough to cover both capital expenditures and operating improvements along with cash dividends and stock buybacks, any debt addition should be effortlessly paid off.
Tootsie Roll can be considered a true value company and is exceptionally suited for the more conservative section of an investor's portfolio. At its current valuation, the stock offers limited long-term appreciation potential, yet at the same time, it pays substantial cash and yearly stock dividends in addition to making frequent share repurchases. Tootsie Roll's stock price also offers excellent price stability as a result of its distribution policies. The stock's estimated annual yield to investors can be broken down as follows:
| | |
| --- | --- |
| Cash Dividend Annual Yield: | 1.30% |
| Stock Dividend Annual Yield: | 3.00% |
| Total Annual Yield to Investor: | 4.30% |
| + or – limited appreciation potential: | ???% |
Accordingly, Tootsie Roll should yield investors at least an estimated 4.30% annually, which is slightly higher than today's yield-to-maturity on long-term US Treasury bonds. Depending on the investor's objectives and alternatives, this stock could be a suitable addition to the portfolio.
Disclosure: No position