Summary
This REIT Focus is on Spirit Realty Capital, Inc. (NYSE:SRC), a publicly traded REIT that seeks to generate and deliver sustainable and attractive returns by investing primarily in a portfolio of single-tenant, operationally essential real estate throughout the U.S. that is generally leased on a long-term, triple net basis to tenants engaged in retail, service or distribution industries. SRC owns 2,142 net leased properties and 145 mortgage loans containing approximately 54 million sq. ft. in 48 states that are leased to approximately 387 tenants operating in 19 different industries.
Tenant Information
Major tenants include Shopko Stores (181 properties and 14% of total revenue), Walgreen Company (69 properties and 4.1% of total revenue), 84 Lumber (109 properties and 3.3% of total revenue) and Church's Chicken (201 properties and 2.5% of total revenue). The average occupancy, weighted average lease term and percentage of tenant's rated investment grade as of 3/31/14, were 98.9%, 10.2 years and 50%, respectively.
Major Events
In July 2013, SRC completed a merger with Cole Credit Property Trust, II, Inc., a net lease non-traded REIT that owned 747 net leased properties and 69 secured mortgage loans for total consideration of $2.026 billion. The merger created $291 million in goodwill.
In May 2014, SRC sold a secondary offering of 26.45 million shares of common stock at a price of $10.69/sh., $402.5 million of 2.875% convertible senior notes due 2019 and $345 million of 3.75% convertible senior notes due 2021. The net proceeds of these offerings were $997.4 million. The net proceeds will be used to defease $488.7 million of senior mortgage indebtedness, repay the outstanding balance under its revolving credit facility, fund potential future acquisitions and for general corporate purposes (including additional repayments of borrowings outstanding from time to time under its revolving credit facility).
SRC was incorporated in Maryland in 2003, became public in 2012 and is traded on the NYSE. SRC's debt is rated BB- by Standard and Poor's and is based in Scottsdale, AZ. SRC has 371 million common shares outstanding and a market capitalization of approximately $4.192 billion. SRC owns a 99% limited partner interest and through a wholly owned subsidiary, a 1% general partner interest in its UpReit general partnership, Spirit Realty, L.P.
Management
Thomas H. Nolan is Chairman and Chief Executive Officer and joined SRC in September 2011. Prior to joining SRC, Mr. Nolan worked for General Growth Properties, Inc. (NYSE:GGP) serving as a director for six years and as President and Chief Operating Officer for the last two years while at GGP. Mr. Nolan was a member of the senior management team that led GGP's reorganization and emergence from bankruptcy, which included the restructuring of project-level debt, payment in full of all of GGP's pre-petition creditors and the securing of equity commitments.
Peter M. Mavoides is President and Chief Operating Officer and joined SRC in September 2011. Prior to joining SRC, Mr. Mavoides worked for over seven years with Sovereign Investment Company as its President and Chief Executive Officer, a private equity firm that focuses on investment opportunities relating to long-term, net-leased real estate.
Michael A. Bender is Senior Vice President and Chief Financial Officer and joined SRC in October 2007. Prior to joining SRC, Mr. Bender spent over 20 years in finance and accounting and held positions as Assistant Corporate Controller for Allied Waste, Inc., Vice President of Global External Reporting for American Express Corporation, Chief Financial Officer for FINOVA Realty Capital and senior manager for an international public accounting firm.
Financial Data
Select financial data for SRC as of the 1Q14 10Q, 2013 10K and supplemental information (in millions where applicable):
Real Estate Assets, Gross
$6,858
Total Assets
$7,275
Property Debt
$3,874
Common Stockholders' Equity
$3,073
Revenue
$144
Net Income
$14
Net Income Per Share
$.04
Cash Flow from Operations
$66
Unsecured Revolving Credit Facility ($400 with $136 used)
$264
Market Capitalization
$4,192
Property Debt to:
Gross Real Estate Assets
56%
Market Capitalization
92%
Enterprise Value
48%
Dividend and Yield ($.67/sh.)
5.8%
Valuation Methodology:
1Q14 Revenue Per Above Annualized
$576
Less: 1Q14 Operating Expenses Annualized (excluding depreciation, amortization & interest expense and plus G&A expenses)
71
Annualized Net Operating Income 2014
$505
Projected Inflation Rate at 3.5%
x103.5%
Projected Forward NOI for Next Year
$523
Projected Cap Rate
8%
Projected Value of Company
$6,537
Add: Net Operating Working Capital
434
Loans Receivable, Financing Leases & Assets Held for

Sale (at book value)

198
Total Projected Asset Value
$7,169
Less: Total Debt Per Above
(3,874)
Projected Net Asset Value
$3,295
Common Shares Outstanding 373.6M (371M common stock shares and 2.6M in incentive stock awards)
Projected NAV Per Share
$8.82
Market Price Per Share on 6/13/14
$11.25
Financial Metrics
The gross real estate assets, property debt, revenues, net income (loss), funds from operations, return on invested capital and dividends per share for the years 2009 through 1Q14 are shown in the table below:
| | | | | | | |
| --- | --- | --- | --- | --- | --- | --- |
| (millions except per share amounts) | 2009 | 2010 | 2011 | 2012 | 2013 | 1Q14 |
| Gross Real Estate Assets | $2,979 | $2,994 | $1,662 | $3,417 | $6,696 | $6,858 |
| Property Debt | $1,607 | $1,727 | $833 | $814 | $3,778 | $3,874 |
| Revenues | $275 | $269 | $263 | $273 | $419 | $144 |
| Net Income (Loss) | $22 | $30 | ($64) | ($76) | $2 | $14 |
| Funds From Operations | $58 | $70 | $134 | $129 | $139 | $75 |
| Return on Invested Capital (1) | 3.8% | 3.3% | 3.6% | 3.8% | 2% | NA |
| Dividends Per Share | $.66 | $.62 | $.15 | $.3329 | $.4922 | $.16625 |
(1) This is the ratio of cash provided by operations divided by stockholders equity plus property debt, less cash, and measures the return the REIT is earning on its invested capital.
(2) All amounts before 2011 are from Cole Credit Property Trust, which merged with SRC in 7/13.
As shown above, our net asset value per share for SRC is $8.82/sh., versus a market price of $11.25/sh. Current average cap rates for net lease properties per our industry experience and CBRE's Cap Rate Survey are in the 6.5% to 9% range, depending on the location of the property, credit of the tenant and lease terms. We have used an average cap rate of 8% due to SRC's portfolio being primarily retail tenants with 50% rated investment grade.
Valuation Analysis
SRC's strengths, concerns and recommendations are as follows.
Strengths:
High occupancy of 98.9%.
Diversified portfolio of 2,287 net leased assets in 48 states.
Experienced management team.
Attractive dividend yield of 5.8%.
Concerns:
Tenant concentration with largest tenant, Shopko Stores, generating 14% of total revenue.
$2.288 billion in debt due through 2017.
Elevated stock price at $11.25/sh.
Recommendations:
SRC has a solid and well located portfolio of net lease assets; however, we believe that the stock price is too elevated and trading at a cap rate of approximately 6.8%. We are not recommending purchase of the stock at this price. SRC is subject to rising market interest rates which will raise terminal cap rates and the cost of capital and lower the value of its net lease assets. There is also intense competition in the industry for net lease investments, which increases prices and lowers cap rates.
A five-year price chart of SRC is shown below: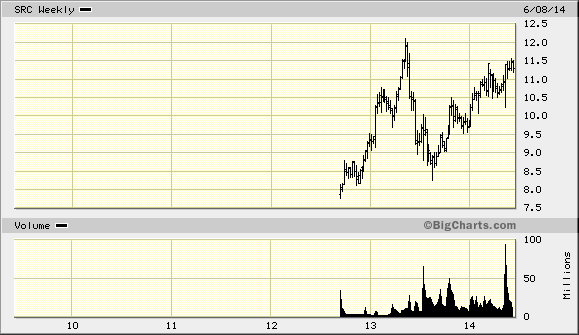 Disclosure: The author has no positions in any stocks mentioned, and no plans to initiate any positions within the next 72 hours. The author wrote this article themselves, and it expresses their own opinions. The author is not receiving compensation for it (other than from Seeking Alpha). The author has no business relationship with any company whose stock is mentioned in this article.