Ford (NYSE:F) - the stock caught in what seems to be the eternal struggle.
Watching Ford after the open today, I'm not surprised by the movement I'm seeing. Up a penny. Off a penny. Back up a penny. Back off a penny. Ford continues to be mired in the quicksand that is the $16 range as days go by. This is one stock I wouldn't dare go long through an options position. Through everything that General Motors (NYSE:GM) has gone through over the last 6 months, you may have suspected it was prime time for the automaker to make its move and crown itself king of the American automakers.
Even with the positivity behind the company's move to go aluminum for the new F-150s, Ford has had no such luck doing so, and seems to find itself brought down by the General Motors fiasco, instead.
Sure, it's heading upwards - inch by inch, little by little. No doubt that Ford has been ticking higher for the last couple months and will likely continue to do so. It's just not nearly "breaking out" the way I predicted in my previous article.
In a couple of past articles, I guessed that Ford's recent pop over $17 was a technical breakout. I had pinned the resistance around $16.55. Now it's looking like $16.55 is being used as the magnet to hold Ford in the same spot.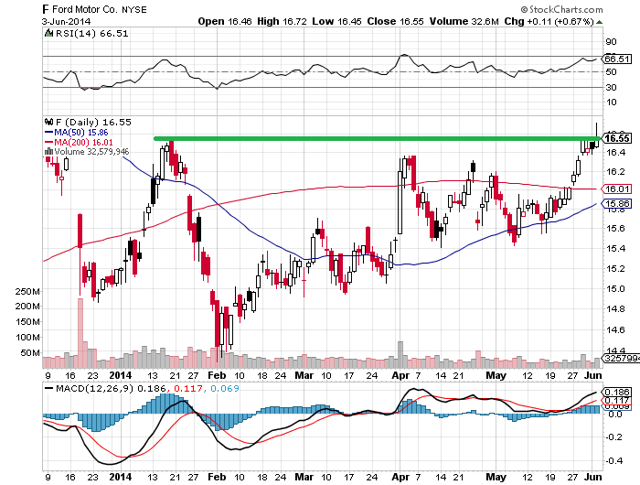 But, as you can see, as soon as the stock popped up to $17, it hurried back to near $16.55. While it does look like this is set to become the new short term floor (especially with the 50DMA about to cross up through the 200DMA), Ford isn't exactly shooting to the upside.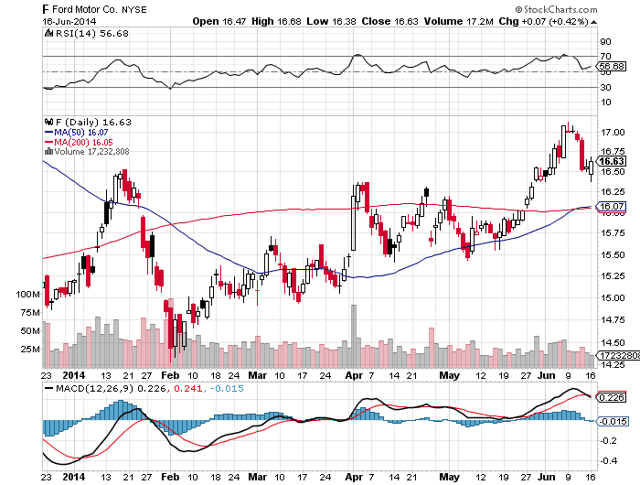 That's not to say that I don't think Ford won't get to $20 in the near future, however. It's just that every time the company takes a couple steps forward, it also takes a couple steps back - whether it's recalls of their own, or news like today of European sales regression. So much of my bullish thesis on Ford has to do with the company's performance in Europe - and more importantly, in the densely populated China. Seeking Alpha reported the month's European vehicle numbers this morning:
European car registrations rose 4.5% in May to 1.13M units to mark the 9th consecutive month of a year-over-year sales gain.
All the EU nations showed positive growth during the month with the exception of Italy which saw a 3.8% falloff.
Sales growth by automaker: Volkswagen (OTCPK:VLKAY) +9.6%, Peugeot (OTCPK:PEUGY) +4.3%, Fiat (FIATY) +5.6%, General Motors -6.8%, Renault (OTC:RNSDF) +18.8%, Daimler (OTCPK:DDAIF) +3.6%, Toyota (NYSE:TM) +3.4%, Ford -2.0%, BMW (BAMXY) -2.2%, Fiat -2.7%, Nissan (OTCPK:NSANY) +10.7%, Hyundai (OTC:HYMLF) -2.7%.
As you can see, both GM and Ford - alongside BMW, Hyundai and Fiat lost ground last month.
A moment of pause for the automaker - after just getting encouraging Chinese data, that was just released a couple of days ago. As reported two weeks ago by Seeking Alpha:
Ford China (+1.8%) sales rose 32% Y/Y in May to 93,323.
Sales for the Mondeo model were up 90% to 10,395 - while sales of Ford Focus cars improved by 22% to 33,341.
What to watch: The automaker is rolling out the Lincoln brand in China later this year.
Again, I'm not a chart first kind of trader, but if I were watching Ford, I'd be looking at the former resistance level of $16.55 to become the new support for the stock. This could mean there's an eventual leg up coming for the auto manufacturer. That is, of course, as long as the company's fundamentals can continue to deliver.
Yet another reminder, though, that Ford is growing globally.
(Click to enlarge)

(Source: Forbes)
The company to still be in the midst of a growth stage and I continue to contend that Ford stock is undervalued. Again, it's just going to be a question as to when the market wakes up and realizes it. I'm out of guesses as to what could be Ford's next catalyst - maybe the company's upcoming earnings?
According to Yahoo Finance, Ford has a ridiculous trailing 12 month P/E of 10 and a forward P/E of 8. I continue to believe that intrinsically, Ford is a $20 stock without question. The method in which it's going to get there could be a bit slower than I originally had anticipated.
Disclosure: The author has no positions in any stocks mentioned, and no plans to initiate any positions within the next 72 hours. The author wrote this article themselves, and it expresses their own opinions. The author is not receiving compensation for it (other than from Seeking Alpha). The author has no business relationship with any company whose stock is mentioned in this article.