My readers know that I use market performance and market based indicators to make inferences about the economy's future performance. I'll accept the forward looking verdict of millions of investors with skin in the game, over a few government bureaucrats staring at two month old data, any day!
My approach is unique: I compare the risk adjusted performance of Standard and Poor's sector ETFs with the S&P 500 ETF (NYSEARCA:SPY). Most analysts simply compare the sector performances over time. This technique has one fatal flaw: The sectors have different risk profile, or beta.
An example makes this clear. Suppose SPY gains 10% and a utility index gains 8%. Most Wall Street empty heads chirp that the utilities have underperformed the market.
But this is simplistic and wrong. If the utility index has a beta, say, of 0.55, it is much less risky than the market as a whole. Using the mathematics of beta, you would use the following formula to get the expected gain:
(S&P 500 gain)(beta)= expected utility gain. In this case:
(10%)(.55)= 5.5% expected gain.
But the utilities gained 8%... much more than expected. The utilities outperformed the market, given their risk profile!
I chose to use the time period February 1st to June 15th in my analysis. Why? If you look at the chart for SPY below, you will notice on February 1st the market began a strong rally, even in the face of anecdotal data that the economy was weakening - data that soon came in for real. But the rally continued, even more so in May despite the report for 1st quarter GDP. Clearly, this is an interval where the market is looking forward. So what are the sector ETFs telling us?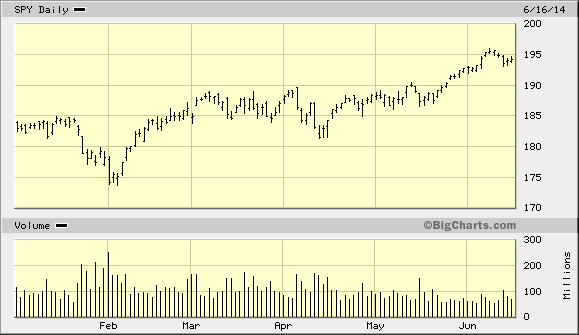 Source: bigcharts.com
In the table below, I compare the actual S&P 500 sector ETFs over this span to their expected returns based upon their beta. The S&P return over this period was 11.5%. So for example, the expected return on the Technology SPDR (NYSEARCA:XLK), which has a beta of 1.35, would be:
(11.5)(1.35)= 15.5% compared to its actual return of 11.8% over this same span, so the techs underperformed by 3.7%
Let's see what the numbers tell us.
Risk Adjusted Sector ETF Returns Compared to SPY
| | | | | |
| --- | --- | --- | --- | --- |
| Sector and Ticker | Beta | Actual Return | Expected Return | +/- |
| Discretionary (NYSEARCA:XLY) | .92 | 7.5% | 10.6% | -3.1% |
| Tech | 1.35 | 11.8% | 15.5% | -3.7% |
| Industrials (NYSEARCA:XLI) | 1.00 | 12.0% | 11.5% | +0.5% |
| Basics (NYSEARCA:XLB) | 1.14 | 14.3% | 13.1% | +1.3% |
| Energy (NYSEARCA:XLE) | 1.02 | 20.2% | 11.7% | +8.5% |
| Staples (NYSEARCA:XLP) | .47 | 12.0% | 5.4% | +6.6% |
| Healthcare (NYSEARCA:XLV) | .58 | 8.7% | 6.7% | +2.0% |
| Utilities (NYSEARCA:XLU) | .43 | 9.7% | 4.9% | +4.8% |
| Finance (NYSEARCA:XLF) | 1.43 | 10.0% | 13.6% | -3.6% |
| Nasdaq (NASDAQ:QQQ) | 1.43 | 9.5% | 16.4% | -6.9% |
| S&P 500 | 1.00 | 11.5% | the same | 0.00 |
A lot of sectors are really doing well: the market has a bright outlook for the economy in the near future, and therefore, so do I.
A couple addenda and conclusions:
I added QQQ because many traders use it as the Tech index, not XLK: but they are both underperforming.
I put in SPY for reference at the bottom
We should not be surprised XLF is underperforming given regulatory burdens and fines imposed on the sector.
This turns our focus to two sectors. First, consumer discretionary is lagging! Should this be occurring if the economy is gaining strength? Especially if economy sensitive sectors like energy and utilities are rocking! In the midst of all the good news [including the recent Manufacturing data], this is a bit of a concern.
But as I made clear last week, given the solid breadth of this year's advance, we should expect these concerns to be resolved favorably.
When I ran a similar analysis last January, energy was a laggard and I recommended readers give it a look: a prescient move!
Give XLY the same benefit of the doubt. Consumers won't let the party go on too long before they spend their staycations at the Mall.
What about technology? As strong as tech has been lately, helped by Intel's (NASDAQ:INTC) recent bright outlook, it still hasn't compensated traders for its volatility: Remember how sharply the sector fell in March and April. While I stuck my neck out with XLY, I'll leave opinion on this sector to my readers and other SA analysts.
Disclosure: The author has no positions in any stocks mentioned, but may initiate a long position in XLY over the next 72 hours. The author wrote this article themselves, and it expresses their own opinions. The author is not receiving compensation for it (other than from Seeking Alpha). The author has no business relationship with any company whose stock is mentioned in this article.
Additional disclosure: I am already long XLK, XLE, and IHI