I like biotechnology companies that are underpriced relative to their peers, but also to their prospects. And Regado Biosciences (RGDO) is shepherding a disruptive and potentially dominant cardiovascular therapy towards commercialization. Focused on developing acute care applications within the hospital environment, Regado is well-managed, with an excellent public persona.
I've had an unusual degree of good fortune in biotechnology investing in my first two years, in part because I've looked at sector participants perhaps a bit differently than other bloggers. Though less enamored of chasing the popular idea than most, especially when that idea is proffered on social media, I'm cognizant of a company's public presentation. This manifests itself in two important ways.
The company website is the first place retail investors go to find out what's on offer. We don't have a lot of time to dig for that healthcare conference presentation that's been promised in the investor relations section. So, it has to be there when we need it. In addition to being vibrant, the website has to be easy to navigate and updated on a regular basis. Examples of terrific websites abound, therefore, a bad one will keep an investor from pressing the Review Order button, let alone Execute Trade.
A competent CEO isn't difficult to qualify, though the qualities she or he possesses may be different. Running the day-to-day business affairs is expected, but in biotechnology, the retail investor wants more. Regularly updating news germane to the telling of the company story; publicly presenting that story; responding to shareholder concerns; parrying the attacks of pundits - Linda Powers, Northwest Biotherapeutics (NASDAQ:NWBO); and charismatically winning over FDA representatives within binary events - Mihael Polymeropoulos, Vanda (NASDAQ:VNDA) are but a few.
But perhaps the single-most important of these attributes is the public speaking ability of a Chief Executive Officer. I want this person to be able to connect and persuade. For me, Clay B Siegall, Ph.D., of Seattle Genetics (NASDAQ:SGEN) is emblematic of this, and his company's market-cap is affirmation of its importance.
In that vein, I want to introduce to you, Regado Biosciences, Chief Executive Officer, David J Mazzo, Ph.D.
David J Mazzo, Ph.D.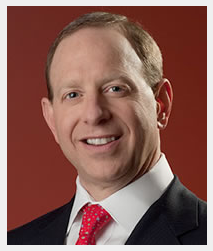 The latest presentation of the investment opportunity that is Regado and Revolixys Kit was given to us at the Jefferies Healthcare Conference two weeks ago. Dr. Mazzo is a very impressive emanator of the Regado message detailing both complex product attributes and commercial strategies in a simple but illustrative way.
Much of what follows has been drawn from that presentation. All quotations are Dr. Mazzo's, unless otherwise noted. And I'll conclude this article with some tactical ideas on how to trade this stock safely.
Revolixys Kit - The Supreme Controllable Anticoagulant Treatment System
In its simplest form, Revolixys Kit is a two-component system designed to better treat patients undergoing coronary revascularization procedures. Based upon Nektar's (NASDAQ:NKTR) PEGylation technology, Revolixys Kit is presently in the midst of an FDA Phase III trial entitled REGULATE-PCI.
When measuring the commercial prospects for any treatment candidate, we usually start with a dry recitation of statistics relative to the therapeutic landscape. Dr. Mazzo brilliantly gives us a visual depiction instead.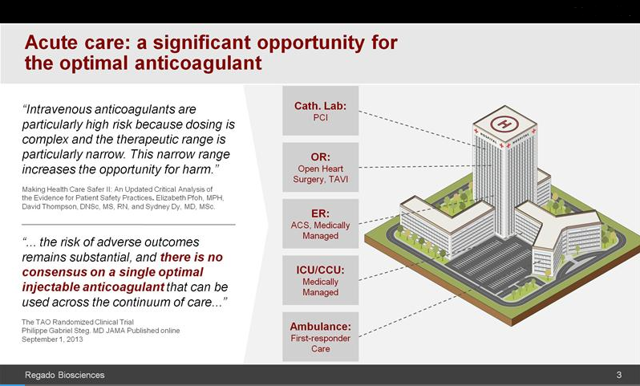 In this diagram, we can see that patients are often already on catheter, receiving intravenous anticoagulation treatments upon arrival at the hospital entrance in an ambulance. Once inside, there are various intensive care areas, including the emergency room, operating room and cath lab, where procedures of intervention are commonly performed.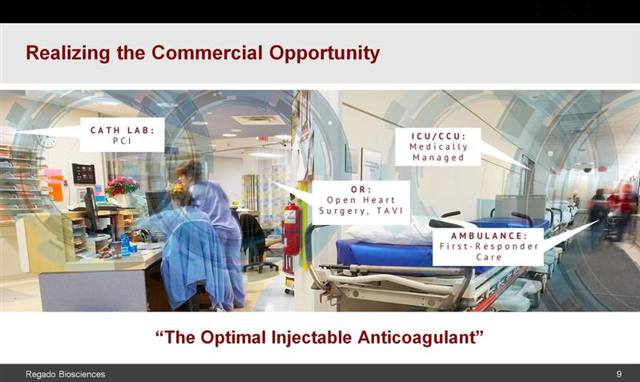 You'll notice if you poll physicians who work in these areas that there is no to-date, universally applicable, optimal, injectable anti-coagulant. And so there is a great opportunity here to produce a product that will become the workhorse in this particular therapeutic domain.
Defining The Unmet Medical Need
The reason why Revolixys Kit represents so attractive an alternative to current treatments is that today, physicians are faced with what David refers to as the "antithromboitc conundrum", which is to say, an arbitrary choice between administering anticoagulants that do a better job of anticoagulation but cause more bleeding, or those that cause less bleeding but do poorly at their intended purpose of anticoagulation. In both instances, the lives of patients are placed at risk.
Today, there really is no balanced therapy available. And physicians are faced with a compromising decision. They literally have to decide somehow, based upon very unclear criteria - do I really prefer to risk heart attack, stroke or death, or do I prefer to risk a major bleeding event which can also be fatal?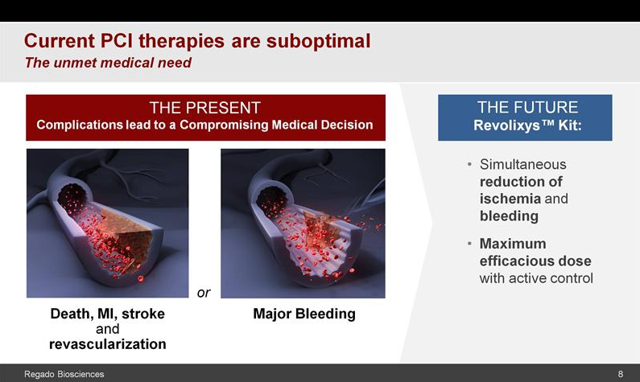 Before continuing, let's define some terms.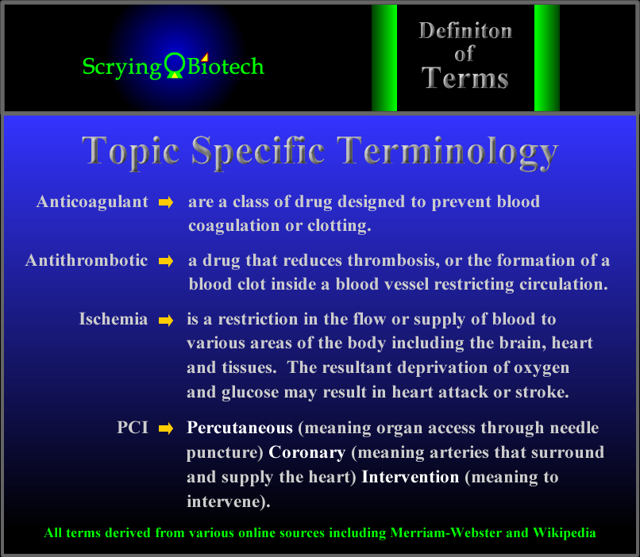 Revolixys Kit Alters The Existing Paradigm Completely
Unlike other interventional therapies, Revolixys Kit has multiple indications of therapeutic benefit beyond PCI, such as open heart surgery and transaortic valve implantation. But what really makes it special is a unique ability to simultaneously reduce Ischemic and bleeding events.
And because of that, it's being developed to its maximum efficacious dose, something that no other anticoagulant has been able to do because they're always limited by maximum tolerated dose.

Bleeding limits dosing, and therefore, restricts efficacy.
And that last statement sums up the product strengths in a nutshell, because physicians, for the first time, will have control over when and how much anticoagulation is applied in each particular setting and to each particular patient. No existing treatment offers this degree of physician involvement and mastery of therapeutic benefit.
Mechanism Of Action
Revolixys Kit is a two-component system utilizing Pegnivacogin as an anticoagulant which, thanks to Nektar, has a long 24-hour half-life, and Anivamersen as the active control agent. The modulating fulcrum is Factor IX and process toxicity is low.
If you give a dose of Pegnivacogin that exceeds .7mg per kilo, you will achieve complete Factor IX inhibition in the body which is akin to anticoagulation knockout. You cannot be more physiologically anticoagulated than that. And that gives maximum protection against Ischemic events, but it's only really safe to do that if you have a control agent readily available such as Anivamersen which can instantaneously modulate the effects of Pegnivacogin, either bringing it back to baseline if you choose to use it as an antidote, or stopping somewhere with partial anticoagulation. And in fact, our clinical thesis is to anticoagulate maximally during the procedure to protect the patient most when they need it from Ischemic events and then to reduce the anticoagulation more to the level of what would be found with today's anticoagulant therapies at the end of the procedure to match the bleeding profile of current drugs and still maintain the benefit from the Ischemic protection.
Clinical Results Thus Far
Clearly, you can see in the graphic below, that the concomitant reductions in both Ischemia and bleeding were profoundly positive in the large Phase IIb RADAR lead-in study.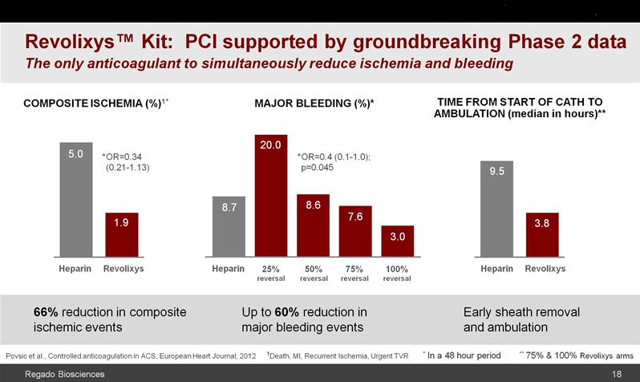 But what really caught my eye was the 60% reduction in time it took patients to regain the ability to walk again. Reducing hospital stays by 5.7 hours, especially in emergency situations, is a notable improvement not only in quality of care, but in costs related to that care.
REGULATE-PCI Is Over-Powered For Ultimate Success
This is a large and costly trial involving 13,000 subjects. On the flip side, evaluating each patient takes only 3 days, and the trial should move quickly to completion. Please note that the primary endpoint is a reduction in Ischemic events, with a secondary target of reduced bleeding.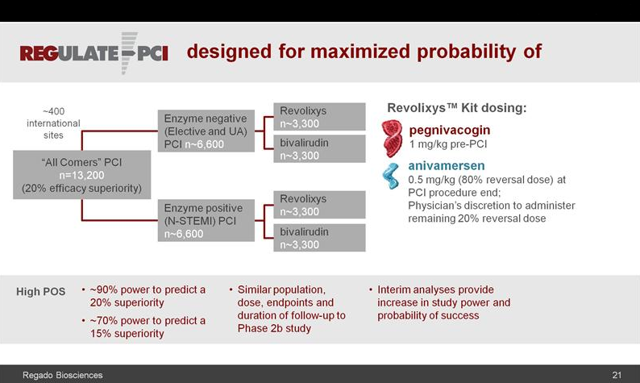 On March 10th of this year, the FDA recognized the therapeutic potential of the program by assigning Fast-Track status, which allows for more frequent interactions with the agency along the pathway to regulatory approval.
Significant Market Potential
In this first slide, you can see the list of treatment benefits on offer, which exceed Sanofi's (NYSE:SNY) Lovenox by 5 indications. Peak sales of $6B were impressive, but published sales of Lovenox, according to Sanofi, were $1.7B in 2013. Still a significant figure.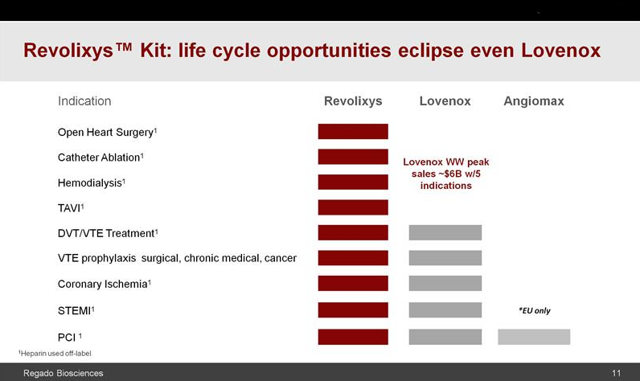 The entire market opportunity for Revolixys Kit is made clear in this next slide.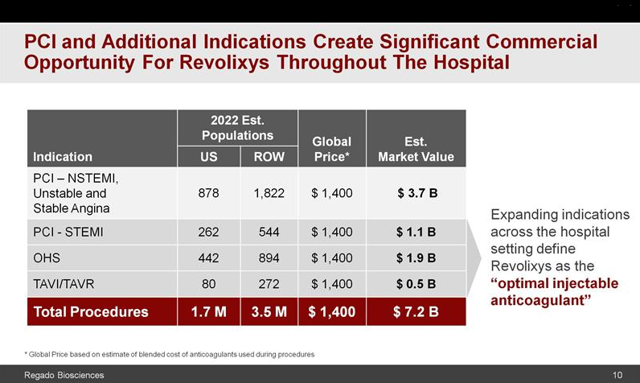 Consequently, one can't help but wonder how executive officers at Sanofi are feeling relative to maintaining their market dominance in this particular therapeutic area.
Stock Talk
Now let's take a closer look at the investment potentials and pitfalls that Regado offers us. To do that, we'll first look ahead at catalysts that could move the stock price higher.
In the graphic below, you can see two potential events that are significant to the program, but will only mildly move the needle on stock appreciation, as these are, for the most part, de-risking affairs.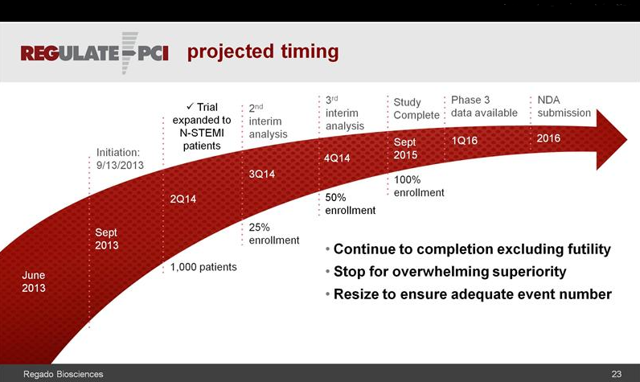 Looking back, however, we can see that Regado has had the ability to attract the irrationally exuberant investor, and likely retains that magnetism, even if it's tempered by the once-bitten-twice-as-shy crowd.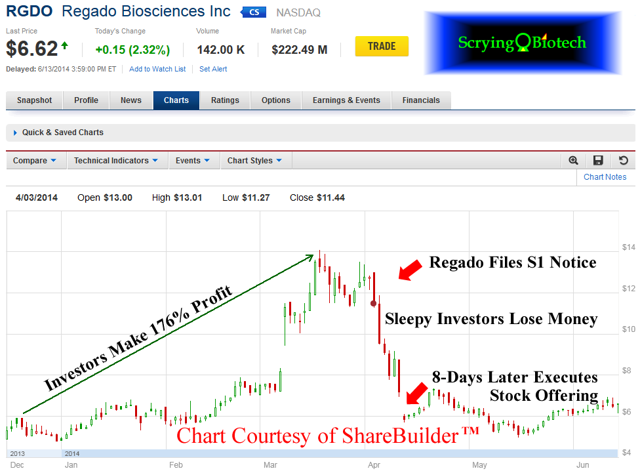 Capital Concerns
If I have one reservation about Regado, and it's a serious one, it has to do with the enormous spend rate, which will have Regado running out of money in early 2015. Many investors find that a well-funded enterprise is rule #1 when investing in biotechnology. And while I agree with this premise, I'm also flexible enough to weigh other considerations against it.
The excellent science on offer, which has a high probability of regulatory success, allows me to invest knowing that I might well have to suffer further dilution to cross the finish line ahead. I'm also comforted by the very real possibility of a partnership or buyout. Revolixys Kit is an attractive asset. It also happens to be a terrible threat to existing commercial interests.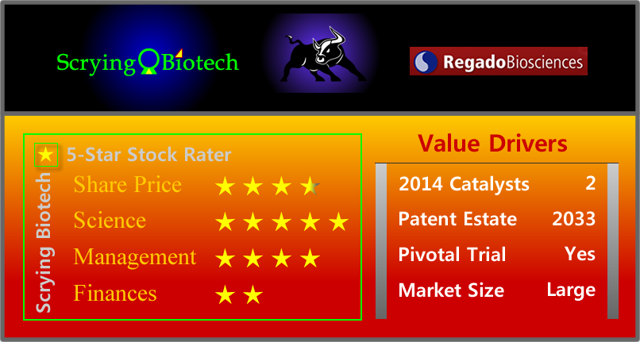 Moving Forward
Biotechnology investing is fraught with peril. Regado's recently completed financing at a 50% discount to the previous close was beneficial to the privileged buyers at Cowen and Company, Jefferies LLC, and Deutsche Bank, who acted as book runners, but extremely injurious to those who held at lofty share prices before the offering closed.
And with this reality firmly in mind, I'll be lopping profits off the table with regularity.
Always be well...
Disclosure: The author is long RGDO, NKTR. The author wrote this article themselves, and it expresses their own opinions. The author is not receiving compensation for it (other than from Seeking Alpha). The author has no business relationship with any company whose stock is mentioned in this article.
Additional disclosure: Any information or opinion expressed herein may not be true, accurate or correct and it does not constitute any suggestion to buy, sell, hold or adopt any investment strategy for this stock or any stock that may be mentioned. Reliance upon information in this article is at the sole discretion of the reader. The sole purpose of my article is to entertain by providing information, the accuracy of which is as good as the public sources it was derived from. Do not act on anything I have written. Rather, do your own due diligence and consult an investment professional before making any investment decision. Acting on what any one writer, including me has imparted to you is foolish at best. I have no better access to resources or gift of opinion formulation than you do. I sometimes make mistakes. There are a myriad of things, which can happen in lieu of any forward-looking statement I have made. Any stock featured or mentioned in an article I compose is subject to all manner of influences, which can change its value in dramatic fashion upwards or downwards. These events can be of a wide variety not limited to news-related occurrences, managerial decisions, trial failures, stock manipulations and so on. I make every effort to declare positions I have in stocks I cover or mention in an article but reserve the right to move in and out of said investments at my own discretion based upon the wisdom of doing so. I implore you to do your own due diligence, invest at your own considerable risk attaining the just reward your efforts have wrought.