By Jeff Bailey
Since nearly flat-lining in early 2009, TRW Automotive Holdings (NYSE:TRW) is up more than 20-fold, or 2,300%, on the strength of its solid Tier 1 supplier status in what has been a booming global automobile industry.
TRW data by YCharts
With that kind of gain, one might suspect the shares are now overpriced, but that doesn't seem to be the case. While competitors Delphi (NYSE:DLPH) and Eaton (NYSE:ETN) are trading closer to 15 times forward earnings, TRW's forward PE ratio is just slightly above 11.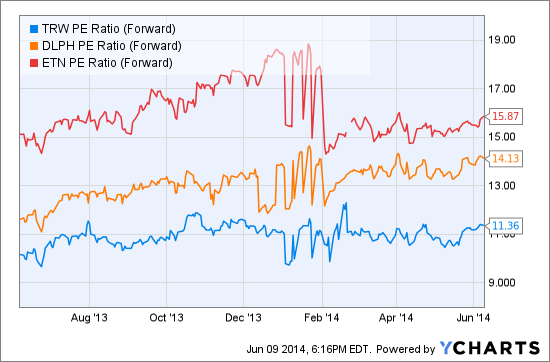 TRW PE Ratio (Forward) data by YCharts
Bill Nygren, manager of the market-beating Oakmark Select fund, has TRW as his top holding. He told Barron's last week that while some heavy capital spending in new manufacturing plants in China seem to have held the stock back of late, those plants will come on line in the next few years and "become highly profitable." He sees TRW shares capturing a multiple more like that of its competitors, in the 15 neighborhood, and per-share earnings in the $10 area, suggesting a $150 stock.
(Nygren also has large positions in financial stocks Bank of America (NYSE:BAC), Capital One Financial (NYSE:COF), JPMorgan (NYSE:JPM) and American International Group (NYSE:AIG), all on the cheap side, and in MasterCard (NYSE:MA), which trades at a much higher multiple but is growing rapidly.)
We were also early onto the TRW story last fall. And the story seems to be getting better. With its first-quarter results, TRW upped its 2014 projections. It sees revenue for the year flat, compared to 2013's $17.4 billion, to as high as $17.7 billion. The company has been delivering about $1 billion in profit the last three years. And stock buybacks of late are helping EPS to rise.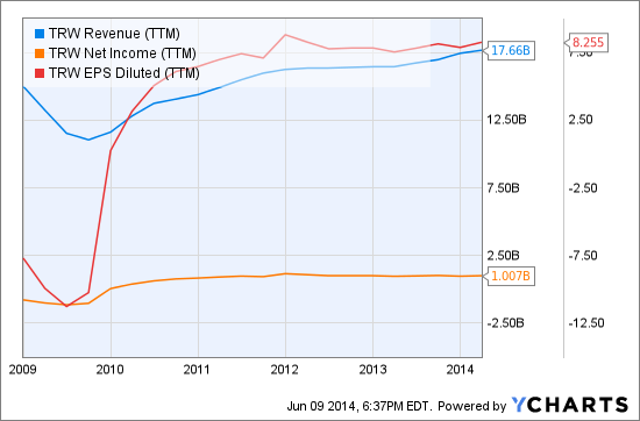 TRW Revenue data by YCharts
Being a Tier 1 auto supplier, there aren't many customers to have. Volkswagen (OTCPK:VLKPY) accounted for 24.7% of 2013 sales, Ford (NYSE:F) 18.5%, General Motors (NYSE:GM) 10.1% and Chrysler 9.9%. Sales in the U.S. have enjoyed strong increases, hitting $5 billion last year vs. $4 billion in 2011. China sales have grown strongest, rising to $2.8 billion in 2013 from $1.7 billion two years earlier. And sales in Germany have actually fallen, reflecting Europe's balky economic recovery, sliding to $2.2 billion in 2013 after hitting $2.6 billion in 2011.
TRW will keep spending heavily to expand this year, with capital expenditures of between $730 million and $750 million, against $735 million in 2013.
Stock buybacks are another use of cash, and they're expected to come in at about $500 million this yea, roughly equal to 2013's $520 million in buybacks. TRW doesn't pay a dividend.
A healthier U.S. economy, TRW noted in its 10-K filing, leads to increased sales of SUVs and pickup trucks, which are more profitable for both auto makers and for supplier. For now, projections of global auto production remain optimistic. TRW sees 16.8 million North American vehicles rolling off the assembly lines and 19.6 million European units.
As long as that holds up, TRW should be able to make use of its expanded capacity, enjoy lower costs as more of its manufacturing shifts to lower-wage countries, and keep buying in its shares as cash flow grows.
When trouble hits to auto business, however, it hits hard. Remember how flattened TRW shares were in early 2009.
Disclosure: None.